Do you know what your competition is up to? How are they over or underperforming you? Are you winning when it comes to repeat customers? How often are your visitors coming to your store vs. the competition?

As a business owner, these are the types of questions about the competition that need to be top of mind. This is especially true if you run a multi-location, offline business and are competing for local customers in the same demographic as your competition.
Thankfully, with the right tools, you don't have to fly blind when it comes to what your competition is up to. Modern customer engagement and loyalty tools enable you to get accurate insights into your business and your competitors' businesses. You can use this data to understand your customers and competition and leverage it to make business decisions that help grow your business, revenue, and ROI.
In this post, we'll share the secrets about how comparative insights can help. 
How Do Comparative Insights Work?
Comparative Insights is available exclusively through Thanx. Thanx has access to spend data about its customers' businesses, as well as their competitors. This data enables our merchants to benchmark against their competitors across a number of categories including customer spending, the share of wallet, visit frequency and more. With these insights, merchants can take action to change customer behavior, using Thanx's automated campaign tools, which are proven to drive ROI.
Now that you know a bit about how Comparative Insights works and how this data can help you grow your business, let's take a deeper dive into insights and what you can learn from them.
1. Insights About Repeat Customers
Repeat customers are one of the most valuable assets your business has. In fact, on average, loyal customers are worth 10 times as much as their first purchase. Additionally, 61% of SMBs say more than half of their revenue comes from repeat customers, rather than new business.
Not only are repeat customers worth more to your business, but it's also more affordable to retain loyal customers than it is to acquire new ones, and 82% of companies agree.
Nurturing your current customers should always remain a top priority if you're looking to grow your business. This is a lot easier to do when you understand who your repeat customers are, how often they visit, how much they spend, their lifetime value and get those same kinds of stat about your competitors.
Thanx captures all this robust data and makes it available to you in an easy to read and understand dashboard.
Our rich data will show you how many of your Thanx loyalty customers visit your business multiple times a month as well as how many customers that aren't a part of your loyalty program visit your business multiple times. Additionally, Thanx provides you with a percentage of how much more likely a Thanx loyalty member will visit than a customer who is not part of your loyalty program.
But that's not all. Your Thanx dashboard shows you how you rank in comparison to your competition.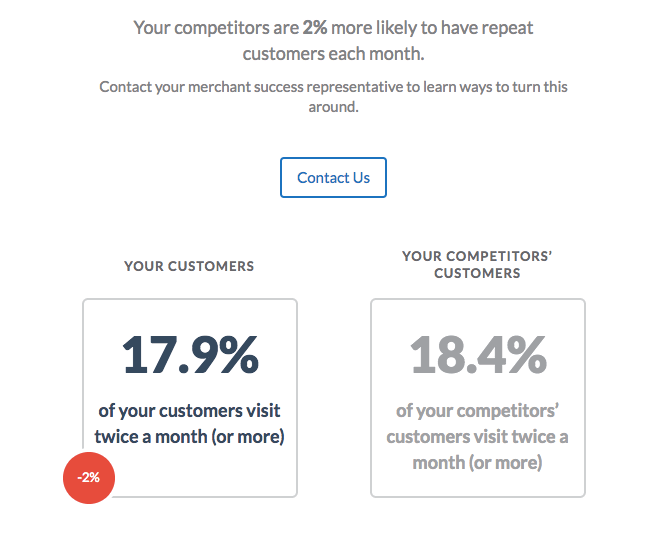 By aggregating your data and competitor data, it's easy to see where you stand in relation to the market share in your industry and area. If you are falling behind at any time, your merchant success representative is available to help you make adjustments to start acquiring more visits from customers who already like your business.
2. How Much Customers Spend
Not only are repeat customers valuable because they bring repeat business but statistically, they also spend more with your brand when they visit often. The average repeat customer spends 67% more in 31-36 months with a business than 0-6 months, according to Bain & Company.
That's why Thanx helps you monitor how much your repeat customers are spending.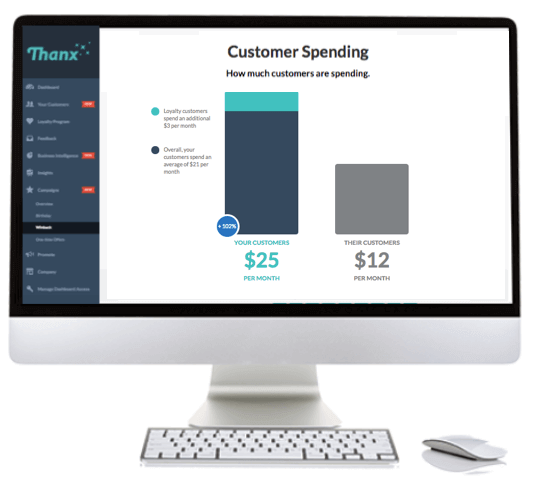 Your dashboard clearly shows you is how much your customers spend with your business. It also shows you how much your loyalty customers spend in relation to your non-loyalty customers. This helps you gauge how your customers are responding to and benefiting from your loyalty program.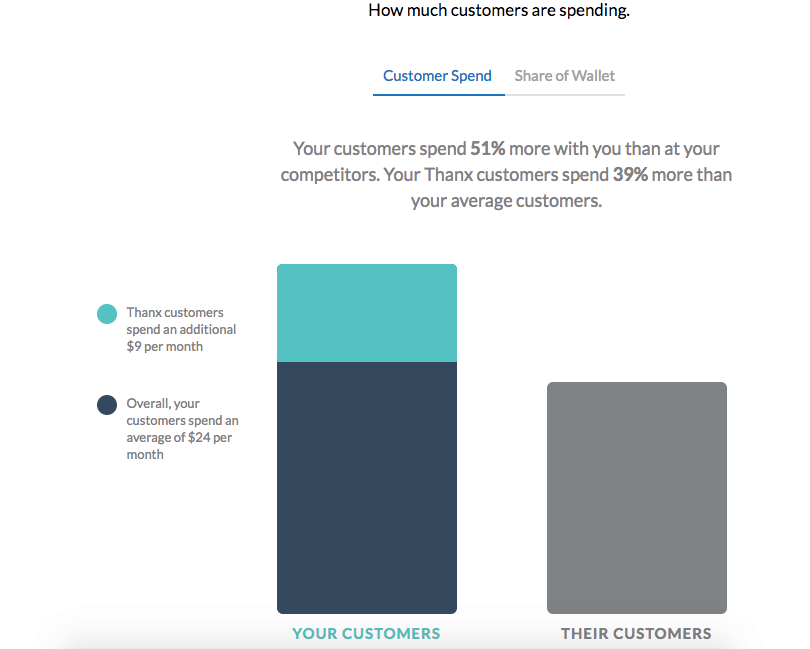 Thanx also tracks the market spend in your industry and shows you how you compare with businesses like yours. This helps you understand how you measure up to your competitors.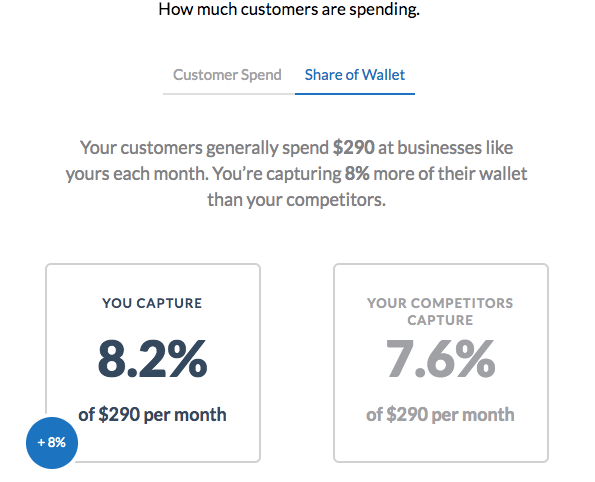 3. Visit Frequency of Your Customers
Interested to know how often your customers visit your business? You should be. The more your customers visit, the more opportunities they have to spend and to spend more. If you've ever visited a grocery store to "pick up a few things," you're familiar with the concept. Even though you went in for milk and gum, you somehow managed to pick up a cart of other stuff you forgot you needed or decided you wanted.
Thanx shows you how many times per month customers visit your location. Like the other metrics, Thanx tracks your loyalty customers visits and your non-loyalty customers. This shows you how many more times customers from your loyalty program are visiting than regular customers.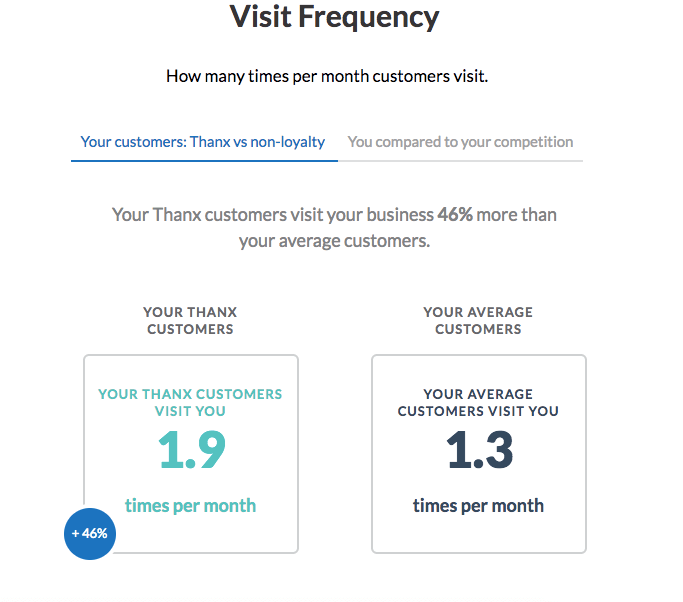 Again, it's important to understand where you stand in relation to your competition, so Thanx shows you this data too.
It's easy to see how many times your customers visited you and how many times customers visited your competitors.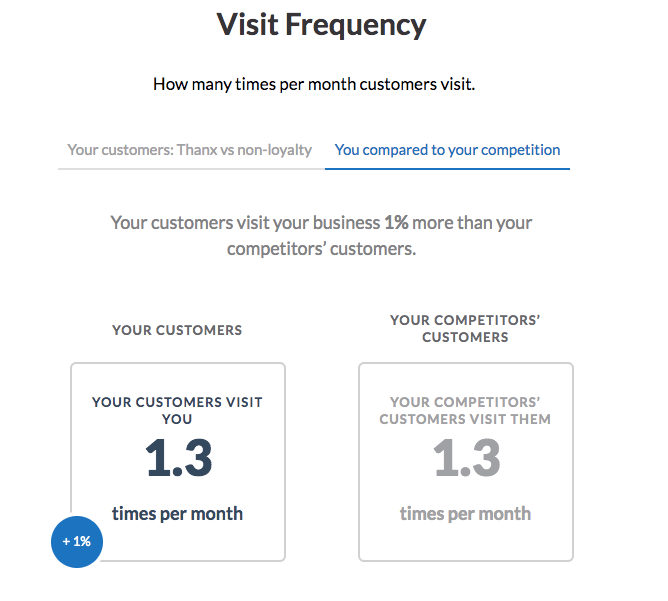 When you understand how you rank, you know if you need to make tweaks to your loyalty program, marketing, and advertising strategies, or even your products and services.
Wrap up
When it comes to growing your business and boosting your bottom line, it's vital to see where you stand in relation to the competition. It's also helpful to see how your customer engagement and loyalty program is contributing. Not all platforms tell you that but we do because we want to help grow your business.
To learn more, get our free guide, The Ultimate Guide to Customer Engagement.