The Challenge
When the team at Dewey's Pizza wanted to celebrate National Cheese Pizza Day and engage their customers, they knew they had all the ingredients for success with Thanx Campaigns.
The Solution
Based on the success Dewey's had from a $5 off promotion they had sent on National Pizza Day in February, they knew they had an awesome opportunity to engage their loyal customer base and keep Dewey's top of mind on National Cheese Pizza Day. They wanted to drive traffic to their 25 locations and test the impact of a special offer of $10 off a 17" pizza. The goal was to drive traffic and revenue for their 25 locations (while not giving away too much margin) and surprise and delight their loyal customers.
The offer was sent to all of Dewey's Thanx loyalty customers and was available for redemption for one day only on National Cheese Pizza Day. This offer was special because Dewey's doesn't usually send an offer to everyone on their list but rather targets specific segments based on purchase or visit behavior. In honor of National Cheese Pizza Day, they wanted to send something special to everyone. Dewey's also doesn't usually offer such a substantial discount, so the promotion really caught the attention and the wallets of their loyal customers.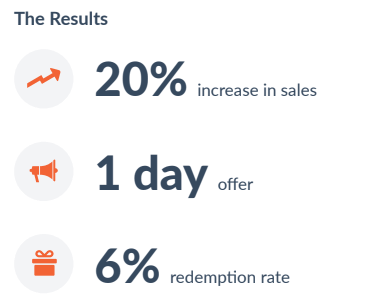 Wrap up
Learn more about Thanx Campaigns and see the full case study.