While many consumers frequent restaurants and dine-in, there's also a growing number of people turning to third-party food delivery apps to dine at home. And while on the surface third-party delivery can be an excellent complement to your business and help you acquire new customers and drive incremental revenue, the hidden threat is less obvious. When you "hand over" your customers to third-party delivery providers, those providers now own valuable customer data and the relationship with the customer. You don't. Plus, the next time a customer comes back to the app to place an order there's no guarantee they'll order from you and not one of the hundreds of other choices they'll be served up.
To fight this growing threat, restaurants have to up their game. Today's consumers want more than a good meal when they go out,  they want an experience – and a personalized one at that.
In this post, we'll share how restaurant owners can create memorable experiences that keep customers loyal and coming back.
Use data to engage your most loyal customers
To create memorable experiences, you have to know your customers. To do so, you need customer insights that are powerful enough to create compelling campaigns and experiences based on their preferences. A robust customer engagement and automation platform should be able to:
Capture actionable behavioral and transactional customer data
Segment customers based on similar data sets
Send targeted campaigns based on data
Communicate with customers via multiple channels including text, email, and push notifications
Measure your campaign success in revenue generated, not just vanity metrics like clicks and impressions
Capture and respond to real-time customer feedback
When you have data about who your customers are you can use it to create experiences that are relevant, compelling. This strategy will help you retain your best customers that you've worked hard to acquire in the first place. One of the downfalls of third-party delivery apps is that while they can help you get new customers and drive revenue, they take a huge chunk of margin (anywhere from 10-30%) and they get all the customer data, not you, so in the future, they can market to those customers but you won't be able to. When you own the relationship with your customers, you own the data; otherwise, you're simply renting them from third-party providers.
Send offers based on personalized buying history
As we've said, if you want to offer memorable experiences to your best customers, you have to know who they are. By capturing robust customer data, you can use valuable intel to send the kind of offers and experiences that customers want.
How? At Oath Pizza, they use behavioral and transactional data to send customers offers based on prior order history.
Take Kenzo, a customer who's buying history shows he comes in for lunch during the weekdays and typically orders a Spicy Mother Clucker pizza and a soda.
The company could send an offer saying, "Kenzo, because you love the Spicy Mother Clucker, we're giving you 10% off your next order." This promotion rewards his continued loyalty and can be sent after Kenzo visits a certain amount of times or reaches a certain spend threshold.
The company could also encourage Kenzo to try something different from the menu by sending a product recommendation. The promotion might read, "Kenzo, a perfect complement to your fave Spicy Mother Clucker Pizza is our Caesar Salad. Score one on your next visit for only $5."
Both of the offers are memorable because they're personalized and are more effective than a generic one size fits all offer.
Invite customers to an event
These days, simply offering great food is good but combining great food with a memorable experience is a winning combination.
For example, True Food Kitchen, a restaurant serving health-conscious food, decided to offer a complimentary yoga class to customers on a Sunday morning along with an offer for 15% off brunch after the class.
Yokozuna is also creating memorable dining experiences. They recently hosted a by invitation only (the restaurant limited invitations members of their customer loyalty program, Passport) event for a tequila tasting and sushi-rolling event where attendees learned to hand-roll sushi and sample an array of tequilas. Talk about memorable – and attendees went home with a new skill they could tell friends and family about further spreading the word about McNellies.
Check out this example from Denver-based Milk Market from a recent newsletter with the subject line: Sweat in the City & Spritzes Galore!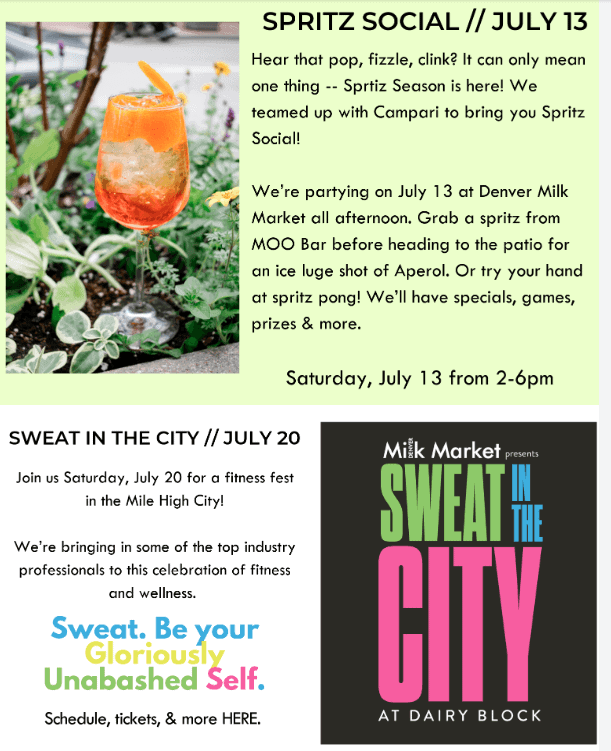 Consider offering customers a unique dining experience that includes a class, a cooking demonstration, or maybe even a mixology lesson from your top bartender.
Give customers a reason to celebrate
When you go to a restaurant to celebrate, it's memorable, right? From birthday celebrations to retirement parties, these are all memorable experiences. Birthdays are truly personal moments and few offers are more personal than an offer specific to someone's big day, but some restaurants are going beyond birthday promotions.
Rather than sticking with expected traditional holidays, many restaurants are seeing success by celebrating unexpected holidays – or even creating a holiday of their own.
Dewey's Pizza, for example, sent its customers a special promotion on National Cheese Pizza Day. The one-day offer of a $10 pizza resulted in a 20% increase in revenue for that day.
Milk Market created its own holiday, FEM. The holiday, stands for flour, eggs, milk, the key ingredients in crepes, was a celebratory day where select guests could nab a crepe and drink for only $5.
Try celebrating an unexpected holiday that's related to your restaurant. This list of holidays could help.
Wrap up
In a competitive restaurant environment, tapping into customer data to create memorable experiences has never been easier.