Are you using email to grow your business? Today's merchants have more choices than ever to engage customers, and a powerful method is through email marketing.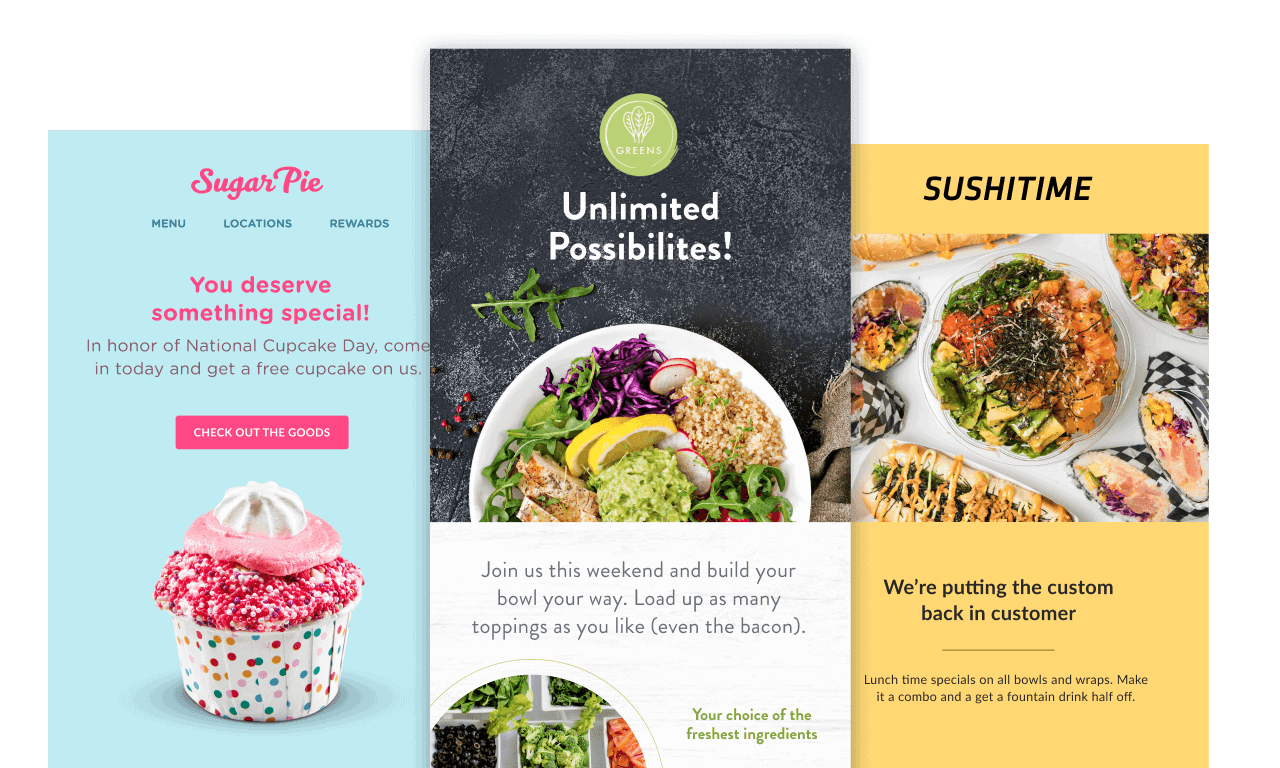 But… with great power comes great responsibility. It's easy to become enamored with tracking surface-level, vanity metrics that don't measure real results generated by your campaigns. What you really need to be measuring is what makes a difference to your bottom line: actual revenue.
In this post, we'll examine the difference between vanity and engagement metrics and why measuring revenue impact is the holy grail.
Vanity metrics vs. engagement metrics
Many email service providers (ESP) boast about metrics like opens and click-through rates as success KPIs. However, these are vanity metrics – metrics that don't have a direct correlation to numbers that speak to business success.
Why are opens and clicks vanity metrics? The information they provide:
Doesn't show how much revenue a specific message delivered
Doesn't prove revenue and incremental revenue generated (sales you wouldn't have otherwise made)
Doesn't tell how many of opens or clicks converted to a purchase
Doesn't determine data-driven success
You measure success in same-store sales growth, and your KPI metrics should do the same. So, how do you uncover metrics that prove revenue built for your business? Let's take a look.
Track transactional data to measure real revenue
Your loyal customers are the most valuable to your business. Emails targeted to loyalty program members generate up to 50% higher response rates than regular promotional emails or email blasts. For example, Elephants Deli segmented their Thanx members and their non-Thanx members and sent an email out to each list. The Thanx list performed twice as well as the non-Thanx list. The reason? The Thanx list members are more engaged with the brand.
But as we've mentioned, it's about more than opens and clicks and most traditional ESPs don't capture transactional purchase data. You may know how many people opened or clicked-through your email, but you'll be left wondering:
"Did they redeem the offer we sent? If so, when? Where?"
"How much revenue did this campaign generate?"
Businesses that are serious about increasing their revenue and ROI need to know how their efforts are paying off and quite simply, opens and clicks won't suffice.
To measure real revenue from your emails, send campaigns through a customer engagement platform that enables you to capture robust data about the customers driving your business including revenue generated from each and every email sent. This is a game-changer for your business and not something your run-of-the-mill ESP offers.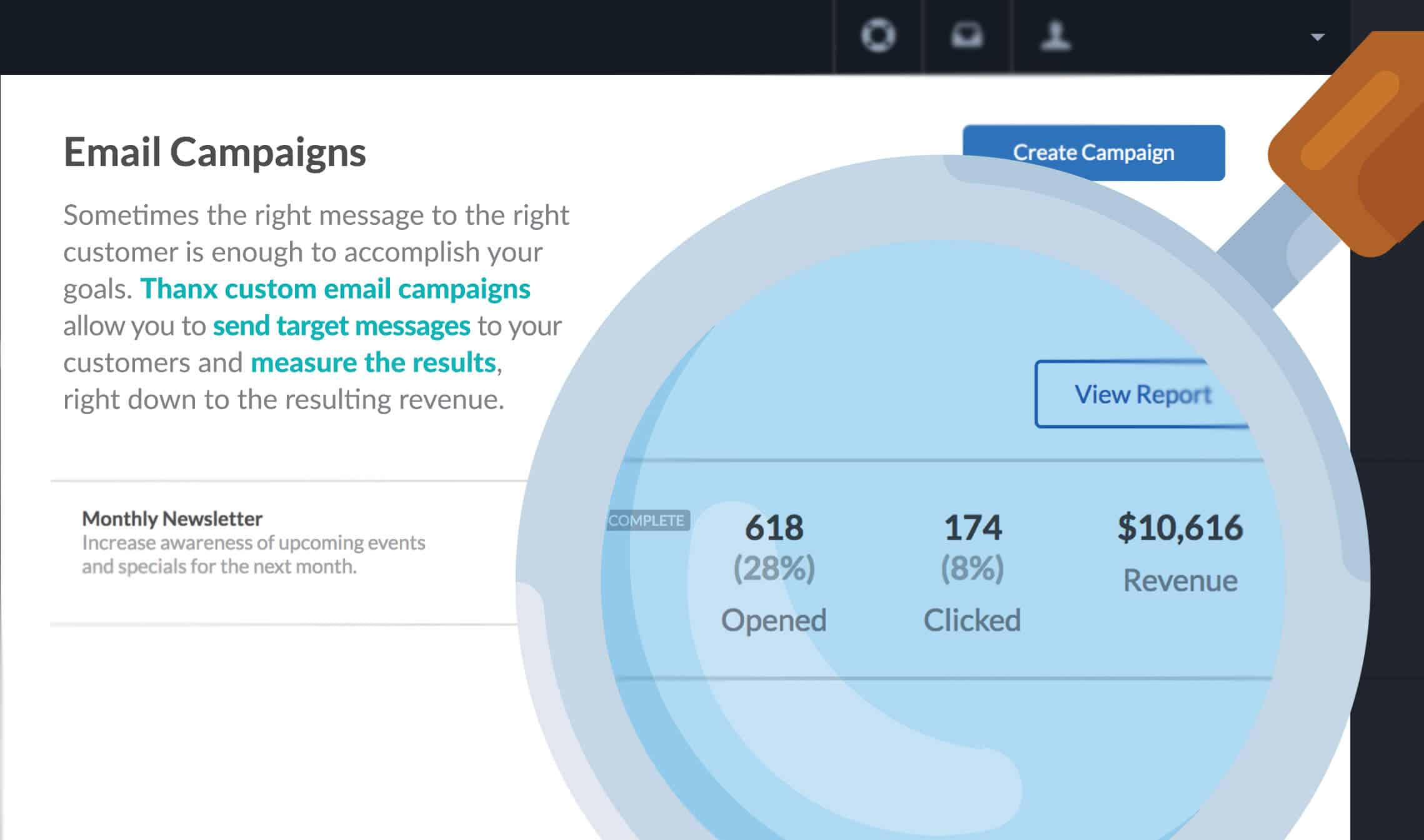 Because Thanx users link their credit cards when they sign up, every time they make a purchase, the data is captured on the back-end. The transactional data gathered enables Thanx to track how much revenue is generated as a result of each email you send. And unlike the reporting you get from traditional ESPs, you'll be able to measure more than clicks and opens, like tracking which clicks and opens converted to a purchase and of course, the revenue generated.
Integrate customer engagement and email marketing to measure revenue generated
Measuring revenue generated by an email campaign is easier than you've ever imagined. You can send email campaigns directly from your Thanx dashboard in just a few clicks, then get data-driven revenue metrics that prove the actual benefits to your bottom line.
By tying together email marketing and customer engagement, you'll be able to:
Fuel email list growth
Growing an engaged email list is not an easy task. Quantity is not better than quality, so it's important to make sure the members of your email list care about interacting with your business. Without data-driven customer engagement, you have no way to know if your VIP customers have opted-in for your emails.
When your customers create a Thanx account, they are given the opportunity to become a member of your email marketing list. The email sign-up appears within the enrollment flow for your program, allowing customers to opt in at a higher rate.
Integrating email marketing and customer engagement ensures an engaged email list and timely notifications, driving better email marketing results and more engaged customers.
Offer more personalized rewards
The future of customer loyalty and email marketing is here… and it is personal.
According to Marketo, 79% of consumers say they are only likely to engage with an offer if it is personalized to reflect their previous interactions with the brand. And since it is 7 times more expensive to acquire a new customer than it is to retain one, sending behaviorally driven offers is a fantastic strategy to boost your bottom line.
Using the data you've collected about a customer, you can send them personalized messages and rewards tailored to their purchase history. The way they interact or make a purchase based on that offer will become a part of their customer profile.
Create highly targeted email campaigns
When it comes to customer engagement and email marketing, one size never fits all. It's time to retire email blasts that offer no value to subscribers and no data-driven revenue metrics for merchants.
Wouldn't it be helpful to have your customers segmented based on their behavior? Thanx captures over 40 different customer attributes.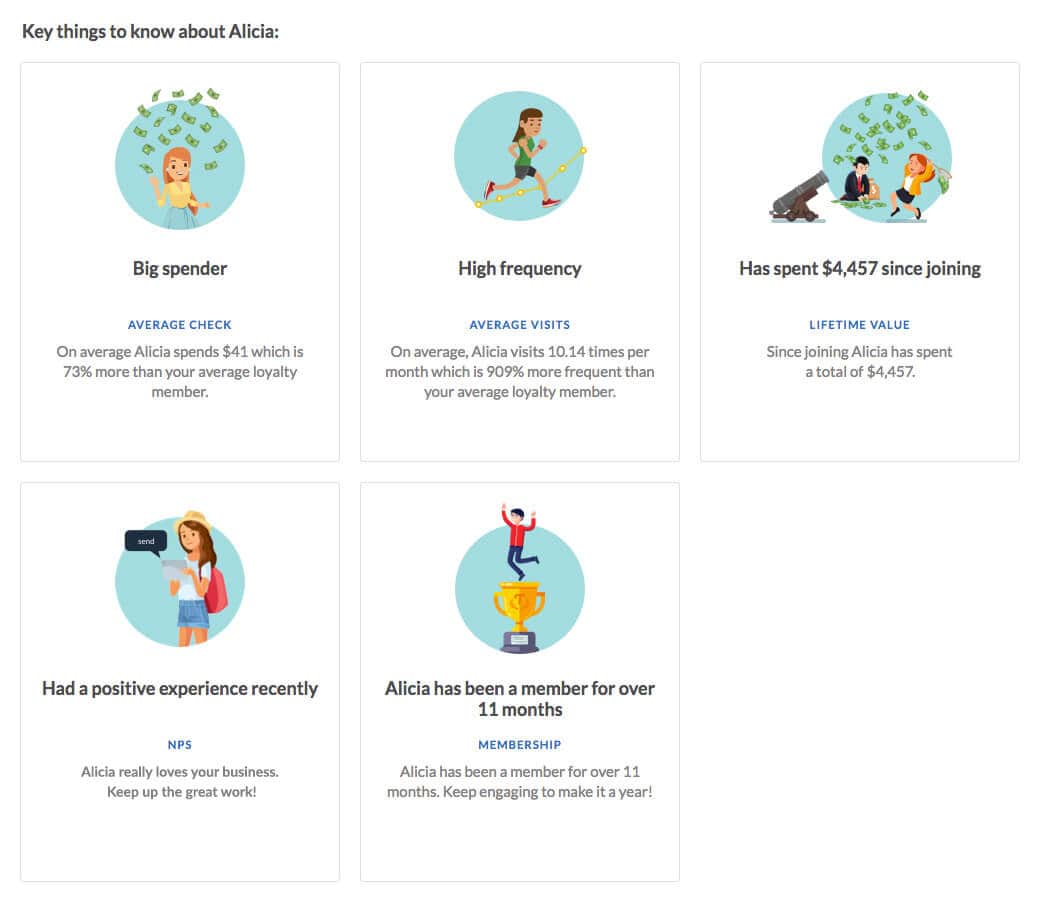 Thanx automatically groups customers into insightful categories based on:
Lifetime spend (est.)
Visit frequency
Average spend
Thanx "value" categories (VIP, regular, infrequent, at-risk, churned, etc)
Demographics (age, sex, marital status, children, etc)
Customer satisfaction (via Net Promoter Score)
Location preference
Day or time preference
Item preference
Responsiveness to previous promotions
Location (home, work, real-time)
These segments allow you to email the right customers with the right offers at the right time. By using real purchase data, you'll be able to measure the effectiveness of your segmented, targeted campaigns beyond opens and clicks.
Implement email drip campaigns
Sending the right message at the right time could mean a lot of extra work. That's why many savvy businesses streamline this process with drip email campaigns.
Drip campaigns are an automated series of emails that are triggered based on a user's actions or a specific timeline. Thanx provides pre-written, pre-designed, customizable drip emails that will nurture your customers into an engaged relationship with your business. The drip email campaign will be tied to the customer's purchase history – giving you a full view of your customer's behavior.
Boost customer retention with Winback emails
Understanding your customers' spending habits is key to measuring revenue. Churn can be a threat to any business, and there are many reasons customers may not be returning. Customer engagement and email marketing provide a solution to keep customers coming back.
Winback campaigns are automated emails that use behavioral data to identify when a customer is churning. When a customer is lapsing, Thanx reaches out with a personalized offer to bring them back in the store. Winback delivers 6x ROI for businesses – and that revenue is able to be tracked and measured to prove the effectiveness of your marketing.

Wrap up
Modern customer engagement platforms provide a 360-degree view of your customer and the revenue they generate. Email marketing targeted to engaged customers generate 29% higher transaction rates and 11% higher revenue per email – but without being able to track transactional data, you won't have access to the revenue generated by your email campaigns.
Vanity metrics, step aside. Use the tips we've shared to measure meaningful engagement metrics that prove the real impact of your email marketing efforts in real revenue.