Every business has loyal customers who visit often, spend more than the average customer, and drive a large portion of revenue. However, most merchants don't know who these customers are, or how to reach them in a personal and targeted way. Unknown customers are hard to engage and market to, even though they make up most of your existing customer base.

Marketing tools like social media, SMS, and email marketing can help you get to know your customers better but can be time-consuming and hard to measure since you are only reaching them in a one-to-many and generic way.

Using a customer engagement platform with insights that show you who each of your customers is, and identifies both their spending and visiting behaviors, will empower you to reach your best customers in a personalized and hyper-targeted way.

In this post, we will explore how insights will help you move your understanding of customers from the unknown to personal relationships so you can grow your business.

Go from Unknown customers to Known
Unknown customers are individuals who are totally anonymous and you have little to no data about them like their name, email address, purchases, the location they visit most frequently, or other valuable behavioral data. Businesses who don't know who their customers are, obviously find it difficult to engage and retain them.

A customer engagement platform with customer insights, enables you to build personal relationships with your loyal customers by using segmented communications and targeted offers. Insights will transform your customer engagement strategy when you go from having unknown customers, to building personal relationships with those who visit and spend the most. The right platform ensures that you send the right message to the right person at the right time, in an automated and seamless way.

The best way to turn those unknown customers into known customers is to provide them with points of engagement that you can capture relevant data on so you can continue to evolve and improve their customer experience.

Use a CRM with customer insights
A CRM that is custom-built for businesses will capture a complete view of your customers' spending and visiting behavior. Your top customers are those who visit and spend the most at your business. They are the ones who drive your revenue, continue to return on a consistent basis, and refer you to their friends. The more insights you have around each of your customers, the more you are able to engage them, and even win them back if they stop visiting.

Customer data enables smarter decisions throughout every area of your business by letting you know what your customers buy, how often and when they visit, and much more.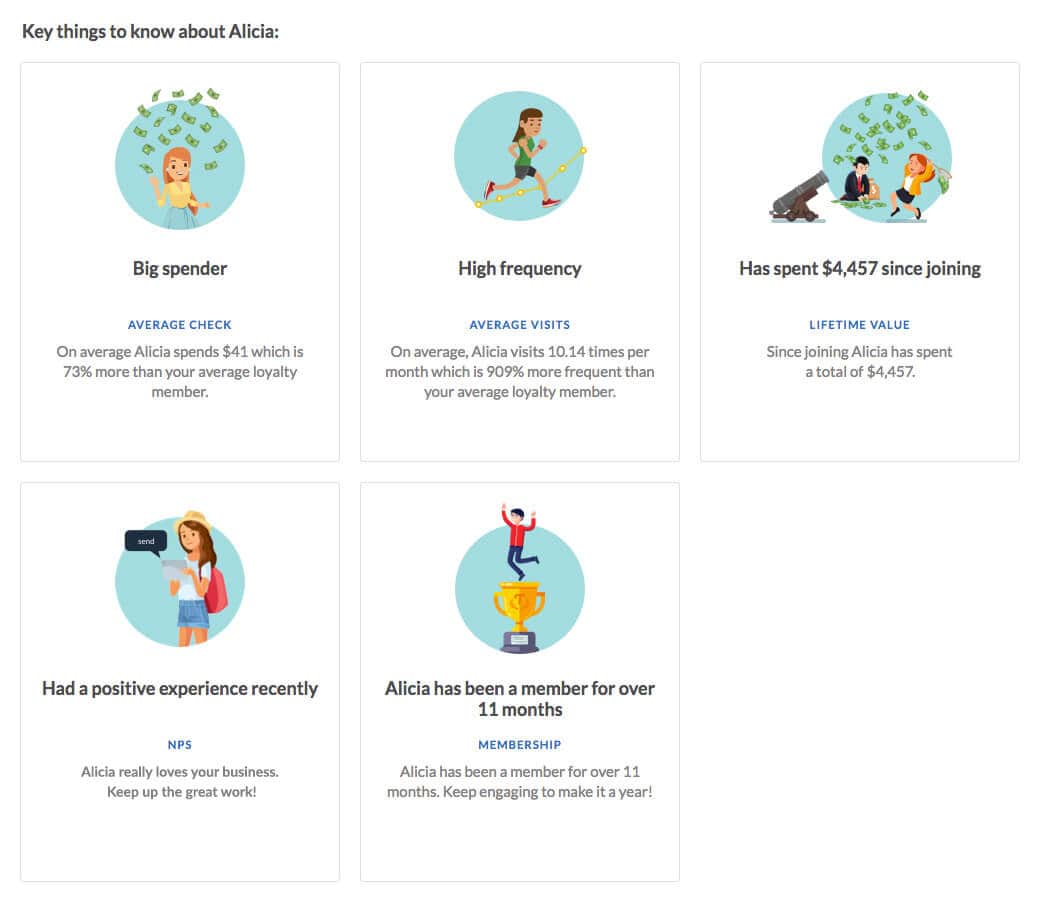 Talk to everyone more personally
Insights allow you to focus on the 20% of your customers who drive 80% of your revenue — they are the ones who make the most meaningful impact your business. At-a-glance segmentation identifies your best customers and what they're worth. With the right insights, you won't need any spreadsheets or analysts at hand to know your customers better.

Insights reveal key things about each of your valuable customers. For example, you will be able to see their average check size, visit frequency, when they last visited, their overall lifetime value, whether they've had a positive experience lately based on their NPS (Net Promoter Score), and how long they have been a member for.

You can also take a look at SKU-level data granular insights to see what your customers purchase down to the item level. These insights will show what your best-selling products are and enable you to promote them more to the right customers.

The engagement platform offers pre-built segments based on customer behavior and desired behaviors to enable you to automatically deliver the right message to the right customer at the right time.

Understand customers by revenue contribution
Insights can even break down your customers by revenue contribution. You can see which percentage of your customers contribute to your revenue the most.

For example, you will be able to see how many of your existing customers are in the top 10% of your revenue contributions, as well as the next 15%, and more. These insights won't just help you get to know your customers better, they will also enable you to measure growth over time and see how your customer engagement has increased with hyper-targeted and personalized campaigns.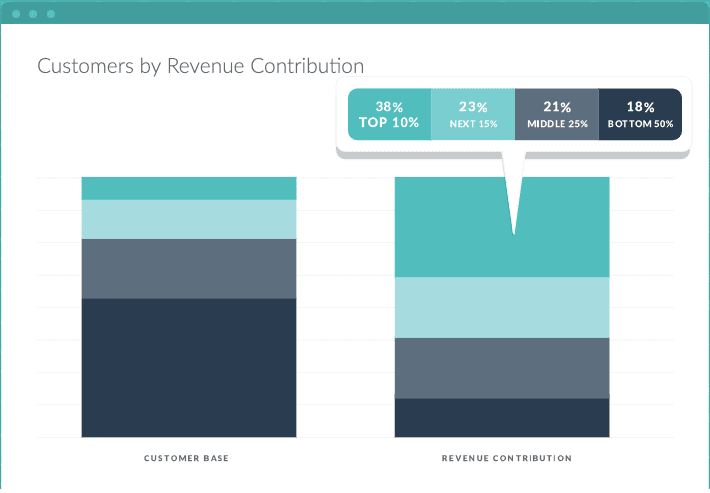 You will also be able to track the revenue of each campaign you send to your customers. These insights will reveal how much revenue was generated by each campaign, how many of your customers made a purchase after receiving the campaign, how many customers opened the message you sent, how many redeemed the reward, and what the average order value was.

The more you know your customers, the better you are able to engage them with meaningful campaigns that will grow your business.

Wrap up
With the help of a customer engagement platform, you can easily turn unknown customers into known customers, known customers into personal relationships, and personal relationships into loyal customers.

Insights capture robust data and provide you with the information you need to know your customers better and send them personalized and targeted messages that will grow your business and your relationships.