In the personalized world, we live in where consumers have come to expect highly relevant communication and experiences, customer data is king. Capturing customer data is crucial for merchants to build one-on-one relationships. However, many merchants, believe capturing and using data is challenging and complex.
In response, merchants have turned to third-party solutions to help them gather customer information, build profiles, and create personalized experiences.
But, here's the catch. Most of the time, when third-party platforms gather data for you, it becomes their data. You don't own it. In this post, we'll discuss the pros of owning your customer data in order to take your customer back.
Data ownership and third-party platforms

Because the data struggle is real, many merchants have partnered with third-party point solutions like POS systems, third-party delivery solutions, and others in an attempt to get access to better customer data. But there's a problem. You often don't get full access to and ownership of the data. Why? When a third-party vendor collects customer data on your behalf, it's not yours – at least not in its entirety.
It doesn't make sense, right? When a mechanic fixes your car, it's returned you because you own it. When the seamstress mends your dress, it's returned to you because, again, you own it. When a third-party point solution captures data, ownership can be murky. And more and more, these third-party solutions are restricting access to their end-users. It's a little known fact that these platforms can restrict access to your data, or copy it and sell it to whomever they'd like.
It's like the mechanic returning your car, but without the front tires, or the seamstress copying the design of your dress and selling it to your former best friend. You're probably saying, "Wait, that's not right." And, frankly, you're right. It's not. So, what's the solution?
Reclaim your data: Find a platform that gives you ownership
It's important to establish data ownership before you commit. If a third-party solution doesn't share your customer data with you, then you have a problem. If the platform or vendor plans to reuse, repurpose, or restrict your data in any way – you might want to explore other options. A customer engagement platform might just be the perfect solution.
A customer engagement platform is a combination of data insights, email marketing solution, customer feedback channel, online ordering, and a customer loyalty program all rolled into one. It captures robust customer purchasing data, integrates with marketing platforms that you already use, creates personalized campaigns, and provides rich reporting.
And here's the best part – any data captured is yours. You own the data to use to power your customer engagement in compelling ways.
What to look for in a customer engagement platform
As you look for the right platform, be on the lookout for these features:
• Centralized data
Many merchants capture data, but the actual storage and access to it usually involve a handful of different marketing tools. For example, you might collect data via an email service provider. By using the provider's sign up forms, referral forms, and survey assistance tools, you gather more intel about your customers.
The trouble is, most merchants have a handful of marketing tools in their tech stack that each have their own data and reporting. It makes it virtually impossible to have a complete view of your customers.
Look for a customer engagement platform that's integrated with platforms you already use so data isn't compartmentalized. You need a centralized location for customer data so you can use it to personalize marketing campaigns.
• Access to behavioral data
Behavioral data is priceless when it comes to engaging your customers and building an on-going relationship.
Armed with this data, you'll have a 360-degree view of your customers. You can identify your best customers and engage them with personalized marketing campaigns that drive incremental revenue.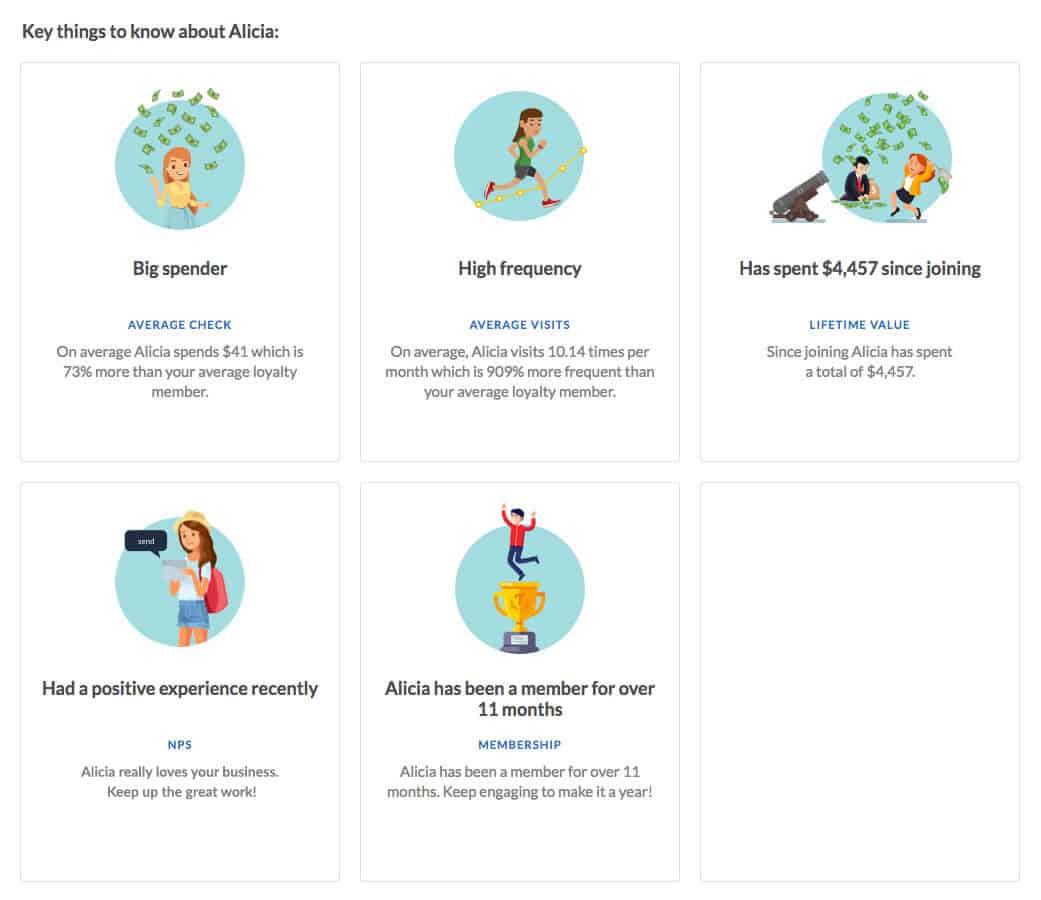 • Ability to increase repeat customers
Collecting data is only part of the process, you have to leverage it to retain customers – otherwise, it's useless.
Look for a customer engagement platform that gives you the power to segment your customers and reward those who frequent your business. The platform should also reach customers across a variety of channels, including email, text, and push notifications.
• Clear revenue-contributing reporting
As you use your owned data to increase customer retention, you need the ability to see how effective your efforts are. Most marketing tools, no matter what their purpose, offer some sort of metrics or analytics. But, you don't want a run-of-the-mill dashboard full of vanity metrics like impressions, page views, and clicks. Why? Because they don't answer the one question you want to be answered, "How much money did I make as a result of this campaign?"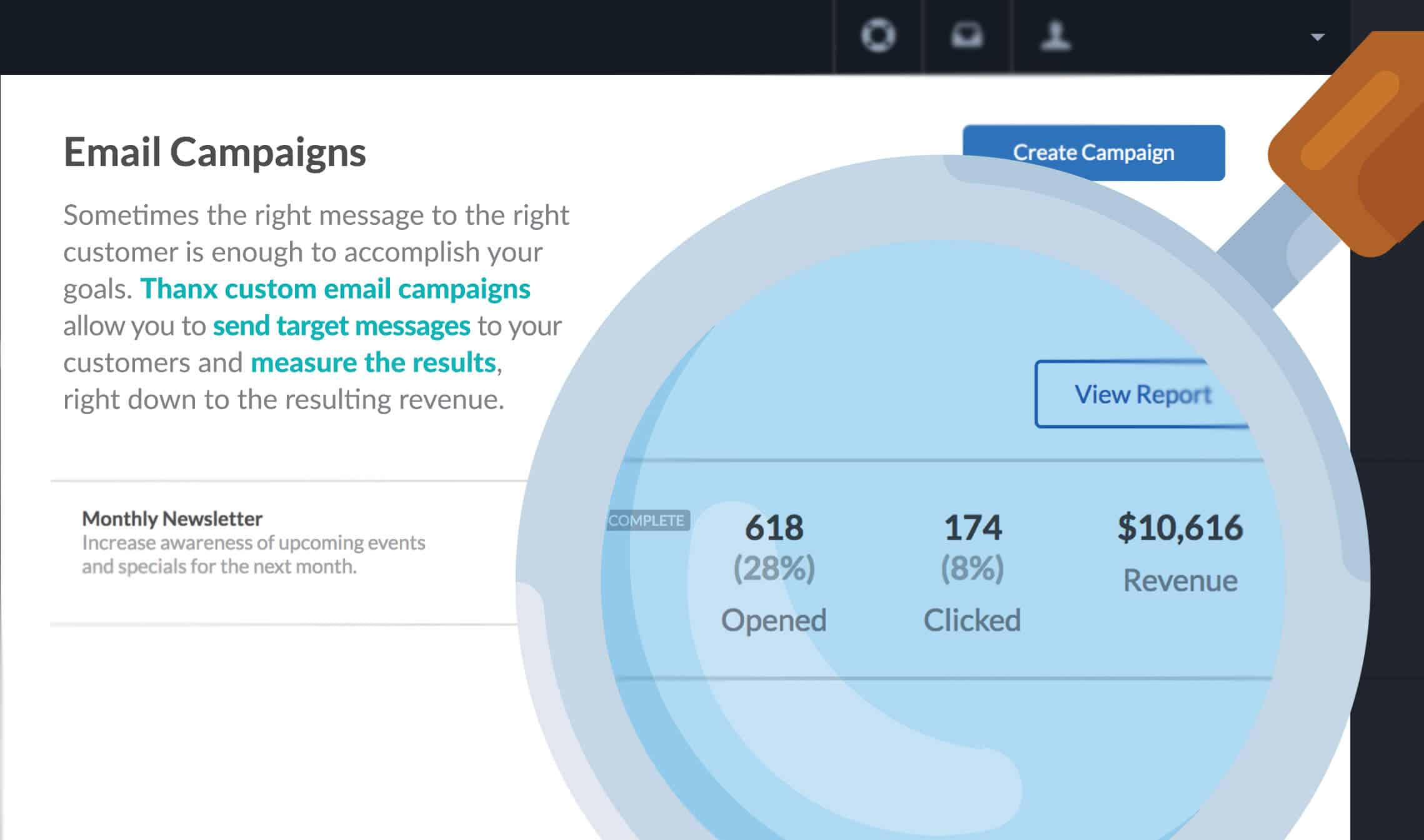 Wrap up
Effective customer engagement requires customer data, but the process of capturing and utilizing it is doesn't have to be a daunting task. Take back your customer data and your customers so you can create memorable and engaging experiences.