To generate more revenue, many merchants assume they need more customers. Research shows 44% of companies focus on customer acquisition more than customer retention, but is that the right strategy for your business?
Customer retention is the new acquisition. You may be able to generate more revenue by selling to your existing customers than you can by acquiring new ones. Check out the stats: customers who love your brand are 11x likely to buy more, 17x more likely to refer your company, and 9x more likely to try new things, according to research from Tempkin Group.
To help you retain more customers and drive revenue increases, we'll share five tips to make retention a priority for your brand.
1. Reward your best customers
When customers feel appreciated, they respond by visiting more often and spending more at each visit. Simply put, treat your best customers like rock stars. After they make a purchase, continue the customer experience with personalized and targeted messages and offers based on what they buy. If they've reached VIP status, you can even provide them VIP exclusive offers.
BaubleBar, for example, gave their VIP customers access to a flash sale and a 35% off coupon.
The makers of the popular game, Fortnite, do something similar by rewarding their customers, or, in this case, players, with a free battle pass if they complete certain milestones within the game.
Both of these offers reward existing customers for their patronage and provide an incentive to come back.
2. Know your customers
In order to reward your best customers, of course, you have to be able to identify them. Customers are willing to share their personal preferences if it means a more tailored shopping experience. Research from Convince & Convert shows why customers are willing to open up.
The chart below shows the biggest reason customers share information is for brands to make connections between digital and in-person experiences, but having more consistent interactions across channels, and more personalized interactions also made the list.
Of course, capturing, storing, and utilizing customer data might seem like a challenge – unless you have the right tool. Many companies rely on a patchwork of platforms to collect customer data, like social media sites or metric tools like Google Analytics. These tools, while effective in their own lane, won't provide the kind of centralized data you need.
To create individual customer profiles, you need a complete customer engagement platform.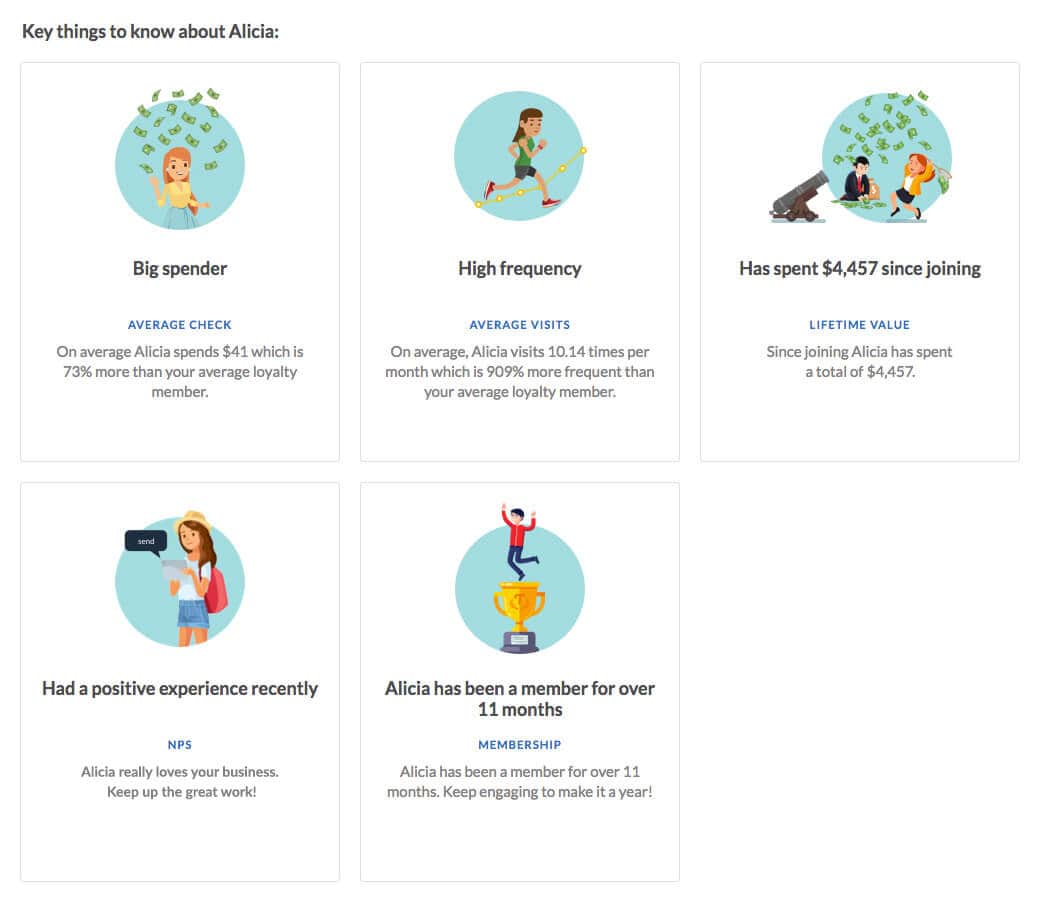 Thanx, for example, gives merchants this 360-degree view of customers. At a glance, merchants can see how much Alicia usually spends and how often she comes in.
With this kind of data, you can easily create targeted campaigns that are specifically designed for each niche, like your VIP customers.
3. Respectfully upsell
Existing customers hold a lot of upsell potential. The idea is to get customers to buy more, maybe by purchasing additional add-ons or by upgrading a current item to a more expensive one.
For example, if George comes into a coffee shop every morning to buy a small hazelnut latte, you could offer him a 10% discount on a large hazelnut latte on his next visit.
This tailored promotion makes George feel valued, especially since the coupon is for his usual drink, and lands your business additional revenue that wouldn't be earned otherwise.
To be effective, an upsell promotion must be: timely, tailored, and tasteful.
Send the offer after a purchase so you know the customer is engaged with your brand, make sure it's personalized in some way, and keep the overall messaging simple not pushy.
Grammarly offers a great example here. The message is sent to an engaged user, it provides a tailored discount, and tastefully touts the benefits of the software.
4. Say thank you
How often do you thank your customers? A simple "thank you" can go a long way to retain customers. If you send an email with "thank you" in the subject line, for example, research shows open rates are 14% higher and click-throughs are almost 2% higher.
Southwest decided to thank its customers with the email below, but the company took the idea one step further. The budget-friendly airline shows this customer how often he flew with the airline and the benefits of it, which complements the appreciative message.
Of course, email isn't the only way to reach your customers. With a customer engagement platform, you can reach customers through email, text, and push notification.
When a customer made a reservation at Diner's Bazar, for example, this automated thank you note was sent via push notification. It also includes a 10% off coupon for the customer's next visit.
Saying thank you is a small gesture and it often delights customers.
5. Launch a referral program
Your happiest customers are your best advocates. Consider using a referral program to enable your happiest customers to refer more customers like them. Why start here? Your happiest customers will sing your praises, and in turn, these referred customers are four times more like to buy because they trust their friend's advice, according to research from Nielsen.
How do you identify your happiest customers? Simple. You ask. After customers make a purchase, use your automated customer engagement platform to send a 1-question survey. The question, known as a Net Promoter Score, asks customers how likely they are to refer your business to family and friends. The customer responds by selecting a score on a sliding scale, where 1 means the customer is unlikely to recommend your business and 10 means the customers is highly likely to recommend your business.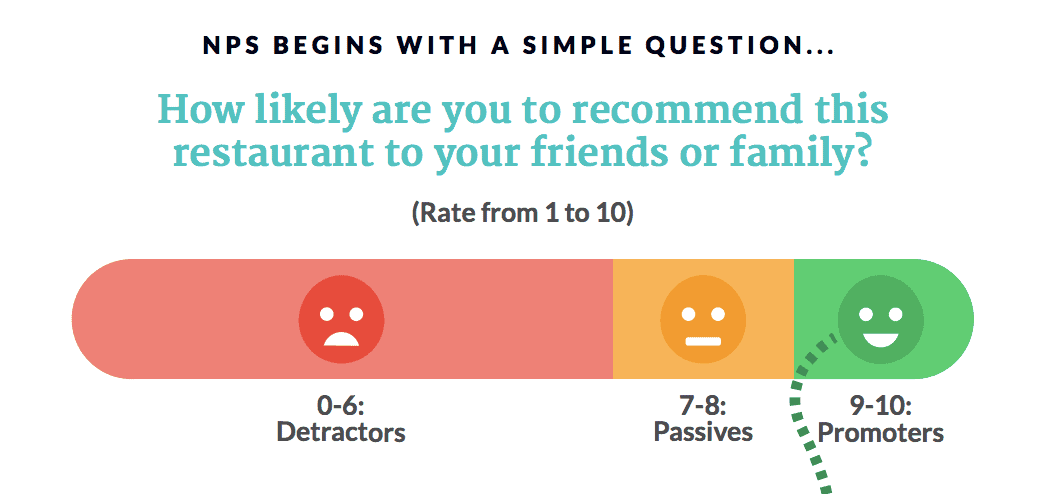 Customers that give you a 9 or 10 are considered "promoters," and as such, are the best people to start a referral program with.
If you're using a customer engagement platform, you can use it to contact your promoters with a special referral offer. For example, any customer that refers a new customer gets 15% off their next purchase.
Wrap up
With competition constantly growing, it's important for brands to invest in profitable customer retention strategies. Your existing customers are already interested in your product, now it's time to connect on a more personal level and build a long-term relationship. With the right tools, brands can emphasize retention and generate profit-impacting results.