Most merchants want to know how they can retain customers and drive more revenue.
Back in the late 1800s, when five and dime stores were popular, owners strategically placed candy in the windows to encourage families to come in. Barbershops branded their stores with a unique spinning pole and offered a free shave with a haircut. Even back then, merchants tried different marketing acquisition techniques to keep a steady flow of customers coming in.
The question is still asked today, but in a digital world, the answer is becoming clear. To retain customers and drive revenue you need one thing: data.
By capturing customer data, you get to know your customers and can leverage that intel to create a personalized experience – and that's what customers want. Research from Salesforce shows:
57% of customers are willing to share personal data in exchange for personalized offers.
52% of customers say they'd like to see their data used to create personalized product recommendations.
52% of customers are searching for a more personalized in-store experience.
Personalized experiences have become the key to customer retention and increased revenue, but it means merchants have to shift into a data-centered mindset.
In this post, we'll explore four ways to use data to delight and engage customers and show you personalized campaigns that deliver on that promise.
Ways to use data
In the race for robust customer data, there are a lot of "suggestions" on ways to use it. We'll cut through the clutter and explain four ways to put data to work for your brand.
1. Identify your best customers
Do you know who your best customers are? If not, you're losing money. Research shows 80% of revenue comes from 20% of your customers. Simply put, you need to know which customers make up that 20%.
With data, you can pinpoint exactly which customers are your VIPs. With data points like visit frequency, average check size, and customer lifetime value, you can identify which customers are contributing the most to your bottom line.
2. Create customer profiles
Bits and pieces of disconnected customer information aren't helpful, but when you put a handful of pieces together you start to see the full picture. In a data-based world, this "full picture" is called a customer profile. Data provides a 360-degree view of your customer.
There are many data-collection tools that claim to create customer profiles, but you need one that creates easy-to-take-action on insights. Data can be complicated, so look for tools that can provide something like the customer profile below about a customer named, Alicia. Notice the information is simple and actionable.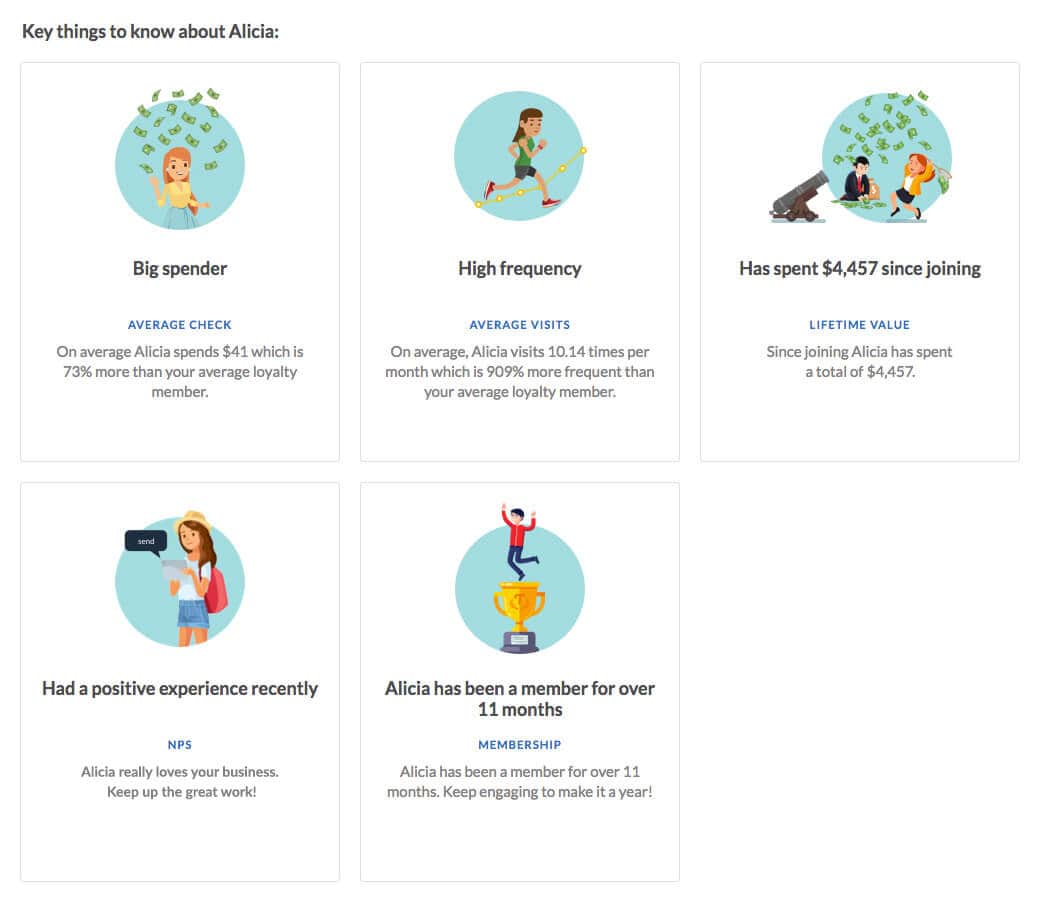 3. Create personalized campaigns
Understanding your customers means you can create tailored campaigns for them. Based on behavioral buying data, which can even drill down to item-level purchases, communication becomes much more targeted, relevant, and personal.
For example, data might reveal that a group of VIP customers always stop in during the morning rush hour for espressos. Knowing this, you can send a tailored communication that encourages them to come in and try your weekend brunch. This type of offer would increase their visit frequency and average check size. Read how Elephants Deli did it in this case study.
4. Measure your success
You have the power to not only create personalized campaigns but measure their success as well. Data in, data out.
Be careful though. Some data tools say they provide analytics but only provide vanity metrics. Clicks, impressions, views – they don't provide the real story of how your campaign performed. As a merchant, you want to know how much revenue was generated from a campaign. Period. Look for a platform that provides metrics in real revenue, like this:
Data-backed campaigns to send
Now that you understand ways to use data, let's look closer at the most popular personalized campaigns that inspire customers to act.
Birthdays give merchants a chance to connect with customers 1:1. It doesn't get more personal than sending a birthday message on a customer's birthday. When you combine a personalized birthday message with an offer, you give customers the incentive needed to come in.
Depending on your business, you can cater the reward to encourage larger groups. For example, restaurants can offer certain promotions based on party size to see a bump in the number of customers and the amount of money spent increasing average check size.
Consumers redeeming birthday rewards typically spend 31% more than their normal purchase size through the data-collecting customer engagement platform, Thanx.
Relationships change. Customers stop coming in. It happens. But, many merchants don't know when customers leave. It's not like customers send an "It's not you, it's me" email to let operators know they've moved on. In most cases, customers just leave – and take their money with them. That is unless you're actively collecting customer data.
With a steady stream of customer data coming in, you can see when a customer's interest starts to fade. At that point, you can act by sending a winback campaign. Some customer engagement platforms automate this process for you using AI technology.
Mike's Car Wash, for example, uses Thanx to capture data and sends automated winback promotions to customers when there's a drop in buying activity. As a result, 30% of car wash customers have come back. This case study has more details.
No matter what you call your best customers – VIPs, top-tier clients, big spenders – they're worth keeping happy. Since they contribute the most revenue to your bottom line, it's important to show your appreciation, which in turn, keeps them on the path to repeat spending.
Send a 'thank you promotion' with a special surprise offer or consider upselling an add-on item.
The idea is to court your VIPs and think of creative ways to drive satisfaction and repeat visits.
Celebrate unexpected holidays
When a holiday rolls around, celebrate with your customers. Segment your list and send personalized offers that customers relate to. Traditional holidays like New Year's and Fourth of July are common, but consider trying to some unordinary holidays like Margarita Day or National Cheese Pizza Day.
Dewey's Pizza sent its customers a coupon for $10 off a 17' pizza on National Cheese Pizza Day. The company doesn't usually offer such steep discounts, but wanted to get customers' attention – and it worked. Despite the large discount, the one-day offer still generated a 20% increase in sales. (This case study has more details).
To find a holiday that fits your business, check out this list.
Traffic-shifting incentives
What's your busiest time? Do you see a lot of morning traffic or do more customer stop in after work? Do you have lunch crowd or cater to weekend warriors? Peak shopping hours vary by business, but what if you could shift those hours and get customers to come in during a time you wanted? With time shift offers, you can do just that.
For instance, Elephants Deli wanted to get their daily weekday breakfast customers to come in on the weekends to try a new brunch menu. Using their data, the company sent a 20% off brunch coupon to every customer that stopped in during the week. The results? Elephants Deli saw a 43% increase in traffic from the previous month. This case study has more details.
Wrap up
Data has quickly become an invaluable tool to drive both customer retention and revenue, but it's not always easy to capture and utilize it. To do so requires a customer engagement tool that does the heavy lifting for you. To learn more about a platform that can unlock customer data and help you create a personalized customer journey, request a demo of Thanx.