Every merchant wants loyal, repeat customers.
Every business has a group of VIP customers, and odds are they contribute to your success more than you know. Your VIPs matter.
In this post, we'll share what every merchant should know about VIP customers and how they impact your bottom line.
Why do VIPs matter?
Simply put, VIP customers fuel your business, and that's no small feat. Research shows 66% of sales come from just 25% of customers.
Think about that. A quarter of your customers are contributing more than half of your revenue. They visit frequently, spend more than others, and are more likely to refer your business to friends and family. To merchants, VIP customers are incredibly important because they provide consistent revenue.
The challenges of identifying and nurturing VIP customers
Most merchants know that their "regulars" play a crucial role in their existence, but that's where it ends. Typically, merchants aren't sure:
Who their VIP customers are
Merchants are often busy handling day-to-day operations across multiple locations, so getting to know which customers are visiting and spending the most can be challenging. You might recognize a familiar face here or there, but that's it.
While treating every customer the same sounds like a nice business practice – you shouldn't do it. Your VIP customers are contributing more to your business, so shouldn't their support be recognized? Absolutely.
VIP customers deserve heightened appreciation and special care. Rewarding your best customers not only shows your appreciation for their patronage, but it also helps you build a long-term relationship and drives revenue to your bottom line.
When (and how) to reward VIPs
Taking actionable steps to reward VIP customers is another challenge. What kind of rewards should VIPs get? You want to show your appreciation, but you don't want to erode margins by giving your product or service away.
And how do you reward them? Do you send a promotional email? Mail a coupon?
Merchants find the greatest success using a multi-channel approach that rewards their best customers who visit and spend the most. This approach builds loyalty while also ensuring campaigns are ROI positive.
How to engage your VIP customers
When you're ready to leverage your VIP customers, nothing beats an automated customer engagement platform. Think of it as a multi-faceted program that incorporates capturing robust customer data, engaging your best customers with targeted messages and offers, collecting real-time customer feedback, and measuring the results in real revenue, not opens and click or other vanity metrics. Plus, it's way cooler (and more effective) than punch or plastic cards.
An automated customer engagement platform can:
Identify your VIP customers
By collecting behavioral data alongside purchase data, you can see exactly which customers are VIPs. You'll have access to metrics like visit frequency and average spend, lifetime value, and SKU level detail.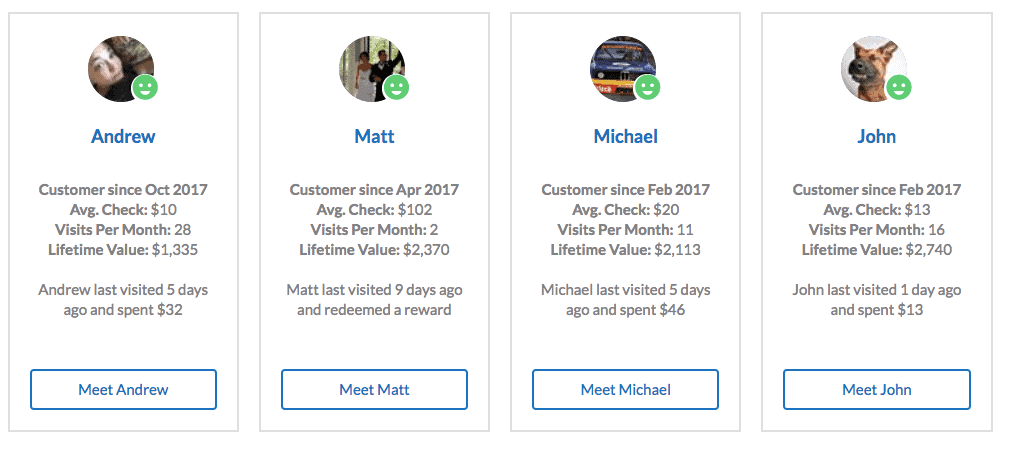 The data collected is easy-to-read, so you won't spend your time decoding charts and graphs. You'll be able to see who your best customers are at-a-glance and be able to take action on that information.
An automated customer engagement platform gives you the power to communicate with your VIPs across multiple channels. We can send a push notification directly to a VIPs smartphone or deliver an email to their inbox. You can respond directly and privately to the feedback they provide you. Simply put, you now have a direct line of communication to the customers who matter most.
The Thanx app makes is ridiculously easy to reward your VIPs. Because consumers link their credit card when they sign up for your program there's nothing to do when they make a purchase. They don't need to enter a phone number and there are no clunky cards to carry or have to punch. Everything happens effortlessly in the app so it's an awesome customer experience that results in happy customers who will refer your business to their family and friends.
How to get more VIP customers
Now that you understand the value of your VIPs and how to effectively reward them, the next natural question is how do I get more of them?
That's where the power of Thanx comes in. Using the robust customer data that Thanx captures with each purchase your customers make we are able to identify the average spend and visit frequency as well as lifetime value and over 40 attributes.
High visit frequency and spend customers on the brink of becoming VIPs can be easily segmented and sent a message or an offer to get them to visit again boosting your bottom line.
What kinds of promotions turn customers into VIPs?
Here are three psychology-based promotions that can help create more VIP customers:
Give customers something unique
The human brain seeks pleasure. When presented with a novelty, research suggests the brain releases dopamine, a pleasure chemical, as it explores something new.
You can incorporate novelty into your promotions. You don't have to go big. Small, unique promotions are novel enough to intrigue customers and encourage them to seek the pleasure of redemption.
What kind of novel promotions can you send? Go beyond basic coupons and 'buy one, get one' deals and try one of these promotions:
Priority access to a new product
Extended sale hours
Invitation to an after-hours sale
A free class
If you want to turn customers into VIPs, you have to give them a reason. Promotions that are out-of-the-box are certainly a great start.
Create a sense of urgency
To encourage more customers to make purchases, consider sending promotions with a sense of urgency to them. Why? When the human brain is forced to deal with a time-sensitive matter, people suspend deliberate thought and act quickly.
You can add a sense of urgency to your promotions too. Send your almost-VIP customers an amazing promotion – something that's really appealing – but put a short deadline on it to create a sense of urgency.
Humans look to others to see what's acceptable. We observe how others act, what they wear, what they listen to – the list goes on an on. After we observe, we adopt. We want to wear the same fashionable clothes as the in-crowd and carry the coolest smartphone, for example.
No one wants to miss out on the next hottest trend. There's even a term for it, FOMO, or fear of missing out.
You can use FOMO in your promotions. To do so, you have to show customers how awesome your product is, but you can't be the one saying it's awesome – it has to come from real customers.
Collect feedback from your customers and use it in your promotions.
Collect feedback and use it (with permission, of course) to promote upcoming products that are available during this week's sale.
When customers receive the email, they won't want to miss out on the cool items – so they'll stop by your location and make a purchase. Hopefully, customers are so pleased with your product and their overall experience that they start frequenting your business more often.
Wrap up
Working to attract and maintain VIP customers stems from the use of a customer engagement platform. With a modern platform like Thanx, you can see who your best customers are, reward them, and attract more customers to this lucrative segment.