As marketers, we are always looking to do things better, learn from our mistakes, and optimize what we are doing to get better results. As you look at all your marketing tactics you may not have considered your customer engagement strategy and how its currently driving results.  Do you need to make some changes or perhaps get back to the basics?
Before you consider refining your customer engagement strategy, it's smart to take a good look at what customer engagement, at its core, really is.
In this post, we'll explore the definition of customer engagement, provide some compelling reasons why business leaders care about customer engagement, and how to give your customer engagement a boost.
What is customer engagement?
In simple terms, customer engagement is the amount of interaction a customer has with your brand. In other words, any time a customer comes in contact with your brand and responds, that counts as customer engagement.
The definition of customer engagement to a marketing team, however, delves a bit deeper. When marketers come across the term "customer engagement," it typically means providing relevant, personalized customer experiences with the goal of that experience resulting in a positive engagement.
Why should you care about customer engagement?
What's all the hype with customer engagement anyway? Why is it such an integral part of driving business results? Why should marketing teams care about the definition of customer engagement and getting it right?
Customer engagement increases loyalty. And, loyalty means big bucks, according to research aggregated by Fundera:
43% of customers spend more money at brands they're loyal to.
Loyalty program members spend between 12-18% more per year than non-loyalty program members.
80% of customers are willing to pay more for a better customer experience.
Not only will loyal customers spend more with your brand with each interaction, but creating loyal customers will also save on acquisition and help you retain your best customers:
It costs 5 times more to acquire a new customer than it does to retain a returning one.
Lowering your customer churn rate by 5% can increase your profitability by 25 to 125%.
65% of a company's business comes from existing customers.
Monetary reasons are not the only reasons brands care about customer engagement. Brands that are doing things right care about developing a relationship with customers:
Brands should care about customer engagement because it fosters loyalty. And, loyalty means an ongoing relationship and an increase in revenue.
How to boost customer engagement
Now that we know the importance of customer engagement, let's look at some revenue-boosting customer engagement strategies.
Get to know your customers using insights
Most marketers feel like they are flying blind when it comes to knowing their customers and how to best reach them. We need to go from the unknown to a complete picture of our customers – who they are, when they visit our locations, what they buy, how much they spend, their lifetime value and much more. But how? A modern customer engagement platform can provide you with all these customer insights and many more. Thanx currently offers 20 customer attribute insights to our merchants so they can have a complete view of their customers.
Engage customers with relevant messages
Using the robust data and insights you get through your customer engagement platform you can engage your customers with compelling messages and relevant offer and rewards.
With Thanx, all your customer contact information and data is in one place which makes it easy to message all your customers or pick a segment of customers to target.
You can connect your email service provider or upload your email marketing list right into Thanx and send a message to everyone on your email list as well as your loyalty members.
Check out how Dewey's Pizza recently used Thanx to send a message to their customers and increased revenue by 20 percent.
Send targeted messages to segments of your audience
Sending a targeted campaign is the perfect way to send the right message to the right customer at the right time. When you send targeted campaigns to segments of your audience you can reach them in more personalized, relevant ways.
Thanx provides pre-built segments to enable you to quickly and easily laser-target parts of your audience. You can then use campaigns to elicit or change their behavior. Imagine things like getting customers to try a new product or service or to visit at a different time of the day or week.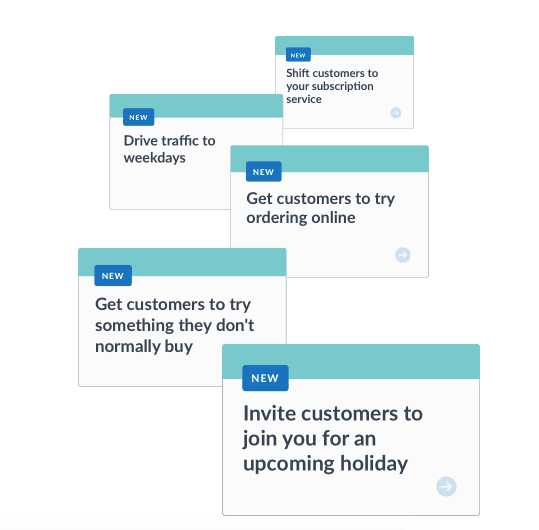 Check out how Elephant's Deli used a targeted campaign to shift customers to visit on the weekend and increased their weekend brunch traffic 43 percent.
Let automation do the work for you
It probably sounds overwhelming to try manually track your customer data and send out messages. That's because it is. That's why you use automated campaigns to do the work for you.
Automated campaigns run in the background and increase revenue while you manage your business.
With a smart customer engagement tool like Thanx, you can retain your best customers, drive foot-traffic, and manage your reputation without lifting a finger.
Check out how Pacific Catch uses Thanx to retain their best customers and increase revenue.
Measure your results in real revenue
Remember this from Lewis Carroll's Alice In Wonderland?
"Alice asked the Cheshire Cat who was sitting in a tree "What road do I take?"
The cat asked, "Where do you want to go?"
"I don't know " answered Alice.
"Then, said the cat, it really doesn't matter, does it?"
When writing this passage, Lewis Carroll probably never knew how impactful this statement would be to the world of data science 100+ years later.
If you don't have customer engagement goals, then your customer engagement strategy doesn't really matter. It won't yield any results
The key to knowing which road to take lies within measuring campaigns. With the data Thanx captures for you, you can easily see which strategies are contributing to your goals and which are not. Then, you'll know exactly what road to take to get the results you want.
And the difference with Thanx is we measure your results in real revenue. Not just vanity metrics like clicks and opens.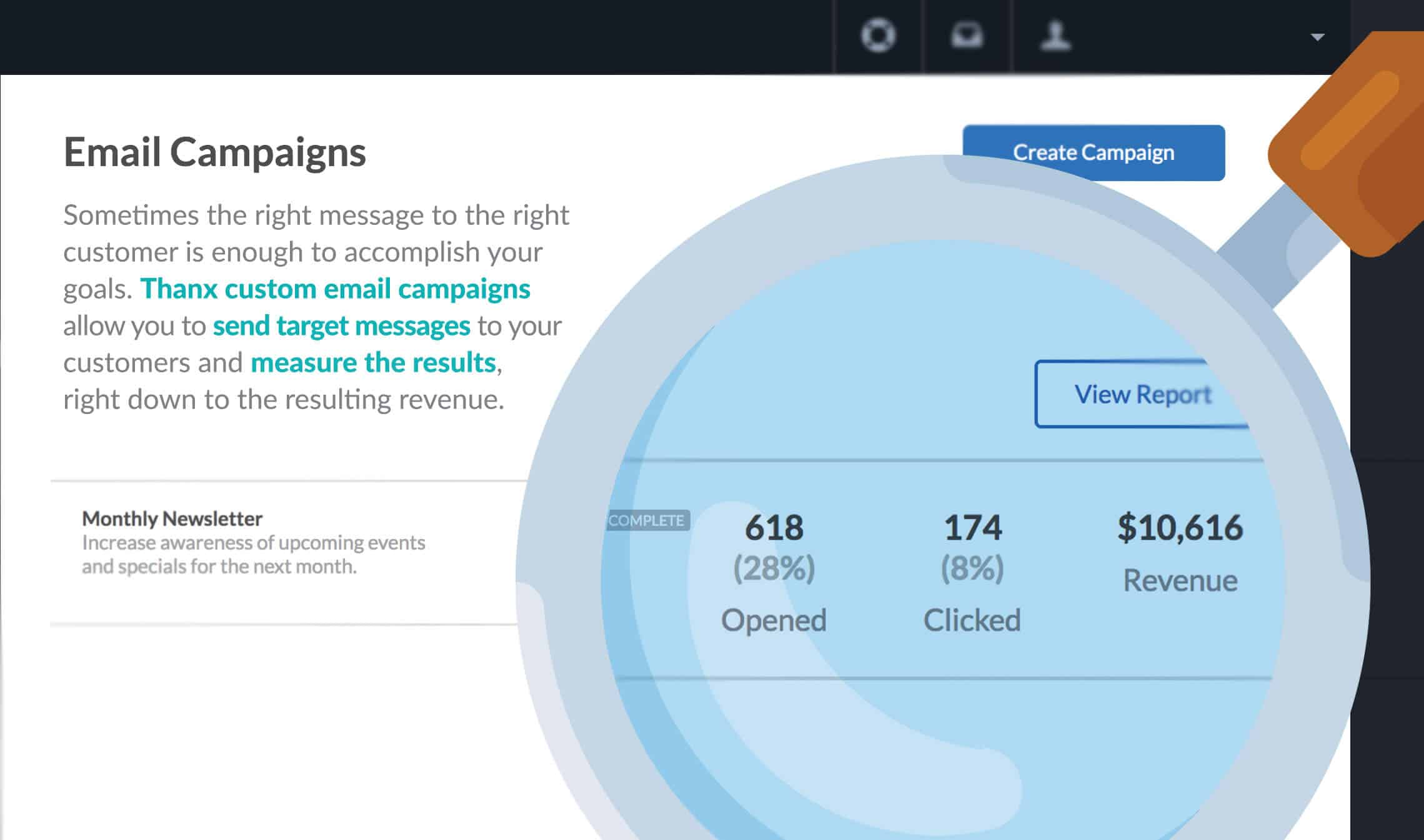 You will be able to see exactly how much revenue was generated from each campaign sent. You'll also see how many people took action on the messages you sent and you can even use control groups to gauge your success.
Wrap up
Customer engagement means everything for modern marketers looking to drive real results. When you get to know your customers, use actionable data and insights, send targeted campaigns and use automation to do the work for you, and measure your results in real revenue, you'll see that customer engagement is a core pillar of any marketing strategy.