At our core, Thanx is the most robust, yet simplest loyalty/rewards program on the market. Without any new hardware or painful integrations and without any hassle for your customers or staff, Thanx enables you to identify, engage and reward your loyal customers and create new ones. But that engagement moment has to-date been limited to offers; no longer!
Today, we're thrilled to announce that Thanx has made sending targeted emails to customers (with no requirement of an offer or discount) a snap. Our email platform integrates directly with the leading email service providers (like MailChimp, Constant Contact) to augment your existing email marketing strategy. Leveraging our powerful segmentation engine imbues personalization in every customer outreach — no longer do you have to send one-size-fits-all promotions to everyone – you can now send the right message, to the right person at the right time. And for businesses who don't currently use email marketing but wish they could, Thanx offers a single integrated solution which means no need to get yet another vendor or costly piece of technology.
But perhaps most impactful, because Thanx captures transaction information automatically, you can close the loop on every single outreach and answer the #1 question sophisticated marketers are asking: "Did my email/promotion actually drive a transaction that I wouldn't have received otherwise?" Now Thanx can prove it with our card-linked magic, A/B testing and control groups. This is a game-changer for your customer engagement efforts.
Targeted campaign ideas for your business type
We get you're busy running your business and don't always have time to dream up the next great email marketing campaign. No worries. We've got you covered with Campaign Ideas right in your Thanx dashboard. All campaign ideas are targeted and relevant to your business. No one-size-fits-all here. If you're a quick service restaurant, you'll see ideas appropriate for your business so you can run the most effective targeted campaign.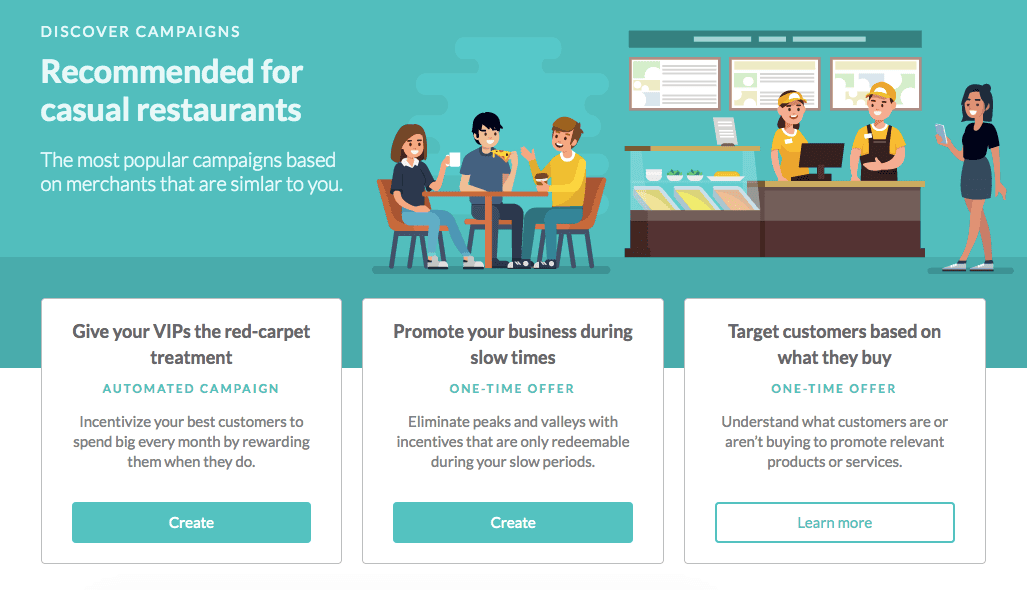 Send an offer or share what's new – the choice is yours
Once you select a campaign idea you can send an email to your customers right from your Thanx dashboard.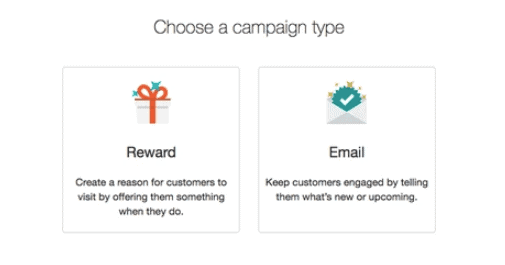 You can choose to send them an offer or simply share the news of a new store opening or awesome new menu item. You get control. Creating your email is super simple: add your copy, any eye-catching images, drop in an attention-grabbing subject line and you're ready to send!
Then, you simply pick who you want to get the email and schedule it. We've made the audience selection drop-dead simple with pre-packaged segments for you to pick from. Read on to learn more about segments.
Pre-packaged segments make audience targeting easy
The days of sending the same email to all your subscribers are over. Today, consumers expect targeted messages based on their preferences and buying behaviors. We make it easy to deliver on that expectation with pre-packaged segments that you can choose from to send your message to. For example, send an email only to your VIPs to invite them to a special happy hour, or target your promoters to send a special offer to.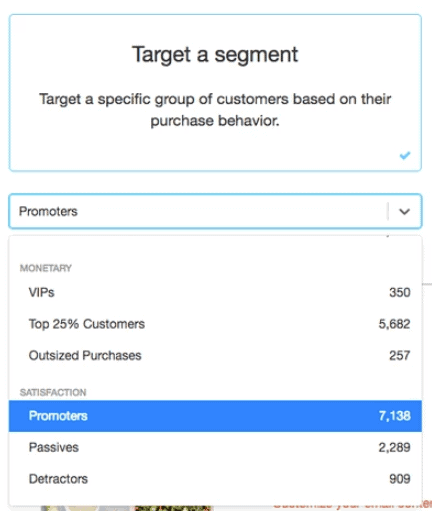 Of course, if you want to tell your entire subscriber base something, you can still send an email to everyone, but segments allow you to hyper-target and personalize every interaction resulting in better engagement and more ROI and revenue for your business.
Measure your success in real revenue not opens and clicks
Every email service provider gives you table stakes success metrics like opens and clicks but what does that really tell you about the effectiveness of your message and offer? Nada. What you really want to know is how much business (measured in revenue) did you message deliver to your bottom line. How many consumers who received your message actually came into your business and made a purchase? We show you how much revenue was generated from each message sent so you can understand the impact and refine future communications and offers. That's how you measure real success and optimize results.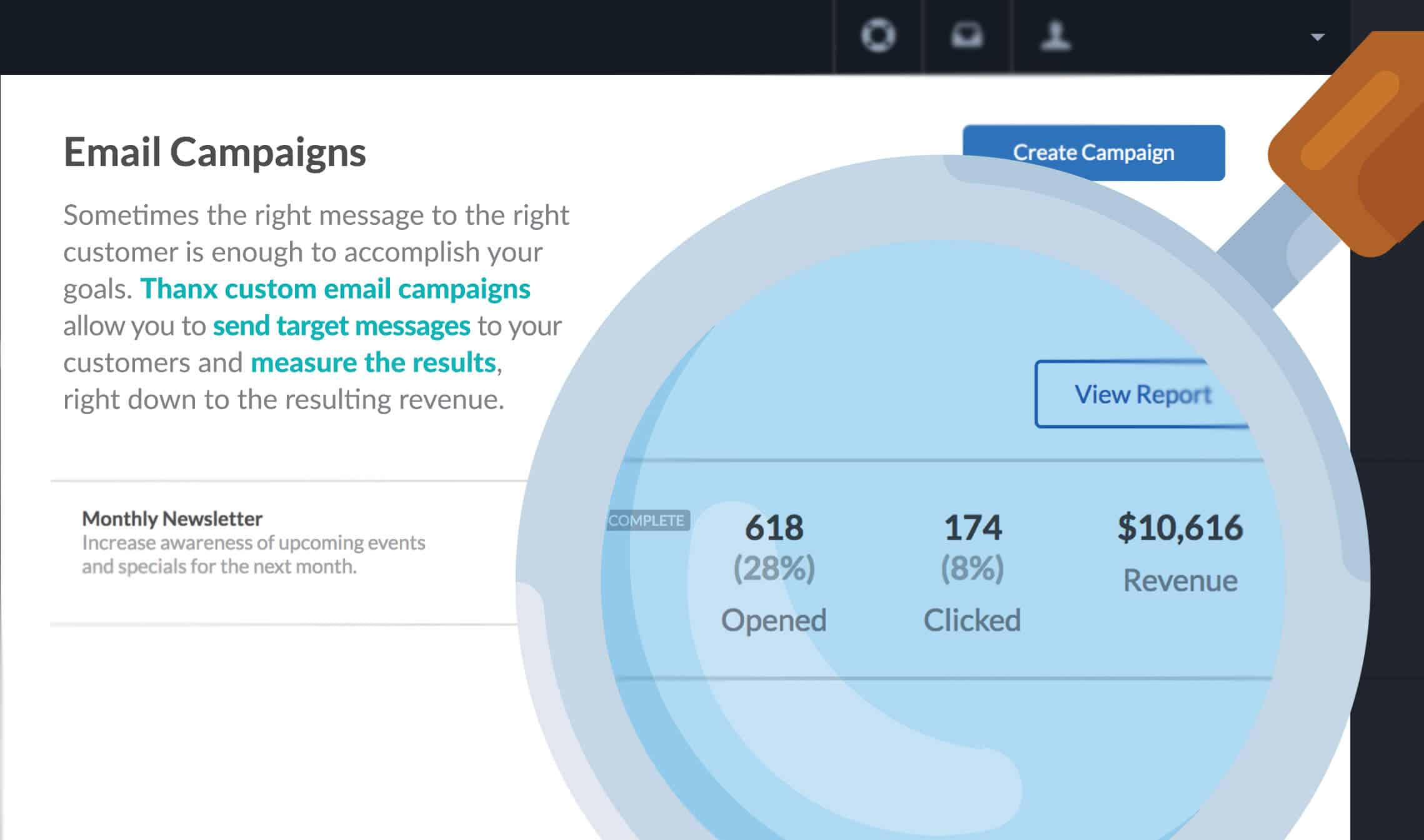 Wrap up
Customer engagement and loyalty is all about connecting with the right customer at the right time with the right message to drive real, measurable revenue for your bottom line. We've brought loyalty and email marketing together to help you grow your business every day.
Request a demo and see it in action today.