Introduction
The data revolution has become table stakes for companies that do business online, however, brick-and-mortar businesses still have a ways to go when it comes to collecting and using customer data.
This guide will introduce offline merchants (restaurants, car washes, cafes, retailers, etc) to a new way of thinking about capturing and using customer data, the numbers behind customer retention initiatives, and some examples of campaigns that businesses like yours have successfully run with their data.
The Customers You Already Have
To attract new customers, brands pour valuable time and resources into untargeted marketing campaigns, including billboards, radio ads, flyers, and print advertisements. But there's something glaringly inadequate about these traditional marketing channels: They don't drive predictable value for businesses. "Spray and pray" marketing to attract first-time customers often ends up costing more money than it creates.
When you look at the lifetime value of a customer, generally the costs invested in advertising to a first-time customer isn't recovered until he or she makes a second, maybe even third visit back to the business. Adding to that, about 70% of customers only make one purchase at a business and never return.
Because of the costs associated with finding new customers out in the wild, experts conclude that it costs five to seven times more to acquire a customer than to drive an additional visit from an existing one. Dollar for dollar, it's more lucrative to invest in your existing customer base – especially when, according to research from Harvard Business School, increasing customer retention rates by just 5 percent increases profits by 25 percent to 95 percent. A customer who already knows and loves your brand might be prompted to come by again just from a message, whereas someone unfamiliar with your brand needs a more enticing (read: higher-cost) carrot dangled in front of him. In fact, 61% of small-business revenue comes from repeat customers, and repeat customers spend 67% more than new ones.
For that reason, it's fair to say that you can sort people who walk through your doors into two categories: the more valuable existing customers, and the less valuable newbies. Being able to distinguish between the two, however, requires customer data.
The Power of Knowing Your Customers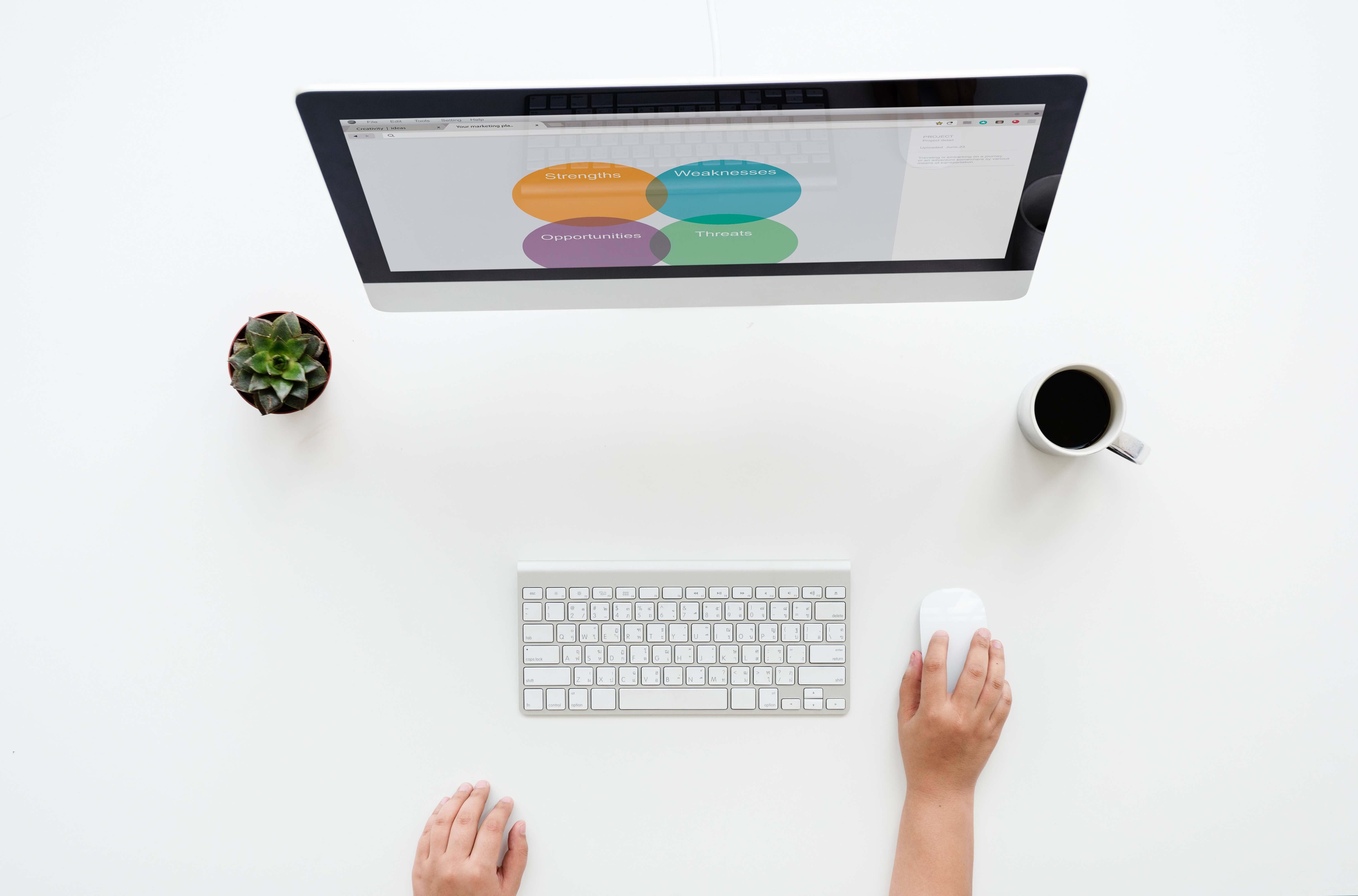 Who are your customers? That's quite literally the million dollar question. Customer data (transactional, behavioral, and feedback) can help you uncover important insights about who exactly is spending money with you, where you can drive more revenue for your business, and how you can communicate most effectively with your customers to prompt them to interact with your brand.
By focusing on better understanding the customers you already have, you can move the needle more predictably — and more impactfully — than by marketing to new customers or by treating all of your customers the same. Using what you know about those customers, you can market to them with the right message at the right time.
The result? Targeted, data-driven marketing to your loyal customers increases their frequency, spend, and lifetime value. Not only are you avoiding spending valuable money on untargeted marketing to unproven new customers, but you're able to make your marketing dollars go further by using data to speak meaningfully to your most valuable demographic — the customers you already have. This is where the case for customer data is made: by gathering data on the people who visit your business, you're better able to retain them long-term while increasing their engagement with your business immediately. In this sense, the customers you already have are "low hanging fruit" when it comes to driving growth for your business — you already have their attention, now it's time to double down and get better acquainted with them (using data, of course!).
Read on to see exactly how knowing your customers can pay off.
Demographic Marketing. Powered by Data
Want to capture customer data, but don't know where to start? There are three main categories of customer information that will help you better and identify the types of people who will respond to targeted marketing campaigns:
Transactional data
This is your critical information that relates exactly to how much your customers are spending with you, how often they're spending with you, and how much they're worth to your business. To own this data, you need to be capturing transaction information every time a loyal customer spends money with you.
Behavioral data
Beyond just the dollars and cents of customers' transactions, you can start to get a clearer picture of who your customers are when you understand the nuances of their behavior. For example, when during the week do they like to visit? Do they stop by during a time of day in particular? Are they referring friends, have they subscribed to your newsletter?
Feedback data
This is the data that customers actually create for you – it reflects their satisfaction with the experiences that they have had with your brand. It comes in two forms: quantitative NPS data, and qualitative written feedback. While NPS is pretty clear when it comes to divining trends and other analysis (10 is great, 1 is bad, so on and so forth), written feedback often requires another level of interaction or some type of word cloud to draw clear conclusions.
Marketing Effectively to Your Customers
Use customer data to better target and personalize your businesses' outreach. You now know that your existing customers are more valuable than potential customers and that leveraging the data you have on them can drive up that value even more.
"Every product, every service, every business
either appeals or has the potential to appeal
much more strongly to a certain definable group
of people than it appeals to most people."
– Dan S. Kennedy, The Ultimate Marketing Plan
Once you start capturing customer data, the question becomes this: how do I nudge my customers into more profitable behavior, given that I have all of this data on them? The ability to segment customers by habit and history, track store performance data and deploy high-ROI campaigns are a few ways brick-and-mortar companies are using data-driven insights to drive business. Instead, segment customers in a way that allows you to craft personal, timely messages. Using each of the three types of data outlined in the last section, you can automate and deploy high-value campaigns immediately (with predictably strong results.)
"…companies have been forced to adapt
their marketing outreach to customers'
growing demand for personalization,
[and] highly targeted campaigns have
become a standard necessity. If they
haven't already, companies should
look at replacing their mass, blanketed
outreach with messages tailored to
each customer and based on specific
customer data."
– Mark Smith, Marketing Profs
Using Transaction Data for Campaigns

VIP Campaigns
Targeting your high rollers can have the greatest return on any marketing campaign you launch.
We've seen again and again that nearly 70% of a merchant's revenue comes from its top 25% of customers – this appears to be true across all offline businesses, with little variance.
Identifying top customers and flexing your marketing muscle in their direction is sure to pull big levers. What does this look like? Recognition comes in many forms, but for people who have established themselves as VIPs (usually based on some spend threshold within a period of time), being generous with an elevated experience can go a long way. Special perks for VIP members need to be aspirational enough so that non-VIP loyalists spend more to strive for the coveted status, but not so much to erode margin.
Ways to delight your VIP customers:
Special events for VIPs: Tastings, parties, early-access
Accelerated rewards when they purchase with you
Acknowledgment whenever they visit your business (small free item)
Skipping the line
Using Transaction Data for Campaigns

Winback Campaigns
Use visit data to understand when your customers have tapered from their normal frequency, and then send them a message to inspire them to come back. Without data, it's hard to know when a customer has likely "churned" (stopped coming in), or if they're just a less frequent customer.
For example, when a customer who comes in every week is absent for 3 weeks, that's a clear deviation from the usual, weekly visits you've come to expect. However, when a customer who pops in once a month hasn't visited for 3 weeks, that's no cause for alarm. In these instances, these two customers shouldn't both receive a "come back and see us!" message — it would be a waste of marketing dollars to extend an offer to a patron who likely hadn't churned anyways.
Using Behavioral Data for Campaigns

Timeshift Campaign
Do your customers like to visit on the weekends more than weekdays? Do you have a morning rush, but then slow afternoons? Using customer behavior data, you can identify not only business-wide patterns, but you can zoom into behavior at the individual customer level.
Incentivizing a customer to break outside of their normal pattern can drive additional revenue and create new, profit-driving patterns. For example, a customer who comes in for a coffee every morning but doesn't venture outside of that behavior could be incentivized to try a lunch offering at that same cafe — and maybe they turn into a loyal lunch customer with a higher average check size (and consequently higher LTV). Starbucks does this very well with their "treat receipt" program: customers who make purchases during the morning hours are incentivized to come back and redeem a reward between 2-5 PM, effectively driving traffic to slower times and encouraging morning customers to experiment with their afternoon offerings
Using Feedback Data for Campaigns

Respond Directly to Feedback
Feedback is a valuable piece of the data puzzle for offline brands. Guest experience isn't just about giving patrons a warm and fuzzy feeling it's a litmus test for the health of your brand and the performance of your stores. Soliciting customer satisfaction feedback, especially when you can tie that to transactional data becomes an incredibly powerful way to collect actionable intelligence.
From store managers to C-level executives, your company can benefit from receiving and interpreting feedback directly from customers. Brands use Net Promoter Score and Feedback to gain a quantitative view of customer satisfaction across all of their locations as well as collect written feedback about their business' performance.
Studies show that responding to directly to customer
feedback makes customers 14% more likely to return, proving that customers that leave feedback are more invested in your business, and, when they receive a response, will return more quickly.
The takeaway? Having someone in charge of responding directly to feedback and monitoring the NPS of your business is one way to ensure that you're doing everything you can to acknowledge those who have taken time to leave feedback.
While the process of responding personally to feedback isn't an automated "campaign" like Timeshiftof Winback, you can automate the collection of feedback. Ditch paper cards and untimely emails and make sure that customers are asked for feedback after they've made a purchase.
Data-Driven Campaigns in Action
SusieCakes VIP program is icing on the cake.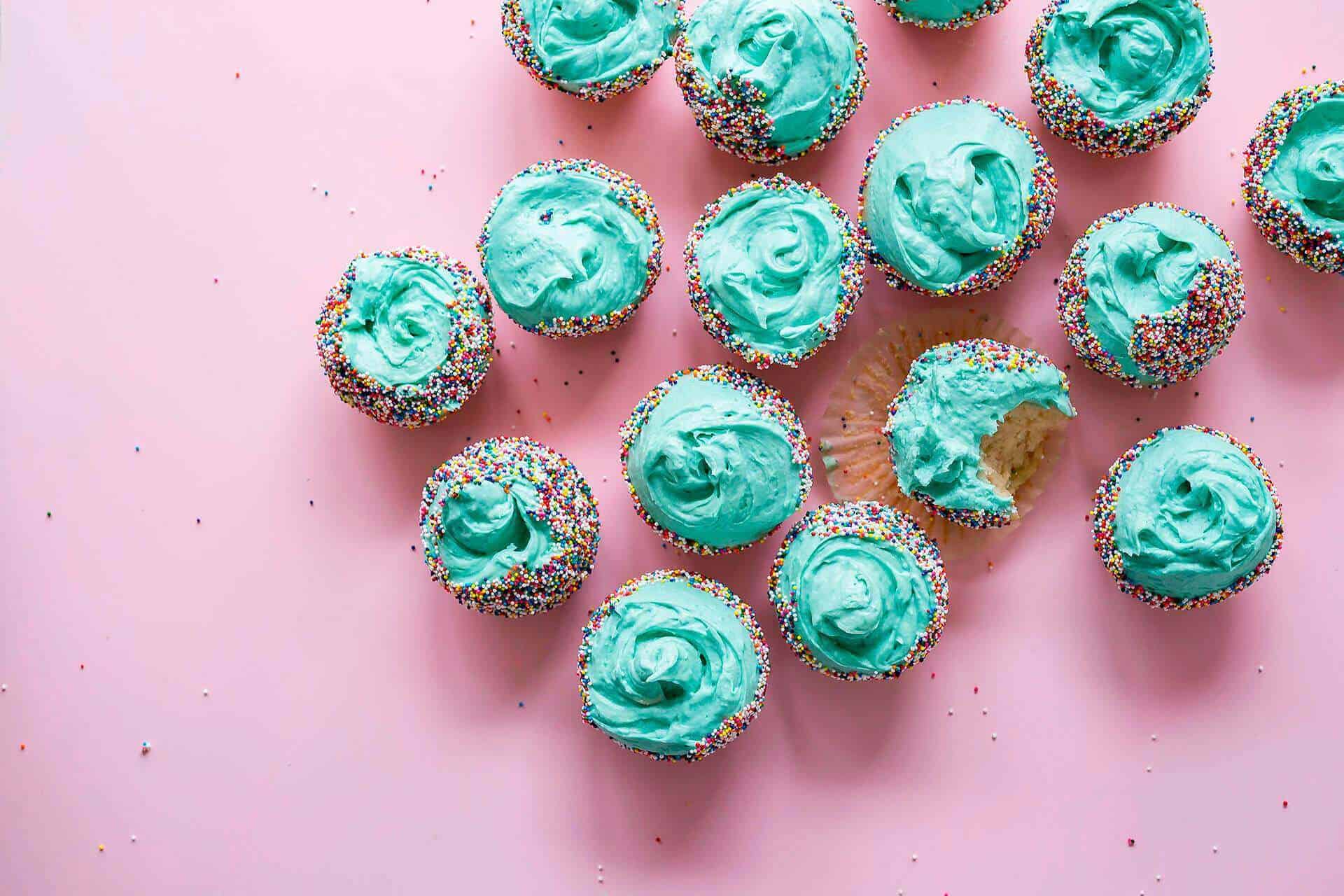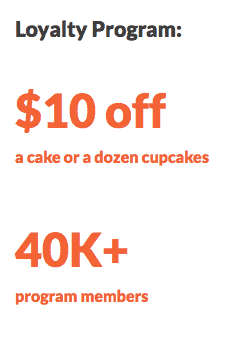 All businesses have VIP customers that make up a significant chunk of their revenue, but CA-based bakery SusieCakes, with 18+ locations in CA and TX, has a very enthusiastic group of hardcore loyalists. In fact, almost half of their revenue comes from the top 10% of their customers. To celebrate these active guests, SusieCakes makes sure they're recognized every time they walk into a SusieCakes store. From free cake inscription to free birthday goodies, VIPs know that they're appreciated. it's no wonder that SusieCakes has seen such massive growth in the past few years.
---
Lou Malnati's drives business to weekdays.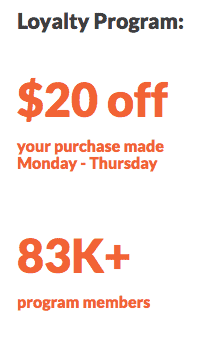 Lou Malnati's is a popular Chicago-based destination made popular by their delicious deep dish pizzas, with over 40 locations in IL and AZ.
With dining rooms packed and long lines during the weekend, they didn't want to drive any more traffic to already overloaded times (ah, the curse of popularity!). That's why they shifted their reward redemption schedule to Monday-Thursday, effectively driving their most loyal members to try a less popular time and even out foot traffic. Genius!
---
Mixt keeps customers coming back.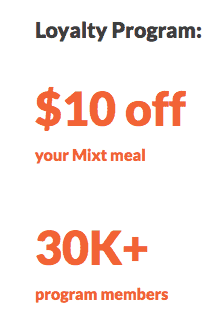 Mixt is a popular SF-based salad spot, famous for their fresh and creative salads. They have extremely loyal customers who visit daily for their lunch fix, but when their customers lapse for whatever reason, Mixt is prepared to win back their hearts (and lunch orders). With an automated "Winback" offer being sent to people who have lapsed from their normal visit cadence, Mixt keeps loyal customers from turning into churned customers.
Wrap up
The bottom line? There's an undeniable relationship between data and revenue.
Automated, data-driven campaigns have the ability to speak personally to your customer base and change their behavior in positive ways.
Collecting and using customer data to drive incremental revenue is easy with an automated customer engagement and loyalty program that does the heavy lifting for you. With a data-centric loyalty program, businesses can cut through the noise of untargeted marketing and reach out directly, and personally, to their highest-value (and highest potential) customers.
With Thanx, businesses leverage data collected from their loyalty program to launch data-driven campaigns like VIP, in addition to collecting priceless customer feedback directly through the app. When it comes to staying competitive in the increasingly challenging environment, having actionable customer data can give brands the edge they need to keep their customers happy, loyal, and as a result, keep ROI positive.