Restaurants work incredibly hard to drive customers to their first-party ordering channels (their own app and website); major benefits include higher margin vs third-party delivery and drastically increased data capture to drive repeat purchasing / lifetime value. Digital orders regularly deliver higher average check and purchase frequency, making it costly when a customer starts down the journey and abandons before converting into revenue. On average, restaurants using Thanx web and app ordering experiences convert an average of 79% of customer carts, with some Thanx customers achieving over 90% conversion rates, significantly higher than industry benchmarks. The breakdown by industry:
Despite this industry-leading performance, every abandoned cart represents lost revenue. In total, Thanx customers lose tens of millions of dollars every month in abandoned carts. Some consumers might get turned away — the kitchen is overloaded, or their favorite item is sold out today — while many consumers simply get distracted. Now Thanx customers can activate Cart Abandonment Automations to effortlessly market to customers who abandoned orders and drive them back the next day (a tactic ecommerce marketers have been using with great effect — upwards of 10% revenue lift — for years)!
Driving customers to our Sweetfin direct ordering channels is critical for our growth; as such, we always want to make ordering as frictionless as possible to maximize repeat purchasing. Thanx's new cart abandonment automations allow us to grow revenue without adding any overhead to our team.
— Seth Cohen, President, Sweetfin
A Game-Changer for Restaurants
Thanx provides detailed reporting on cart conversion in restaurant dashboards. Once activated by a restaurant, Thanx Cart Abandonment Campaigns automatically trigger whenever a consumer adds items to their cart on the restaurant's website or app but fails to complete the purchase. That consumer's cart is preserved and a personalized message is automatically triggered — with or without an incentive — encouraging the consumer to complete the purchase at a later time, for instance at lunch the following day. Brands can utilize Thanx's suite of A/B testing tools to easily hone in on the right message (and incentive) to drive the biggest overall conversion rate. Among the first brands to use Thanx Cart Abandonment Automations, several even discovered that a well-timed message with no incentive performed just as well as a promotion offering a discount — an incredible learning that helped avoid over-discounting.
Thanx ordering user experiences are built atop industry-leading order management technologies such as Olo — the two brands announced that Thanx was Olo's first Olo Connect loyalty partner earlier this year — and Toast. In addition to cart abandonment marketing campaigns, Thanx also reports on location-specific ordering errors — even those originating at the point-of-sale — to allow brands to make operational changes that further optimize cart conversion.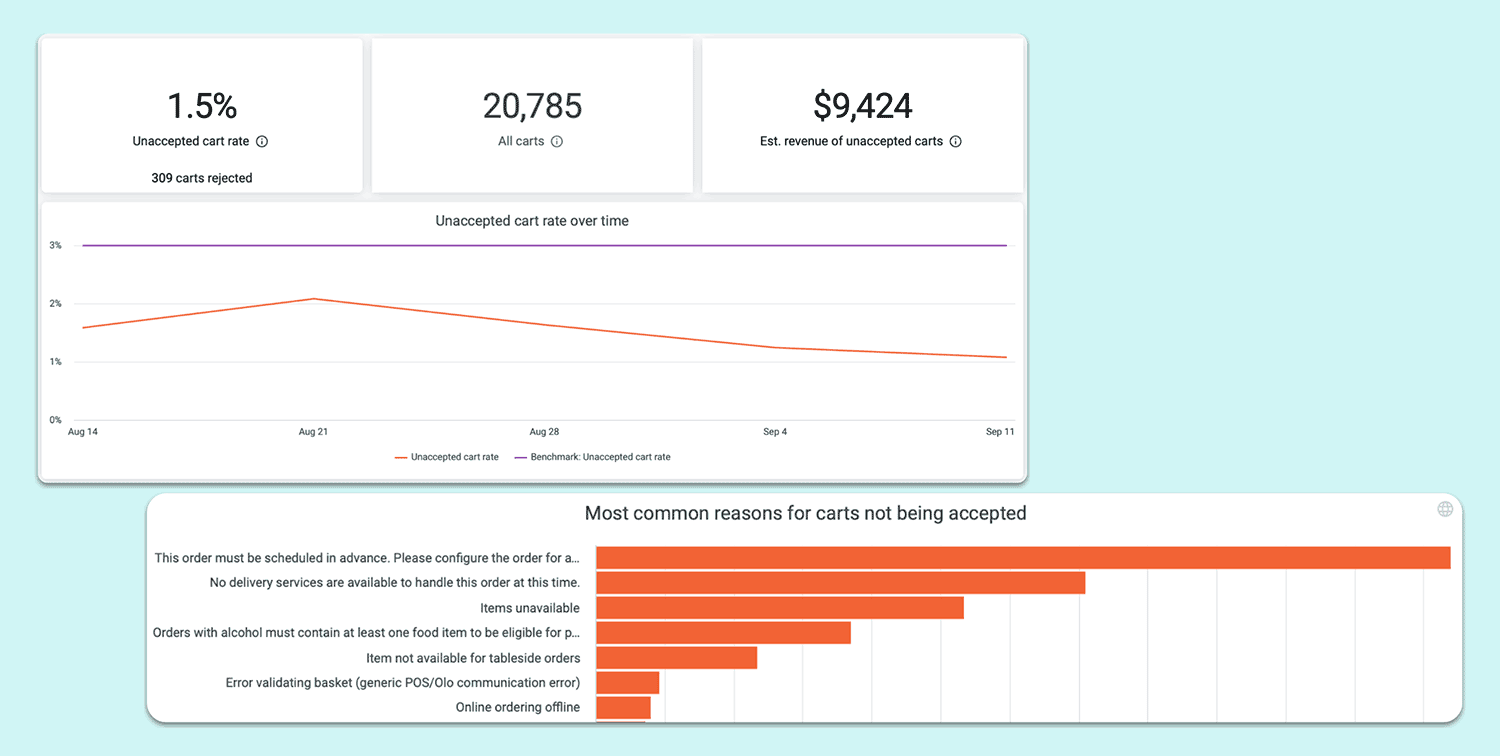 Restaurants are habitual businesses. If a consumer got far enough in their purchase journey to add items to their cart for lunch or dinner but didn't end up converting, there's a high likelihood that the restaurant is still in the consideration set the next day. The customer just needs the right prompt at the right time. Historically, this has been too hard for marketers to execute because it requires deep integration between two disparate systems — ordering and CRM. But Thanx does both, so we've turned this complex journey into one click to activate.
— Zach Goldstein, Founder and CEO, Thanx
Precedent in Other Industries
While new to restaurants, abandonment marketing has long been a staple in other industries:
E-commerce: Online retailers are experts in recovering abandoned carts and incentivize the purchases before buyer intent shifts elsewhere — mission critical in high-ticket, low-frequency categories.
Travel and Tourism: Airlines and hotel operators often detect travel searches — a high intent signal — and repeatedly send follow-up emails with discounts or "new inventory" to encourage customers to complete bookings.
Subscription Services: Subscriptions services (think Netflix or Stitch Fix) are super aggressive with offers to retain lapsed users or even those whose payment credentials expire.
Gaming: Video games often give bonus virtual currency as an incentive to rehook players who have moved on to the next game (or been distracted by something IRL).
Financial Services: Financial institutions send targeted messages to encourage customers to finish applications with added incentives.
Meanwhile, while few restaurants are operating Cart Abandonment Campaigns (hopefully more soon with Thanx), nearly every business-to-consumer (B2C) technology business in the restaurant space — Yelp, OpenTable, Doordash, Uber, etc — has been doing this for years.
Built Atop a Robust Technology Foundation
Traditionally, achieving this level of automation required complex processes involving data export from one system and import into another. But Thanx Cart Abandonment Automations are turnkey, showcasing the immense value of having a deeply-integrated solution for loyalty, marketing automation, and ordering user experience in a single tool. The campaigns join a "quiver" of "no-brainer" automations that nearly every Thanx customer activates upon launch — other "arrows":
Digital Purchase Trial
2nd Purchase Activation
3rd Purchase Activation
Loyalty Points Expiration
Thanx Cart Abandonment Campaigns wouldn't be possible without several major platform innovations in the previous 12 months:
Key business benefits and best practices in Cart Abandonment marketing:
Recover lost sales:

Detect when customers abandon online orders with items in their cart
Send automated reminders via email and push notifications
Include discounts or bonus loyalty points to encourage conversion

Personalized recommendations: Suggest complementary items based on the abandoned cart's content
Timely reminders: Target campaigns to immediately precede peak meal hours
Dynamic pricing: Offer time-sensitive discounts to create urgency
Easy access: Preserve carts from previous sessions to make picking back up easy
Personalized messaging: Craft personalized messages to spur action
Feedback: Use abandonment triggers to collect feedback for improvement
A/B testing: Test different recovery strategies to find what works best
Loyalty integration: reward conversion with loyalty points to reward returning customers
Performance monitoring: Track conversion data in real-time and analyze results for continuous improvement
Interested in improving your cart conversion rates with ease?
Request a demo