If you're looking for an automated customer engagement and loyalty tool that both merchants and customers love, consider Thanx. Our customer-centric, data-rich platform capture robust customer data, engages customers personally, and measures results in incremental revenue and ROI.
Thanx is more than a customer loyalty program. It's a full-scale customer engagement platform. With Thanx, you can do more to increase sales than run-of-the-mill loyalty programs offer. Here are five things you didn't know you could do with Thanx.
1. Promote your customer loyalty program to get more members
Launching a customer loyalty program is a big deal. Most loyalty programs charge you a fee, give you access to some sort of software, and wish you good luck.
58% of loyalty members in the U.S. are inactive—most within the first 12 months. – Colloquy
When you're ready to implement Thanx, we'll give you all the promotional materials you need to launch your program like a boss and get heaps of new members signing up.
Thanx offers:
Promotional print materials
You'll have access to a variety of print materials that you can give your customers at your physical locations. These materials explain all the benefits of your program and why customers should sign up in a simple to understand format. You can customize the materials so they're brand-specific and ready to go.
Website widget
Inform your website visitors about your program and encourage them to sign up via our website widget. It takes just seconds to install and your customers can sign up with a few clicks.
Email campaigns
Thanx provides a series of pre-written and designed emails, known as a "drip campaign" to help you turn your current email subscribers into loyalty members. The emails are pre-written (but can, of course, be customized) and can be sent to your existing Constant Contact or MailChimp subscribers.
Social media
We provide all our merchants pre-written social messaging to promote their programs and help acquire new members. Simply copy, paste and share! It's that easy.
Banner Ads
To promote Thanx on other online channels, you can use one of our ready-made banner ads. Just pick a platform, target customers, and set a budget. You don't have to worry about ad creation; it's already done for you.
2. Identify and retain VIP customers
Elite customers drive more than half of your revenue — making them feel special increases spending 17%.
Thanx supplies actionable data; data that helps you understand your customers better. You can identify who your most valuable customers are by reviewing data like customer spend, visit frequency and lifetime value.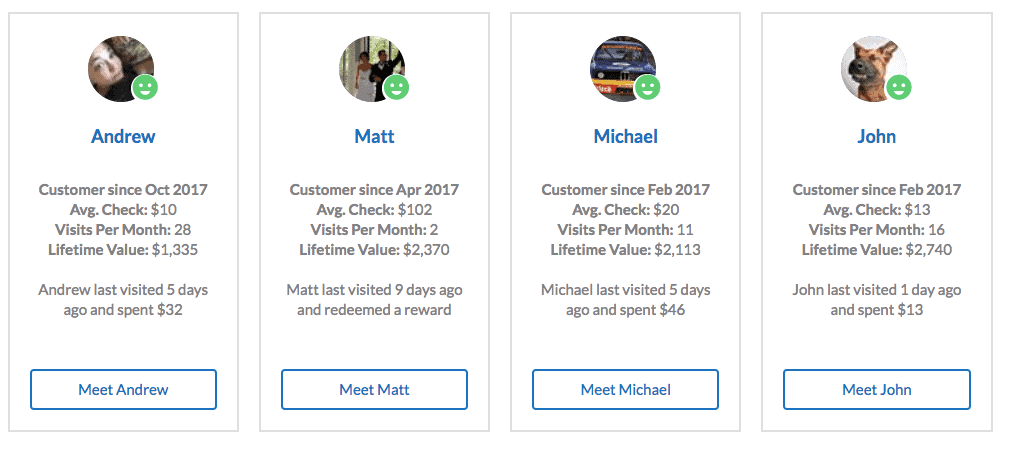 Using this data, you can use Thanx to personally engage your VIPs. You can send relevant and targeted offers directly to your best customers. Plus, you have the ability to segment customers to take personalization one step further.
A restaurant, for example, can segment its VIP customers by preferred dining time. VIP lunch goers receive a special promotion for a lunchtime appetizer while VIP dinner goers get a drink promotion that's good between 5-7pm.
Thanx gives you the ability to identify your most valuable customers and keep them coming back. Thanx merchants believe in the power of customer retention, and here's why: Almost 80% of a company's revenue comes from just one-fifth of its customers. That's right, 80%.
Acquiring new customers is important too, don't get us wrong, but it's seven times more cost-effective to gain an incremental visit from an existing customer than it is to attract a new customer.
3. Automatically win back customers that stray
How do you win back customers? Identifying lost customers and making efforts to bring them back is seems time-consuming right? Not at all with the power of Thanx.
How do you know if a customer has strayed? If they do stray, what kind of incentive will bring them back? There's a lot of planning to winback strategies, but with Thanx, the entire process is simplified.
Using AI and data analytics, Thanx identifies lost customers. By looking for a lapse in visit frequency, we can spot lost customers and automatically generate an offer to encourage a return visit.
Let's say Barb usually comes in for a car wash four times a month, but this month she only stopped by once. Thanx identifies this behavior and sends a pre-determined offer to Barb. When she sees a $5 off coupon for her next wash-n-wax, she decides to redeem the coupon during her lunch break the next day. Win back for the win!
These automated winback campaigns drive 49% of lapsed customers back into our merchants' locations creating increases in revenue and positive ROI.
4. Capture and respond personally to customer feedback
As a business owner, you probably wonder what your customers think of your company, product, and service, right? Collecting customer feedback is invaluable. It can help you identify problems you might not even know you have.
For example, research shows 80% of companies believe they offer superior customers service, and yet, only 8% of customers who shop at these companies agree with the service rating.
Thanx gives you a way to capture customer feedback right in the app. Thirty percent of customers that make a purchase at a Thanx merchant provide feedback after checking out. And our research proves that by replying to feedback you can increase your revenue by up to 22 percent.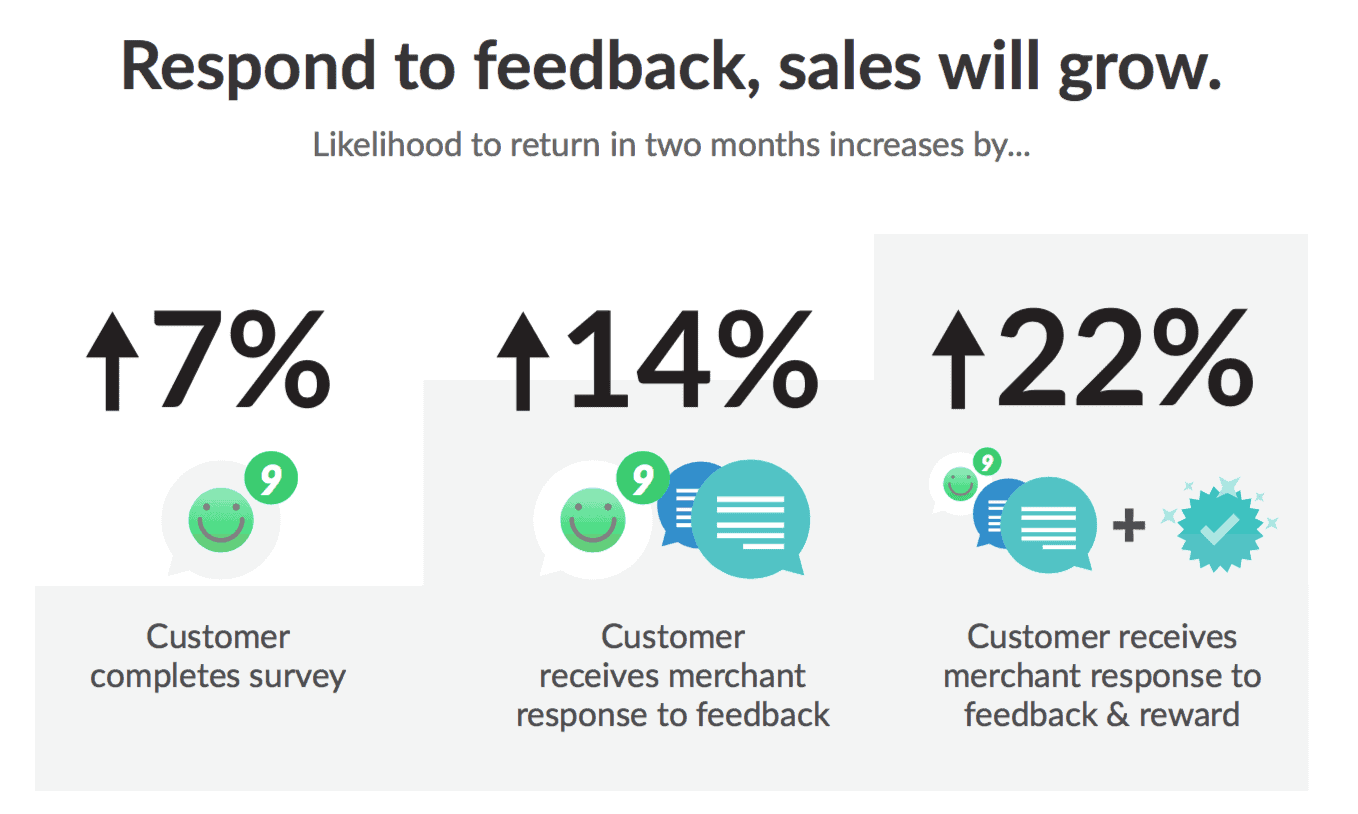 You can ask customers how likely they are to refer your business to a friend (NPS) or ask customers to provide feedback about their purchase or service.
You get a real-time alert when feedback is sent and have the ability to personally respond to customers within the app. And because you have all that robust customer data like average spend, visit frequency, and lifetime value, you'll be able to provide the right offer to the right customer at the right time to get them back on track.
If a customer provides negative feedback, it gives you a chance to handle the situation privately before it taints the customer's opinion of your business or makes its way to the dread Yelp review or other social media channels to vent.
5. Measure results in real revenue, not just opens and clicks
Unlike many email service providers, Thanx empowers you to measure the results of your customer engagement efforts in real revenue generated, not just vanity metrics like opens and clicks.
The easy-to-understand dashboard in Thanx Campaigns bubbles up all your metrics so you don't have to spend time crunching the numbers to get to something meaningful. You can measure your results down to the transaction level and prove your campaign effectiveness every time.
Wrap up
Relying on a customer engagement and loyalty program to increase repeat business is a wise move, but not all programs are created equal. It's important to understand how a program can help you retain customers and drive incremental revenue and positive ROI– not all programs can and do. You need a program that offers support, customer data, communication tools, and automated features to help grow your business starting right now.