With an estimated 3.8 billion consumers enrolled in loyalty programs, there's a lot of "loyalty love" going around. Merchants and consumers alike are embracing customer loyalty programs because when done well they can grow your business, reward and retain your best customers and generate incremental revenue and positive ROI for your business.
While many are jumping on the customer loyalty bandwagon, it's important to note that not every loyalty program is a winner. In fact, to put it bluntly, some are pretty lame. With so many customer loyalty programs out there, how do you know if your program is a zero or a hero?
In this post, we 'll review five signs of a lame customer loyalty program and share actionable tips to fix it.
Sign #1: Customers have to use punch or plastic cards
If your customer loyalty program requires your customers to carry around a punch or plastic card, it's a red flag. If employees have to break out a hole punch at the register or scan a barcode on the back of a plastic card, your loyalty program isn't keeping up with the times. These outdated tactics are an obstacle for consumers and slow down your checkout process.
Modern customer engagement and loyalty programs have evolved from cards and key tags to mobile-friendly options. Consumers don't want to fumble around with cards anymore. The world has gone mobile and your customer loyalty program should follow suit.
Research shows 70% of consumers say they prefer mobile loyalty programs, and 71% say they're more apt to use loyalty programs that they can access on their smartphone, according to Colloquy.
Solution: Opt for a mobile customer loyalty program. You need a loyalty app that's easy for consumers and your staff to use and gives them the ability to monitor and redeem rewards with ease.
In addition, a loyalty app that offers mobile payments is a real bonus too. That way, consumers can earn rewards and make payments seamlessly.
Sign #2: There's a lack of customer data
If your customer loyalty program isn't capturing and returning rich customer data, it falls into the lame category. A loyalty program should help every merchant understand his or her customer base better.
As a multi-location business owner, it's impossible to know who your 'regulars'  and VIPs are let alone their buying habits. A loyalty program should solve this problem.
You need to know who your best customers are, how frequently they're coming in, and what they're buying. You should be able to access and understand this data at a glance.
Armed with this kind of data, you can create and send personalized messages and offers that keep your best customers consistently coming back and spending.
Solution: Look for a loyalty program that gives you robust data, like customer spend, visit frequency, and lifetime value. Make sure the data is presented in an easy-to-read dashboard too. If you can't understand the data, it's not helping and that's lame.
Sign #3: You send the same promotions to every customer
Loyalty programs give you the power to send promotions to customers in hopes of bringing them back to your store, but if you're sending the same generic message to every customer, eek. You've got a lame program.
Consumers have raised the bar. Sending a message to the masses and hoping for success doesn't work anymore. Customers demand personalized messages and only 11% of loyalty programs give merchants the ability to send personalized messages based on a shopper's preferences.
Let's say you send Barb a promotion for 10% off lattes, but she hasn't bought a latte from the store once. Do you think she'll use the coupon? Nope. The message isn't relevant to her. But, if Barb is an avid iced coffee drinker and gets a 10% off coupon for her favorite drink, she'll definitely stop in.
Solution: Select a customer engagement and loyalty program that gives you the ability to send highly personalized offers to segments of customers based on their buying behaviors. With customers segmented into smaller, like-minded groups, you can send more personalized promotions that are much more effective. One size fits all offers fit no one.
Research shows sending promotions to specific customer segments can generate 16x more response.
With customer segments, the lunch-goers get special offers on afternoon entrees, while the happy hour crowd gets an extended happy hour on Friday night. Relevant promotions mean more return visits and revenue. There's nothing lame about that.
Sign #4: You have to do everything manually
Let's face it. No one is sitting behind their computer all day creating emails and campaigns. An automated customer engagement platform enables you to automate many of the campaigns you send so you can set them up once, then they auto-magically run in the background generating revenue and accomplishing your goals so you can focus on all the things you need to do to run your business. Automated campaigns include things like Bounceback, Winback, VIP, Birthday, Reputation Manager and Loyalty Memberships.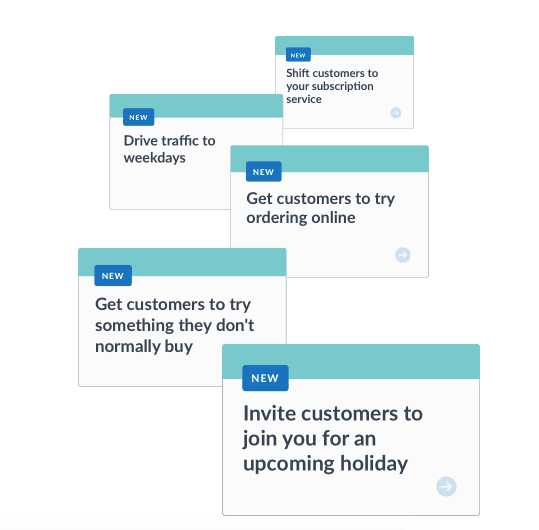 Sign #5: Measuring your success is difficult
If you're using a customer loyalty program, you should know if it's working. And you should be able to measure those results in real revenue.
Most programs offer vanity metrics, but most of the time you get generic statistics that don't equate to real revenue. For instance, you might get access to metrics like opens, clicks, and downloads, but how does that relate to your bottom line? It doesn't.
You need a loyalty program that provides a clear picture of your revenue and ROI.
Solution: You need a customer loyalty program that proves its worth with real metrics. For instance, your loyalty program should show you:
Which loyal customers have increased their spending limit since implementing the program and by how much
How much more customers spend when they're close to earning a reward
How much more customers spend when redeeming a reward
Wrap up
If your loyalty program meets any of these "lame signs," it's time to make some changes. To benefit both customers and merchants, a mobile-savvy, data-rich program that gives merchants the ability to drive incremental sales through personalized promotions is the best way to go.
Ready to ditch your lame loyalty program? Thanx is different. It's not a loyalty program, it's a customer engagement platform armed with the tools merchants need to drive more repeat sales. See how it works here.