Customers expect great food, excellent service, and affordable prices from full-service restaurants — but even if you have all three of these things, there's no guarantee that your restaurant will be successful and that you will drive revenue growth.
Customer loyalty and engagement is crucial when it comes to increasing your revenue — the more satisfied and engaged your best customers are, the more likely they will continue to visit and spend at your restaurant.
In this post, we'll explore the top 4 ingredients full-service restaurants need to increase revenue and continue to innovate.
Know who your customers are
Back in the day, full-service restaurants knew their "regulars" by name and could personalize each experience. Today, most full-service restaurants have more than one location and a plethora of loyal customers. It's almost impossible to remember everyone but each customer's experience at your restaurant should still be highly personalized and make them feel like you really understand who they are.
You can achieve this through targeted and personalized campaigns driven by data. Send customers personalized push notifications to their mobile phones, or email them tailored offers. Using a customer engagement platform like Thanx,  enables you to capture data that reveals who your customers are, how they behave and provides deep insights into how much they spend on average and how often they visit.
The more you know about your customers, the better equipped you will be to engage them and grow your relationship with them.
Reward your best customers
Not every customer is created equally when it comes to driving revenue and growing your business. Your VIP customers are those who spend and visit the most, and they are the ones you want to focus on rewarding. Using data to capture customer behavior can help you send personalized messages and offers to the right customer at the right time.
Sending rewards to your repeat customers will build customer loyalty and satisfaction. You can tailor the rewards to their preferences, and even use rewards to win back your best customers if they stopped visiting your restaurant. Use customer data to measure how you best customers interact with your business to keep them coming back for more.
VIP customers can drive a significant portion of your revenue, and by offering special personalized rewards you can increase spending by an additional 17%.
Make the experience seamless
As technology continues to evolve, there is more demand for restaurants to make the customer experience quick, easy, and convenient, even in a full-service setting.
One way to achieve this is by offering a mobile app. A mobile app enables customers to order ahead or order delivery and pay from within the app, enabling you to capture data around their purchases and behaviors. Because they've linked their credit card in the app (just like you link your credit card to use the Lyft or Uber app) every time they use that card their purchases will be tracked and they can be rewarded for their loyalty.
You can also partner with online delivery services where your customers can stay in the comfort of their own homes while still enjoying the food they love. Third-party delivery apps are growing in popularity with an expected 79% increase in the food delivery market over the next five years. While delivery can cut into margins if it will help you achieve your growth goals, look for a customer engagement app that integrates online ordering to simplify the process for both you and your customers.
Thanx can turn a restaurant merchant's app into a revenue-producing channel. With integrated online ordering, restaurants can offer a convenient way for loyal customers to order food. Meet your customers where they are and they will feel valued.
Respond to feedback in real-time
Understanding data like visit frequency and average spend is important, but it doesn't provide you with the full picture you need to understand how your customers feel about your restaurant. Collecting honest customer feedback and responding in real-time won't only increase customer loyalty, it will also prevent unhappy customers from posting negative reviews on third-party sites like Yelp or Google.
Responding directly to feedback increases customer likelihood of returning in the next two months by 14%. When you respond and reward customers for their feedback, they are 22% more likely to return in the next two months.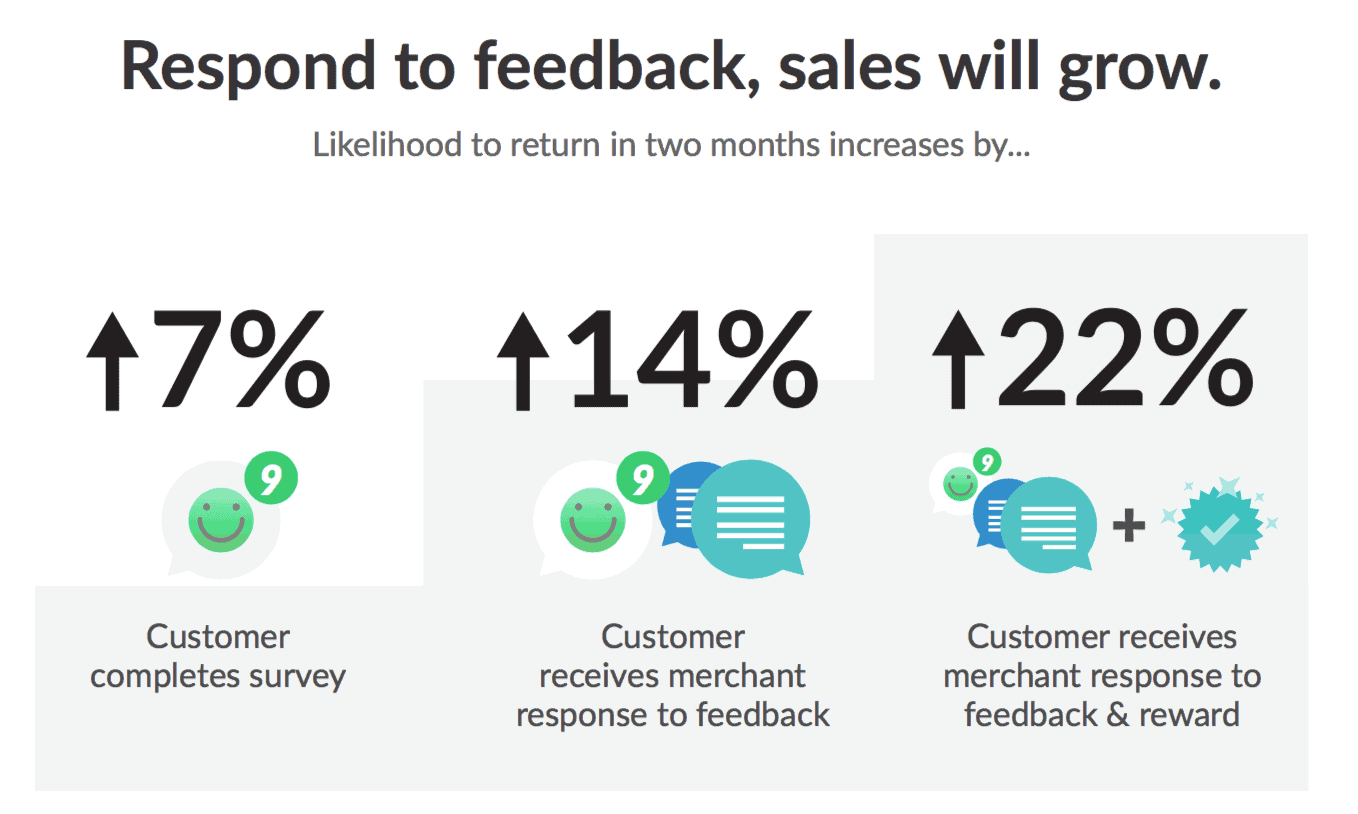 Wrap up
Full-service restaurants are loved by their most loyal customers, and you need to continuously innovate to increase your revenue. The landscape is always changing, but customer engagement is at the heart of success in the full-service restaurant industry. The more valuable data you can capture around customer behavior, the better you will be able to personalize their experiences and grow your business.