Convenience stores, or C-Stores, are on the rise. According to CSNews, C-Stores are still seeing record profits year after year. In fact, millennials are more likely to buy their groceries and other items at C-Stores, as opposed to online sites.
While consumers are increasingly shopping at C-Stores, they face a lot of unique challenges that other brick-and-mortar stores don't.
In this post, we'll explore four challenges C-Stores face when it comes to customer loyalty and engagement, and discuss ways to overcome them.
Not just gas – from the pump to the store
Most customers visit C-Stores to fill up their gas tanks. Gas is a necessity, and the retail store is sometimes viewed as a "nice-to-have" or overlooked by shoppers altogether. One of the biggest challenges c-store merchants face is convincing their customers to walk into the store after or before they purchase gas.
In fact, Between 65 to 75% of convenience store customers buy gas but never enter the store, according to CSNews. The real profits are made on in-store items, which is why encouraging customers to go inside the store is so important.
Encouraging customers to make purchases at C-Stores could dramatically improve ROI and increase attachment rates, but the motivation isn't always there. As a C-store merchant, you have two sides to your business, you need to find ways to connect the two if you want to increase engagement and loyalty.
One way to overcome this challenge is to send personalized rewards in real-time. For example, when John uses his credit card to pay for gas, he could receive a 20% offer on a hot pretzel and drink through the C-Store's mobile app. If customers are sent an offer while they are pumping gas, they are more likely to take the extra few steps into the store and make a purchase.
Send these offers to your best customers when they are at your store to build engagement, and motivate them to spend more than they normally would. You can use a customer engagement platform like Thanx to capture this data and connect with your customers when they are paying at the pump.
Another way to overcome this challenge is by branding yourself as a store. Building brand awareness can help keep your business top of mind the next time your customers visit the pump. Be active on social media and make sure people know which items you offer and what your current promotions are.
Make the sale count
Too often, C-Stores overly discount items and struggle to increase a high-quality customers average spend. While customers do love discounts, sending targeted and personalized offers based on customer behavior will have much more positive results.
For example, if your customer engagement platform tells you that Susan visits your C-Store every morning for a cup of coffee, you can send her a targeted offer for 20% off a breakfast sandwich of her choice. Instead of spending her usual $1.50 on her morning coffee, she now spends $7.00 for her coffee and breakfast. If she has a positive experience, it will encourage her to try a breakfast again.
You can also have individual sales on higher priced items so that customers are motivated to spend more. If you overly discount multiple items for every customer, it will erode margins and be much harder to build loyalty and effectively engage with customers in a targeted way.
Standing out in a saturated market
Typically, C-Stores across the U.S. have dozens of competitors within close proximity to their business. Having a lot of competitors within a small region can be very challenging if you don't have a way to stand out.
C-Stores need to focus on how to build loyalty with their customers so that they choose to visit their business as opposed to their competitors. Building a strong connection with consumers will help you increase customer loyalty.
Many C-Stores believe that customers only choose to shop at a business based on location and price, but it goes much deeper than that. Customers want to shop at businesses they feel a connection with and feel loyal to. One of the best ways to overcome this challenge is by building a robust customer loyalty program that is both easy to use and targets your best customers.
The right platform will enable you to collect customer data, like how much they spend on average, and how often they visit. It will also let you send personalized rewards in real-time to influence them to take the actions you want them to take. Most importantly, the loyalty program will be easy to use and will capture data and customer feedback for you on a daily basis.
For example, let's say Piper visited your C-Store and was unhappy with the service she received. She leaves a negative review and promises she will never purchase anything at your store again. Your team is alerted by Thanx and is able to respond to her feedback personally and privately. From the data, you can see she is a valuable customer so you decide to send her an offer to come back and give your store another try. The next time she considers where to stop for her next sandwich, she will remember how you made her feel heard and valued.
The more you know about who your customers are and what they want, the more you will be able to stand out among your competitors and encourage customers to visit again and again.
Lack of data
C-Stores struggle with capturing customer data. They face the unique challenge of not knowing which customers only visit their gas pumps, and which make purchases inside the retail store. If you don't keep track of who your best customers are and how they behave, it will be very hard to increase engagement and loyalty.
Choose a customer engagement platform that can automatically identify who your best customers are, drive sales through personalized rewards, and get people to walk beyond the gas pump, and visit your retail store again and again.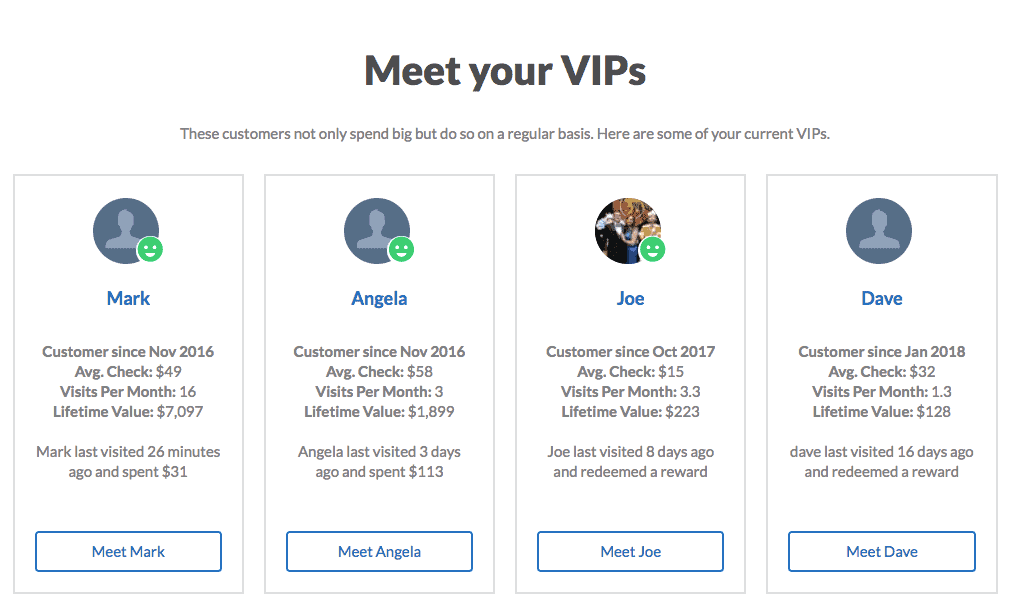 The right platform will enable you to measure customer spend, visit frequency, lifetime value, and provide you with immediate feedback. It will also let you send automated offers that are personally tailored for them, and help you winback customers you may be close to losing to your competitors.
Customer data can transform the C-Store market and solve many of the unique challenges it faces when it comes to customer engagement and loyalty.
Wrap up
C-Stores may struggle with increasing customer engagement and loyalty, but they don't have to. With the right customer engagement platform and the right team in place, they can stand out among their competitors and motivate their customers to interact with all parts of the business — the gas pump and the cash register.