Did you know the average person is exposed to more than 5,000 ads every single day? How can your business stand out amongst all that racket?
The key to attracting and retaining happy customers in our noisy digital age is data. By using a customer engagement platform that collects customer information, you can get a better understanding and deeper insights of your audience and use that to personalize every interaction with them.
In this post, we'll share 5 ways data contributes to customer happiness.
5 reasons data-driven relationships are vital to your success
1. Collect information simply
It's not always easy to know who your customers are. Some marketers deploy a variety of tactics to gather information, but it can be a challenge to collect, store, and analyze it.
With a robust customer engagement platform, data collection is simple. As customers make purchases from your business, data is collected. It all streams into one easy-to-use dashboard and it's broken into segments and categories like your big spenders.
As soon as customers sign up for your loyalty program, you start collecting data and you keep collecting it with each purchase they make. It's that simple.
You can use that robust data to make informed marketing decisions, send personalized offers, and drive repeat business.
2. Know your best customers
Do you know who your best customers are? Maybe there was a time when you knew your VIP customers by name, but now, your business has grown and it's next to impossible to know everyone. Or, maybe you're so busy managing your business that interacting with customers has taken a backseat to things like scheduling, inventory, and payroll.
You likely have more loyal customers than you think. Research shows 82% of Americans are loyal to a product or brand, according to The International Council of Shopping Centers'.
Customer engagement platforms like Thanx enable you to see who your best customers are at a glance. You'll know what they're spending, how frequently they visit, and what their lifetime value is. Information like that is a game-changer for growing businesses looking to increase revenue and ROI.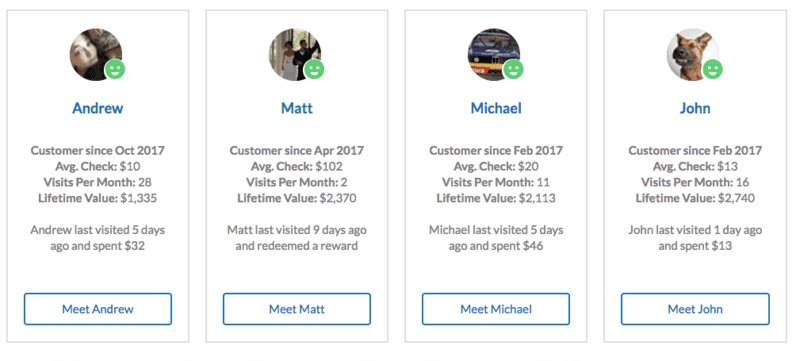 Mixt, a quick service restaurant, turned to a data-centered loyalty program and say they've learned more about their customers in three months than they had in seven years when they used loyalty punch cards. They were able to effectively target their VIP customers and bring them in 54% faster than non-loyalty members.
3. Provide personalized experiences and offers
Armed with valuable customer data, you can create and send personalized messages. Research shows personalized messages deliver 6x higher transaction rates, and yet 70% of businesses fail to do it.
It's time to start focusing on personalizing every engagement you have with your customers and data is a key to that.
Let's say you run a fast casual restaurant and are offering special promotions during customer appreciation week. You can send your top customers highly relevant offers that drive incremental visits. By targeting your best customers, and not trying to reward everyone, regardless of their spend or value to your business, you'll also ensure you maintain a positive ROI for any reward you provide.
For instance, let's say Joe comes in on the weekends for dinner and always orders dessert. Knowing this kind of detail, you can send Joe an invitation to customer appreciation night on Saturday with a coupon for a free dessert. It's a personalized offer; one that's relevant to Joe, his buying habits, and his dinnertime preferences.
It doesn't get more personal (and effective) than that.
4. Reward loyal customers
Through data, you can not only identify loyal customers but design a rewards structure that keeps them coming back and keeps your business ROI positive.
By offering the right incentives to the right customers, you'll increase loyalty. Many brands that cater to their most loyal customers see an increase in visits and an increase in the amount of money spent at each visit.

Why does it work? Customers love being rewarded for their purchases.
For example, when customers get an upgrade from a regular car wash to a premium wash after five visits, they are more likely to remain loyal to that specific car wash because they appreciate a company that not only recognizes their commitment but shows their appreciation with rewards, upgrades, or freebies. When you focus your reward efforts on your top customers you ensure that the people who drive revenue for your business are the ones being rewarded. Not the people you only see once a year.
5. Winback customers that are on the fence
As a savvy, data-backed business owner, you'll know when a customer is about to leave. Through data you get in Thanx, you'll see insights that tell you when a customer is teetering on the edge.
Maybe their buying habits have gone dormant and their app activity has decreased. The data tells you that maybe it's time to launch a winback campaign.
Segment at-risk customers and create a winback campaign designed to bring them back to your business. Send an email with a, "We Miss You" subject line and a special offer inside, or deliver a message right to their phone that includes a redeemable coupon.
With the right customer insights, you can spot at-risk customers and get them back.
What to look for in a data-driven customer engagement platform
Collecting and analyzing customer data can be a challenge, but not if you're using the right tool. A robust customer engagement platform that puts customer data at your fingertips can help you grow your business and build customer relationships that matter.
Here are a few data-driven features to look for:
Look a program that gives you an in-depth look at how your customers behave, and how they stack up against non-loyalty members and your competition. Look specifically for metrics like customer spending, share of wallet, and visit frequency.
Find a program that gives you the ability to send personalized, targeted offers along with the ability to track their success. You want to see how effective each campaign is and be able to use each offer as a learning lesson.
Automation that targets lost customers
When the data shows customers are about to leave, you want a program that takes action. Look for a loyalty program that spots anomalies in your data and automates an offer that brings a customer back.
Wrap up
Today's customer is busy. They're inundated with messages and fighting for attention can be tough. To compete, you have to rely on customer data. With the right metrics, you can better understand your audience and target them in a relevant, personalized way that drives sales.