¨When choosing a favorite restaurant, customers look for an inviting atmosphere, delicious food, and excellent service. While having these qualities at your restaurant is crucial to maintaining a steady flow of customers, data is a must when it comes to increasing foot traffic and ROI.
How can you make sure "off hours" still draw customers in, and get those who only visit on weekends to come in during the week? In this post, we'll outline 9 ways you increase foot traffic to your restaurant.
1. Know your customers
You may know some of your customers, but knowing each and every one of them and understanding what they want, is crucial to motivating them to return again. Knowing why your customers come to your restaurant, what they think about your business, and what their purchasing behavior is, can have an impact on foot traffic and engagement.
Knowing each customer's individual buying habits can help you predict their future purchases. It can also help you provide them with promotions or incentives to encourage them to come to your restaurant more often. Customer engagement platforms like Thanx provide you with customer data and help you interpret their behavior to predict what might be next. You can use this data to measure average check size, visit frequency, customer lifetime value, and much more.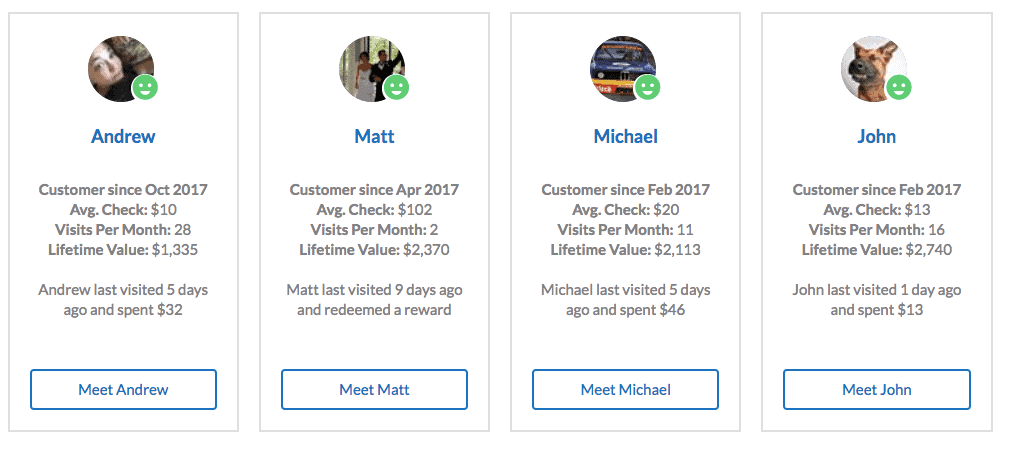 Using NPS (Net Promoter Score) surveys to measure customer satisfaction is a great way to understand how your customers feel when they're at your restaurant. Feedback provides you insight into what you're doing right and what you can improve on.  Data shows that even happy customers that have multiple negative experiences will visit less often, so addressing feedback is an effective way to combat churn and even increase revenue by inviting them to return with a targeted offer.
Understanding your customers and knowing which are loyal and which are about to churn helps you retain customers and encourage other customers to come back. When your customers are happy, they are more likely to refer their friends and your foot traffic can grow.
2. Use targeted marketing campaigns
Once you understand who your customers are and what they want, targeted marketing campaigns can influence foot traffic and behavior. For example, if you know that Rachel Grimes visits your restaurant four times a month on the weekends, you can send her a promotion for $10 off on Meatball Mondays. This offer may encourage her to visit an extra time and drive incremental foot traffic during a slower day.
Using a technology platform that helps you measure and automate this process makes sure your customers are targeted with personalized campaigns and promotions. After using Thanx for targeted campaigns, The Hotze and Wellness Center saw redemption rates of 33% on their special offer campaigns because they were able to segment their customers and send people relevant promotions.
When customers are approached at the right time according to their behavior, there is a greater chance that they will come back to your restaurant.
3. Create a customer loyalty and referral program
Loyal customers want to feel valued. The more appreciated a customer feels, the more they want to return and give your restaurant their business.
Determine what a loyal customer means to you. Take a look at how often a customer visits your restaurant and how much they spend during each visit. Once you determine who your most loyal customers are, give them benefits and perks to encourage them to visit more and bring their friends.
Some restaurant owners feel hesitant when it comes to implementing a customer loyalty program. They are afraid of offering too much and negatively impacting their revenue and ROI. If done the right way, using targeted campaigns and customer behavior ensures you are in touch with the right customers at the right time and that your program maintains a positive ROI.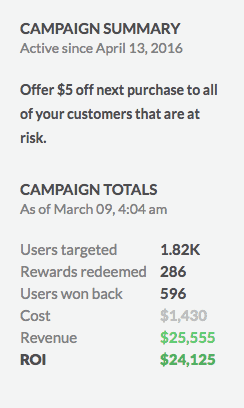 You can also send your customers incentives to bring more people into your restaurant. For example, you can tell your customers that for every two people they refer to your restaurant, they will receive $5 off their next purchase. Building strong relationships with your most loyal customers increases foot traffic because when you are loyal to them, they will want to be loyal to you. Sending them offers when they are dissatisfied or rewarding them for referring friends are steps you can take to build your brand perception and improve the relationships you have with your customers.
4. Host compelling events
Getting involved with your local community can get the word out about your business and encourage new customers to visit. Reach out to local nonprofits looking for a venue for their next fundraiser, or reach out to businesses looking for a space for a panel of local entrepreneurs.
Whether you are partnering up with an organization or creating your own event, building a relationship with your local community will increase foot traffic by bringing new customers in.
Get creative with your events and make sure they line up with who your customers are and set you apart from your competitors. Leveraging non-traditional holidays or events can be an effective way to stand out from the crowd as well. Look at this example from SusieCakes who created a special one-time offer for their program members for Pi Day:
5. Build a social media following
Spreading the word about your restaurant is much easier when you have a large social media following. Social media is one of the best ways to build a relationship with your customers.
Social posts and events are easily shareable and they provide a way for your customers to not only interact with you but also with each other. As your followers grow, your foot traffic will increase. The more people who know about you, the more customers you are likely to have.
For example, take a look at the new beer release event Pinthouse Pizza promoted on Facebook to drive foot traffic in:
Use creative content, unique promotions, and social media contests to communicate with the community. For example, you could post, "Tag your BFF below for a chance to win a free dinner for the two of you!" Even those who don't win the contest will visit your social media page and perhaps follow your business and visit your restaurant.
6. Use creative signage
While technology plays a large role in increasing foot traffic, making sure your physical space draws people in is important, too.
For example, if your store is on a busy highway where people only drive by and never walk by, you want to make sure that you have a large sign that drivers can read from far away. The goal is to encourage people to stop in who may have never heard about your restaurant before until they saw the sign and wanted to give it a try.
Signs are an effective way to raise awareness and increase foot traffic by grabbing people's attention.
7. Have the right staff
In the restaurant business, service is everything. You can use all the best marketing tools, but if your customers don't vibe with your staff, they may not return. It's difficult for many restaurants to hire and retain high-quality staff due to high turnover rates, but there are steps you can take to make sure your customers always receive the best service.
One of the best ways to make sure that your staff is loyal to your customers is to make sure you are loyal to them. Make sure your staff feels valued and encouraged when they do a good job. For example, if a customer leaves a positive review about one of your servers, make sure they know about it.
Having a positive staff that is dedicated to customer satisfaction can also help increase foot traffic and make sure your customers feel important.
8. Keep in touch
Once a customer leaves your restaurant, make sure that you keep in touch. Whether you do this through targeted campaigns or social media interactions, you want to make sure you stay top of mind with your customers.
Understanding your customers with customer behavior data will show you when to stay in touch and how often. Sending promotions, offers, messages, and events can encourage your customers to come back and refer their friends.
9. Prove campaign effectiveness in real revenue, not vanity metrics
For years, merchants and marketers have been forced to try to measure the effectiveness of their efforts using vanity metrics like email opens and clicks. But we all know, the proof is the revenue your campaigns generate. Thanx provides this to you in an easy-to-understand dashboard that requires no data manipulation on your part. No spreadsheets, no number crunching. Just easy to digest data that proves the value of your campaigns in revenue not opens and clicks.
Wrap up
At the end of the day, happy customers return to your business and spread the word. Retaining loyal customers increases foot traffic and brings new ones in. On slow days it may seem that foot traffic is out of your hands, but by using these 9 tactics along with customer data, you can begin to control and increase traffic while building stronger relationships with your customers.