Every business wants glowing reviews from customers, but that's not always reality. These days' customers make their feelings known on public review sites like Yelp.
Merchants feel like they have two options: spend countless hours trying to manage their reputation online or ignore the site altogether, hoping it's a passing trend like slap bracelets or fidget spinners.
Fortunately, the days of handling customer feedback via Yelp are over. That's right. Yelp is dead.
You don't have to beat yourself up over 2-star ratings or irritate a bunch of supposed customers because you didn't word your response to a hostile customer correctly. Customer feedback changes now. Today.
Before we explain how drastically customer feedback has changed, we'll explore the disadvantage of Yelp, the importance of customer feedback, and then we'll dive into a new way to collect and analyze feedback that can increase revenue by 22%. That's right, collecting feedback can actually boost your bottom line.
First thing's first. Let's look at why businesses aren't so fond of Yelp.
The disadvantages of Yelp
Here's a look at the downsides of the popular review site:
Not every review ends up on Yelp. The review site uses an algorithm to try and spot fake reviews. The idea is to only allow legitimate reviews on the site, but a lot of businesses say the algorithm has kept dozens of positive reviews – from real customers – off the site.
Any review that Yelp deems fake gets lumped into "filtered reviews," at put at the very, very end of your review list. Since these reviews are in no man's land, few people ever see them.
The filtered nature of the site frustrates many, and there's nothing businesses can do about it.
     Questionable sales tactics
Like any business, Yelp needs to make money. Businesses that are on Yelp become sales targets. Sales teams work to sell sponsored ads to businesses, claiming an ad could drive more traffic to their restaurant or store.
Some reports say their sales tactics are aggressive and include long-term contracts, which is yet another disadvantage of the site.
     Difficulty to track and respond to feedback
To respond to feedback on Yelp, merchants have to claim their business page, set up an account, and follow a set of instructions to respond to comments publicly.
Keeping track of feedback in real-time is difficult, and managing your reputation publicly can be a bit daunting. If you don't respond respectfully, your words can fuel negativity, which is the last thing you want.
Why customer feedback is important
Despite the drawbacks of Yelp, collecting customer feedback is extremely valuable – if it's done correctly.
Customer feedback helps your business:
Customers who complain may alert you to a problem that you aren't aware of. If you don't know about a problem, you can't fix it. Feedback can help you improve your customer experience in ways you weren't thinking of.
     Build trust with customers
Collecting feedback shows your customers that you value their opinion. You're taking the time to ask them their thoughts, listen to their concerns, and take action.
     Increase customer loyalty
By interacting with a customer who has provided feedback, that customer will likely reward your personalized service with repeat business. Customers return to businesses that genuinely want to create a superior customer experience.
How customer engagement changes the feedback loop
There is value in customer feedback, so how can you collect and analyze feedback better than Yelp can? By using a customer engagement platform that connects merchants to its customer base, sends automatic customer satisfaction surveys, collects feedback from customers, and encourages merchants to respond in a private, personal way.
Using a customer engagement platform enables you to:
     Gauge customer satisfaction after every purchase
After a customer makes a purchase from your business, the feedback process begins. Customers can be sent a one-question survey that asks them how likely they are to refer your business to family or friends. This one question, referred to as a Net Promoter Score or NPS, is a litmus test that gauges customer satisfaction.
The score puts customers into three categories depending on how likely they are to refer you business. The categories are detractors, passives, and promoters.
     Collect and respond to feedback for a revenue boost
Thanx merchants can add a follow-up question after the NPS to collect more detailed feedback. For example, a merchant might ask, "How can improve your customer experience?"
When a customer provides insight, a merchant can respond to the feedback. This kind of 1:1 communication is a great way to show customers that their opinion is valued. Customers show their appreciation by returning to the business again and again.
Research shows revenue grows by 14% when an owner connects with customers personally. Revenue grows even more if owners reward customers for their honest feedback. A free fountain soda or a $3 off coupon, for example, can boost revenue by 22% when it's combined with an owner's response to customer feedback.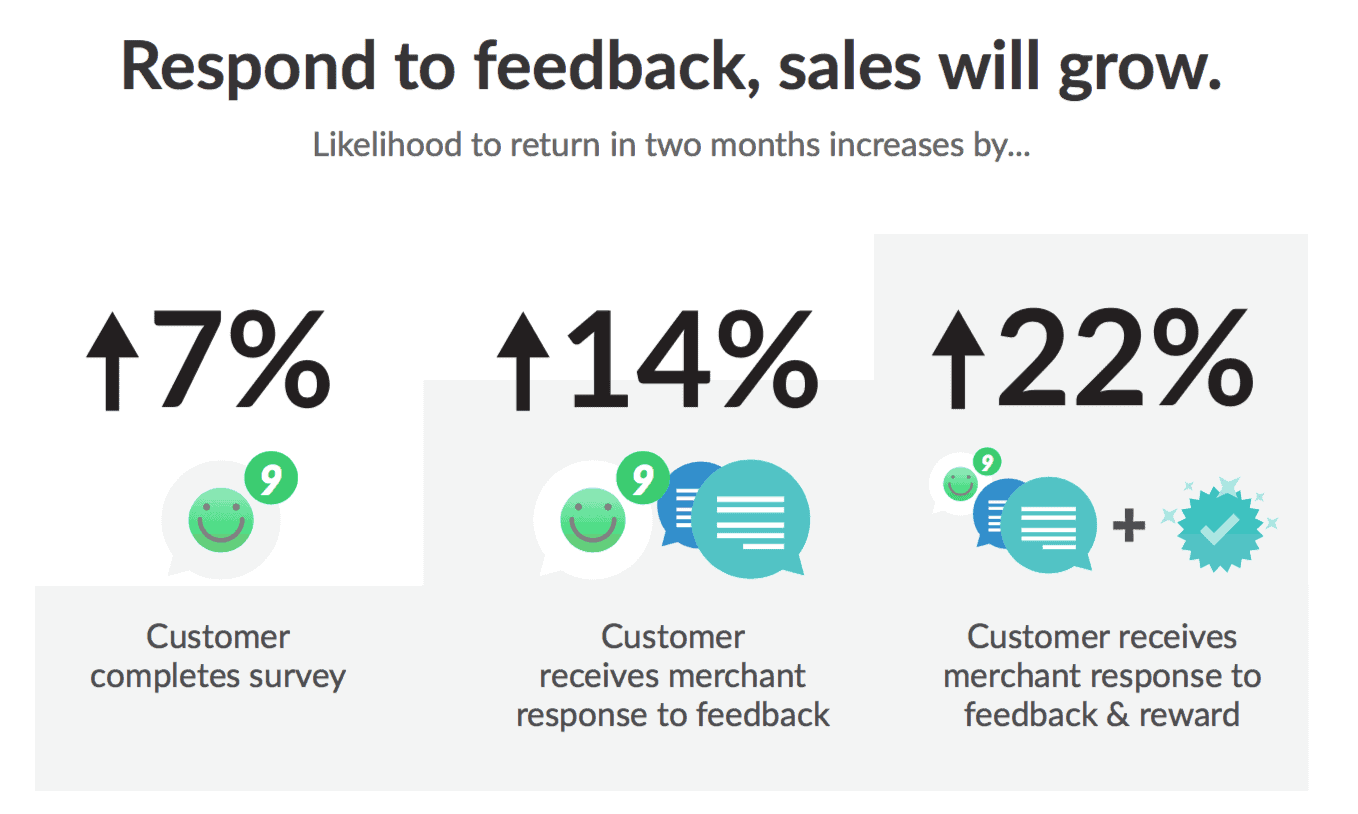 Spot trends and fix problems that keep customers away
Aside from responding to individual customer feedback, you'll also be able to use the NPS to track customer satisfaction over time, and separate customer sentiment for each location.
A car wash owner with a dozen locations can use the NPS to monitor customer satisfaction, for example. The owner might notice that one of its locations has a consistently lower rating than all the others. The owner can gain further insights from customer feedback that has been provided including sentiment and specific comments. The feedback may reveal a rude staff member or broken equipment that's irritating your customer base. By knowing the problem, you can take steps to fix it.
Without this kind of intel in place, you wouldn't know what's causing a drop in business at that location.
     Keep bad review off review sites
If customers can communicate their concerns one-on-one with a business, there's no need for them to vent on Yelp.
The direct line of communication keeps merchants in control of customer feedback. Whether customers rave about your menu items or complain about the sluggish checkout time, you have a way to communicate with customers that's private, personal and in your control.
Wrap up
Customer feedback is a valuable tool for any business, but fielding comments on review sites isn't always the best way to manage your reputation or engage with customers. For those ready to take control of the feedback process with a modern, engaging tool, get a free demo of Thanx and see how we can help grow your business.
Learn more about how feedback can grow your business in our infographic, Replying to Customer Feedback.