Is your restaurant losing customers? Well, you're not the only one experiencing the pain.
According to research by TDn2K, October restaurant traffic declined 2.2%, an 80-basis-point drop from the previous month.
Interestingly enough, the same report states same-store sales increased by 0.8 percent. However, this rise in sales is largely due to restaurants rising prices, not from attracting more customers.
This means, even though restaurant sales may be slightly higher than last year, it's not a win. If restaurants don't find a way to attract more loyal customers and keep trying to make up the difference by raising prices, the industry will hit a breaking point.
If this is a problem you're currently dealing with we've got help. In this post, we'll cover effective strategies to increase foot traffic to boost revenue, rather than simply raise your prices.
1. Attract customers with a day shift offer
We all know it costs more to acquire a new customer than it does to keep existing customers. As such, it makes much more sense to target your most loyal customers and provide them with appealing offers, so they visit your store more often.
Enter the day shift offer.
A day shift offer works by capturing customer data to see when your most loyal customers visit. Once you know when your customers visit, you create and send those same customers an attractive offer to get them to visit your restaurant on a day when business is slow.
Let's take a closer look by looking at a real-life success story from Elephants Deli.
Elephants Deli wanted to get their daily weekday breakfast and lunch customers to visit on the weekend. By looking at their week-part data in Thanx, Elephants noticed that the majority of their traffic is during the weekdays.
So, Elephants Deli decided to send a targeted day-shift offer to change customer behavior and promote brunch to their weekday customers.
Elephants sent out a targeted email and SMS push notification on Friday to customers who had made previous purchases at one of their other locations on the weekdays to come for brunch during a weekend in July. Elephants sent the email and push notification with the 20% off promotion right before the weekend so Elephants would be top of mind with customers as they made their weekend plans. With this targeted offer, Elephants sent the right message at the right time to the right person.
The results? Elephants immediately saw a spike in their weekend brunch traffic at the Corbett Ave location increasing it overall by 43% over the previous month, and they also saw a 50% increase in their Thanx customer loyalty member sign-ups.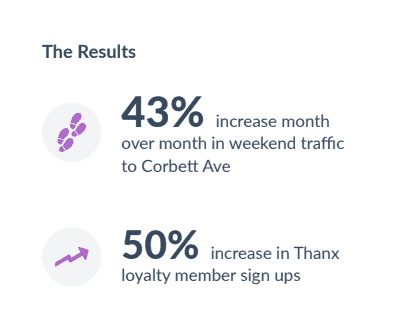 If you're looking to boost sales, raising your prices isn't your only option. With the right tools to capture data and a little bit of creativity, you can instead send promotional offers to customers that have already visited your restaurant, and encourage them to visit more often.
2. Strategically ask for more Google reviews
Did you know that 91% of consumers regularly or occasionally read online reviews? Additionally, 84% of people trust online reviews as much as a personal recommendation, and 74% of consumers say that positive reviews make them trust a local business more.
If you take a quick poll from your most loyal customers, you'll find out they love your food, your hospitality, your prices, and/or your ambiance. With the help of an NPS survey, you may even find out that they are willing to recommend your restaurant to friends and family.
The problem with driving foot traffic might simply be that you don't have enough online reviews to stand out when a newcomer conducts a Google search.
Change this by resolving to get more Google reviews and more effectively manage your online reputation.
Again, let's look at a real-life example from La Quinta Brewing Co. to illustrate why using Thanx to increase online reviews to get more business is a good idea.
La Quinta Brewing Co. is a three-location microbrewery & tasting room located in Palm Desert, CA. Right before they opened their third restaurant in a new location, they knew they needed to generate some positive online reviews to get the word out and drive foot traffic.
La Quinta simply activated the automated Reputation Management campaign in their Thanx Dashboard and created a few simple messages. When they activated their campaign and when a customer visited their new location, the customer received an NPS survey asking them how likely they were to recommend La Quinta Brewing to their friends and family on a scale of 1-10.
Customers that gave ratings of 9-10 were provided a prompt to create a Google review. It was as easy as that!
You're probably wondering how it turned out, right? Out of the 44% of customers that received the prompt, 24% clicked through to leave a review.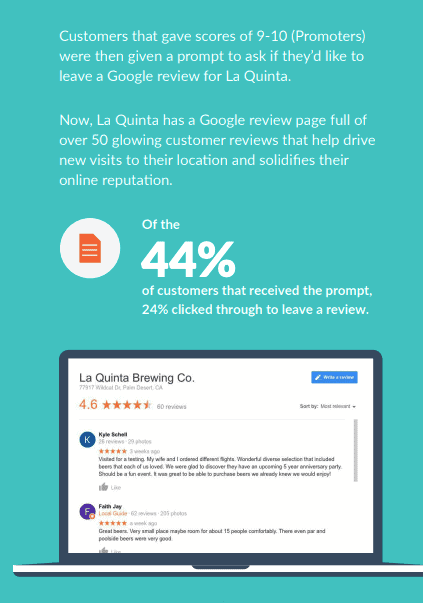 La Quinta Brewing went from no reviews to over 50 reviews for their new location which helps drive even more new customers to visit every day.
Simple fact: you can gain popularity and drive traffic by strategically asking for more Google reviews.
3. Promote an ongoing relationship with your best customers
Customer retention is key to business growth. In fact, the probability of selling to an existing customer is 60 to 70 percent, and the probability of selling to a new prospect is only 5 to 20 percent. Additionally, 80 percent of your future profits will come from just 20 percent of your existing customers. Not to mention, a mere two percent increase in customer retention can lower costs by as much as 10 percent.
If you're looking to boost sales, then the best way to do it is to nurture an ongoing relationship with the people that already like you: your most loyal customers.
When push comes to shove, your best customers want to be appreciated and want to stay in touch. One of the best ways to do this is to create a customer loyalty and/or referral program.
You may already have a customer loyalty program in place, and that's great. However, it's also important to know that with advances in technology and the wide use of mobile apps, it's possible to not only stay in touch with customers, but also to collect data on customers, share promotions easily, collect feedback, personalize content and offers, and engage your customers in ways that simply weren't possible a few years back.
With the help of a customer engagement platform, restaurant owners can send targeted campaigns and stay in touch with the right customers at the right time and ensure your business maintains a positive ROI.
Wrap up
Restaurant industry reports may say that sales are growing, but they also say that foot traffic is declining, which will never lead to long-term growth.
If you're a restaurant owner, now is the time to engage with your customers in more meaningful and long-term ways. With the right customer engagement tools, you can capture customer data, send targeted campaigns, manage your online reputation, maintain an irresistible customer loyalty program, and measure your results in revenue.
Instead of raising your prices, check out how Thanx can help you grow your restaurant revenue today.