Today, we're excited to announce the launch of native online ordering for restaurants. With this launch, restaurants can offer an intuitive, easy to use online ordering experience to their guests, while at the same time reaping the benefits of Thanx's complete customer engagement and loyalty platform. Now, restaurants can build a highly customizable mobile ordering experience, can see online and in-store customer purchase data in a single view and can use that information to build rich customer profiles that enable more personalized and intelligent communications with customers.
"The experience consumers have when they order online has a huge impact on their perception of the brand. That's why it's super important to offer a high-quality experience online that is consistent with the experience in-store. Consumers want to be engaged with in a way that is personalized to them, regardless of where they shop. With the Thanx online ordering experience, restaurants finally have that option" – Thanx CEO and founder, Zach Goldstein.
What You Get with Native Online Ordering
The Thanx native online ordering experience is highly customizable and allows restaurants to put their brand and menu front and center. Think Instagram, drool-worthy photos paired with fast, user-friendly navigation.
Restaurants can customize the experience they want their customers to have while benefiting from a best-in-class app and ordering design. In order to build a superior ordering experience, our user experience researchers evaluated 60+ ordering and delivery applications — measuring effectiveness in terms of user experience as well as purchase behavior and average check size — before landing on the final version. Our apps have been well received by consumers, and we are proud of our 4.9-star average rating in the App Store based on feedback from more than 35k reviewers.
"With Thanx, we wanted to create a sophisticated mobile ordering experience that holds up to our high standards in food quality and brand consistency. Thanx is helping us bridge the gap between the digital and in-store experience, so the customer can interact with us in a way that is completely seamless and intuitive." – Stacie Colburn Hayes, VP of Marketing, Oath Pizza
How Consumers Benefit from Online Ordering
Thanx will partner with restaurants to create a custom branded application with native online ordering that allows them to automate enrollment of their customers into their Thanx-powered marketing platform to earn rewards and receive campaigns. This lets customers earn progress and rewards both in-store and online without any additional effort. The consistent and seamless omnichannel experience means consumers need only a single login for all interactions and their available rewards are presented right where it makes the most sense: during the ordering experience.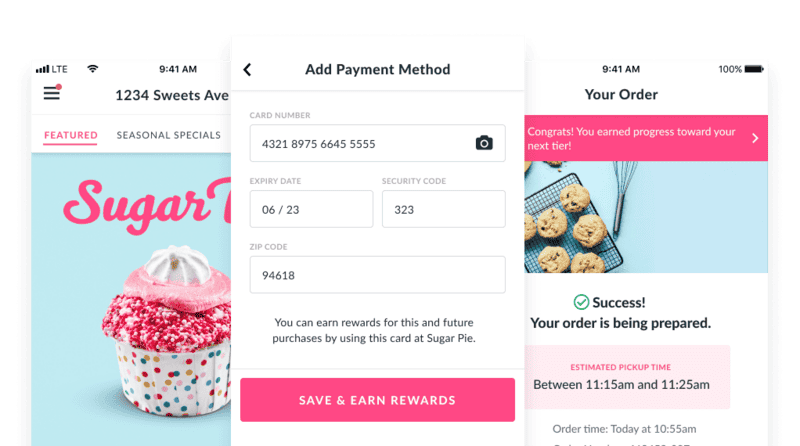 How Restaurants Benefit from Online Ordering
For restaurants, in addition to enrolling new customers in the rewards program and automatically tracking every purchase regardless of channel, the true value comes from using the data to create personalized and genuine relationships with guests. Unlike third-party delivery channels, an owned online ordering channel gives restaurants the benefit of better understanding and controlling the customer experience. Unlike third-party delivery, restaurants keep all of the data about their customers, helping them create an even better experience for the guest. With this channel, restaurants can deeply understand the customer and their preferences, for example, knowing the guest's favorite items, their frequency of purchase, their preferred meal times and can use that information to build a more personalized experience that builds brand affinity and keeps customers coming back for more.
Wrap up
We can't wait for restaurants to try out our native ordering experience and all of Thanx's powerful customer engagement and marketing automation features – schedule a demo today and unlock the power of online ordering and customer engagement.