Customer loyalty is important to any business, but it's especially essential to a restaurant, where loyal customers are the bread and butter (or in this case the dough and sauce) of the business. Pinthouse Pizza, a brewery, and pizzeria based in Austin, serves up delicious fare and rewards the customers who help them grow their business.
When Nic Van Biene started Pinthouse Pizza with four of his best friends and a young and up-and-coming brewer from Odell Brewing, he never dreamed they'd open two locations in three years, or grow by 18% in revenue year-over-year. Today, the brewery and pizza restaurant is one of the coolest and most delicious places to eat in Austin, Texas.
We sat down with Nic Van Biene, Co-Owner of Pinthouse Pizza, to learn how the restaurant leverages customer loyalty to reward their fanbase, convert casual customers into regulars, and win back customers who haven't visited in awhile.
Can you share the story of Pinthouse Pizza?
I started Pinthouse Pizza with four others, one of whom is my brother. We're all friends, and we'd been tossing around different ideas for businesses. We had a passion for craft beer, as well as great food, and we thought a restaurant that combined beer and pizza would be a great fit for Austin. We put together a business plan for Pinthouse Pizza in 2011, and today we are lucky enough to have a successful restaurant with two locations and are about to open a third.
At Pinthouse, we brew our beer on site, so each location has its own brewery. Because we're predominantly a small batch brewery, we're always experimenting and innovating, and consequently, we brew a lot of unique beers. We're debuting new beers every week or so, which keeps our craft beer fans coming back time after time.
Our specialty is pizza, of course, but we also serve salads and a variety of other small plates. We make everything from scratch in our kitchens– the dough, the sauce, and the dressings. Each month, we offer an Off the Map Pie, which is a specialty pizza not on the regular menu. We have fun with these extraordinary pizza offerings, such as our mac and cheese pizza, the Return of the Mac.
How does Pinthouse Pizza get involved in the local community?
Much of the way we get involved and give back is through events. For example, we do charity brews every month. Our charity brews are successful, and easy for the organizations who participate. We usually end up bringing in $3,000 or so for the charity at each event. For these events, we try and work with local charities because we want to give back to our immediate community.
We also helped start The House that Beer Built in Austin, which is a joint effort with a bunch of local breweries and Habitat for Humanity Austin. The participating local breweries band together and pledge to raise 'x' number of dollars to build a house for a local family in need.
We do smaller scale things to give back, as well. We donate a lot of gift cards, pizzas, and salads to local schools and charities and we sponsor some local sports teams.
Why does customer loyalty matter for your business?
We were interested in customer loyalty because we saw how important our loyal customers were to our business. Before we started a formal loyalty program, we recognized that we had an awesome loyal fan base already.
There's a group of customers that come into Pinthouse very often. Many of them are retired, so they would come in and socialize and hang out. We started calling them "the high top crew" as they always sat at the high top tables beside the bar. We recognized how much this group brought to the business through their loyalty. When we implemented a formal program, we wanted to give back to this group and reward them.
We also wanted to bring in some people that were casual guests and make them more loyal ones. For this group, we wanted to encourage those who hadn't gotten to know us better, and hopefully make them loyal and repeat guests.
How does your loyalty program work?
We implemented a customer loyalty program at Pinthouse to reward our best guests, as well as encourage casual guests to come and dine more frequently.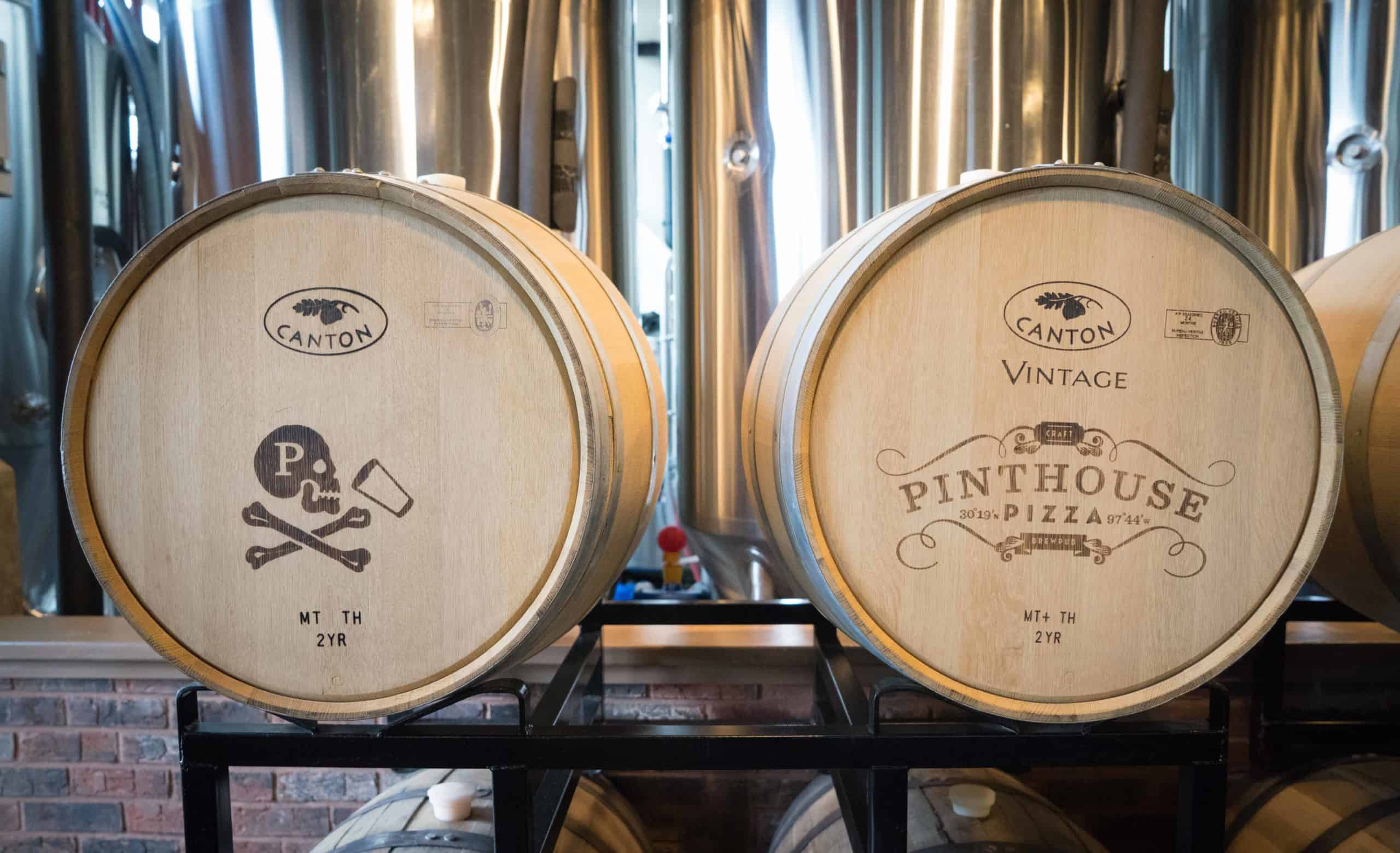 We used Thanx to put a formal program into place, and Thanx made it easy to create an ROI positive rewards program that helps us grow our business. We've had our program for a year and we have almost 2,500 members, which we're really happy about.
What we love is that our program through Thanx doesn't require iPads on our counter space or plastic loyalty cards. We use a simple points system, and each dollar spent is equal to one point earned for our participating guests.
Here are some rewards we offer:
Sign-up reward. When guests download the Thanx App and join the Pinthouse Pizza Loyalty Program, they get 10% off their first purchase.
Birthday reward. On a guest's birthday, they'll receive a free pint of beer or a dessert, as long as they're a member of the program.
Recurring loyalty reward. Every time a guest earns 175 points, they'll receive $10 off their next purchase.
VIP status. If you are one of our top guests, you will be notified via the Thanx app that you have achieved VIP status. Customers must spend $115 or more each month for two consecutive months to maintain their VIP status. VIPs are rewarded with an extended happy hour, Monday through Friday.
Jolly Rogers. For our most loyal lifetime customers, we continually want to go above and beyond to show our appreciation for your loyalty. That's why we have the Jolly Rogers program, which offers a variety of rewards to our biggest fans
Winback campaign. When a customer hasn't visited us for a while, we use Thanx to send them a coupon for $10 off that can be redeemed when they come into the restaurant.
Refer a friend. We also use a Thanxgiving program to enable our loyal customers to refer friends. To date, we've acquired over 200 new customers this way who've added incremental revenue to our bottom line.
How do you promote the program to your customers?
When we first launched the program, we promoted it on social media heavily. We posted on all of our networks to get the word out. We also promoted it at both our locations and of course, on our website. We have Thanx flyers and business cards set up at each store by the registers so that guests can also get more information about the program.
We also made a push for our bartenders and front-of-house team to introduce people to the program. In fact, we had a couple of contests amongst our team to see who could get the most people to sign up. The rewards weren't huge– they were gift cards– but we have a great environment at our restaurants and our staff was excited about participating.
Why did you select Thanx?
When searching for a customer engagement solution, we looked at a number of different options, ultimately choosing Thanx, due to the robust data it offers, its ease of use for our team and guests, and the seamless integration.
We liked that we didn't have to add an iPad or tablet to our space to use Thanx. We didn't want our counter space to be cluttered, and we didn't want guests to have to carry around a loyalty card, either. So we liked that we could integrate Thanx with our existing POS. We liked the ease of it from the guest's perspective and for our staff.
Thanx made it easy to automatically earn rewards without plastic loyalty cards. Customers can simply download the app, create an account, and link their preferred credit or debit card(s). Then they are ready to start earning rewards and we grow our business. It's a win-win.
Wrap up
Pinthouse Pizza rewards its best customers and has seen the immediate impact on the growth of its business. Nic and his team have rallied their team around the program, offered a variety of different rewards, and made sure their rewards program was always ROI positive.