Are your customers satisfied? While the majority of merchants strongly believe their customers are a happy bunch, research suggests otherwise. About half (48%) of all customers don't believe the companies they buy from are focused on their satisfaction, according to HubSpot.
It's time for merchants to show customers that their satisfaction is important, but how? By capturing real-time feedback from customers.
By connecting with customers immediately following an interaction with your business, you can gauge their satisfaction and get a real-time pulse of your customer base. Knowing this information is key to customer retention.
To help you better understand the value of customer satisfaction, we'll discuss why it matters and explain the best way to measure it.
Why customer satisfaction matters
Whether or not customers leave with smiles on their faces might not seem like a big deal, but it actually has real ramifications for your business. Take a look at why satisfied customers are so important to your business – and your bottom line.
Happy customers are loyal customers
Happy customers tend to buy more and visit more frequently. How much more? Research shows satisfied customers are 14x more likely to buy from you again. With every satisfying interaction, the customer returns, and eventually earns the title of "loyal customer."
Simply put, happy customers are profitable.
Satisfied customers talk about your business and refer others like them
Your happiest customers tell others about your business. How many others? Research suggests one happy customer can net nine referrals.
Positive word-of-mouth is a big deal. Think about it. Nine customers could check out your business all because one customer bragged about it. With customer acquisition being one of the most costly marketing costs, having your existing customers being a referral source makes a ton of sense to reduce costs and drive positive ROI.
Identify areas to improve
If something is creating a divide between you and your customers, you need to know about it.
If you're running a multi-location, offline business, it's not easy to keep tabs on every customer interaction, but getting real-time customer feedback will help. You can monitor feedback and take action when needed.
One customer complaint about poor service, for example, might not seem like a big deal. But remember, for every one complaint there are 26 other customers with the same problem that remained silent.
Customer feedback gives you the ability to identify problem areas and fix them fast.
Stop customers from churning
With so much competition, it doesn't take much for a customer to leave you for a competitor. Research shows 65% of customers leave after receiving poor service and 69% leave after a company fails to act on a complaint, according to research presented by Stay Out Front.
By collecting customer feedback, you can address concerns, apologize for any inconvenience, and even offer an incentive to return to your business. By doing so, you can stop customers from defecting.
How to measure customer satisfaction
Now that you know why customer satisfaction matters, you're might wondering how to measure it. After all, it's a feeling. How do you measure a feeling? A customer engagement platform can help you measure and monitor customer feedback. Here's how:
Use NPS as your go-to metric
A Net Promoter Score, or NPS, is the benchmark metric for customer satisfaction.
After each purchase, a customer is asked to take a simple survey that asks how likely they are to refer your business to friends or family. Customers are asked to answer the question using a sliding scale, where 0 is least likely to refer while 10 is most likely to refer.
This simple question breaks your customers into three groups: detractors, passives, and promoters.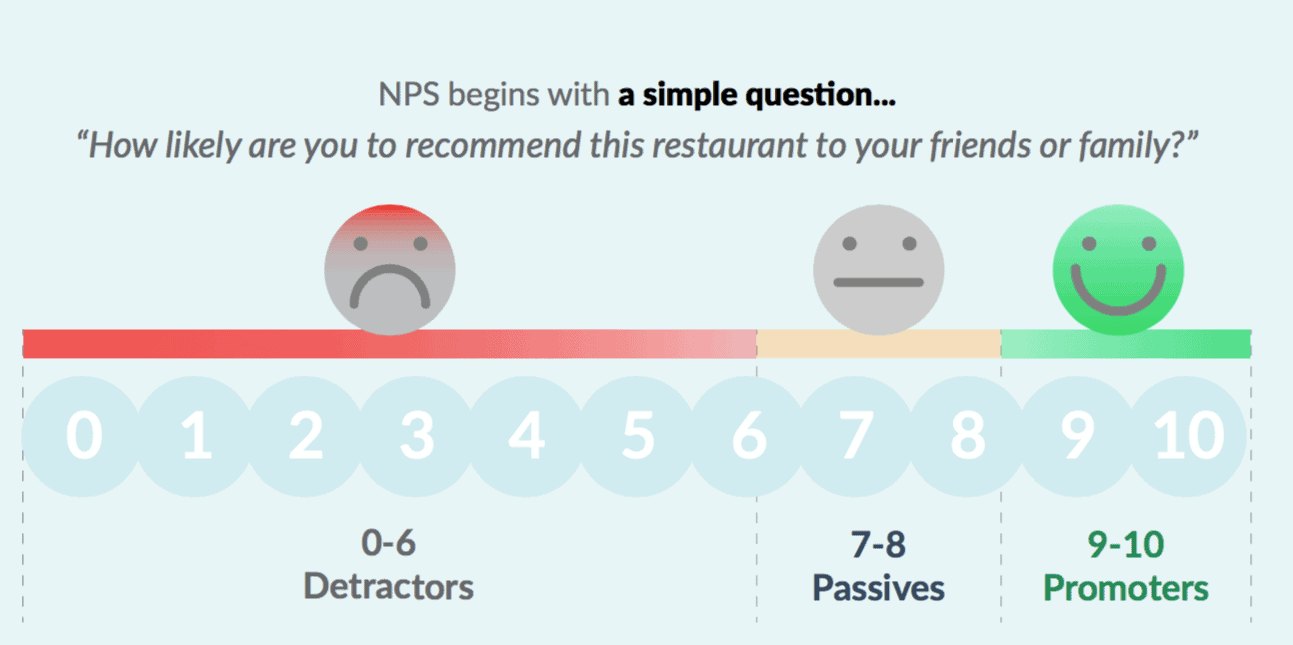 The idea, of course, is to push the needle more toward promoters. How? It's all about offering an exceptional customer experience and collecting and responding to feedback.
Ask for and respond to feedback privately
After answering how likely customers are to refer your business, ask a follow-up question. Simply ask, "How can we make your next visit better? Or, "What can we improve on?"
It gives your customers the opportunity to provide their honest opinion and in return, you can respond in private. If the experience was sub-par, you can thank the customer for bringing it to your attention, suggest a solution, and even give the customer an incentive to come back.
Collecting feedback this way gives you the opportunity to immediately address a customer's concern and make amends. It's not just good for the customer, it's good for your bottom line. Research shows responding to feedback in a personal way grows revenue by 22%.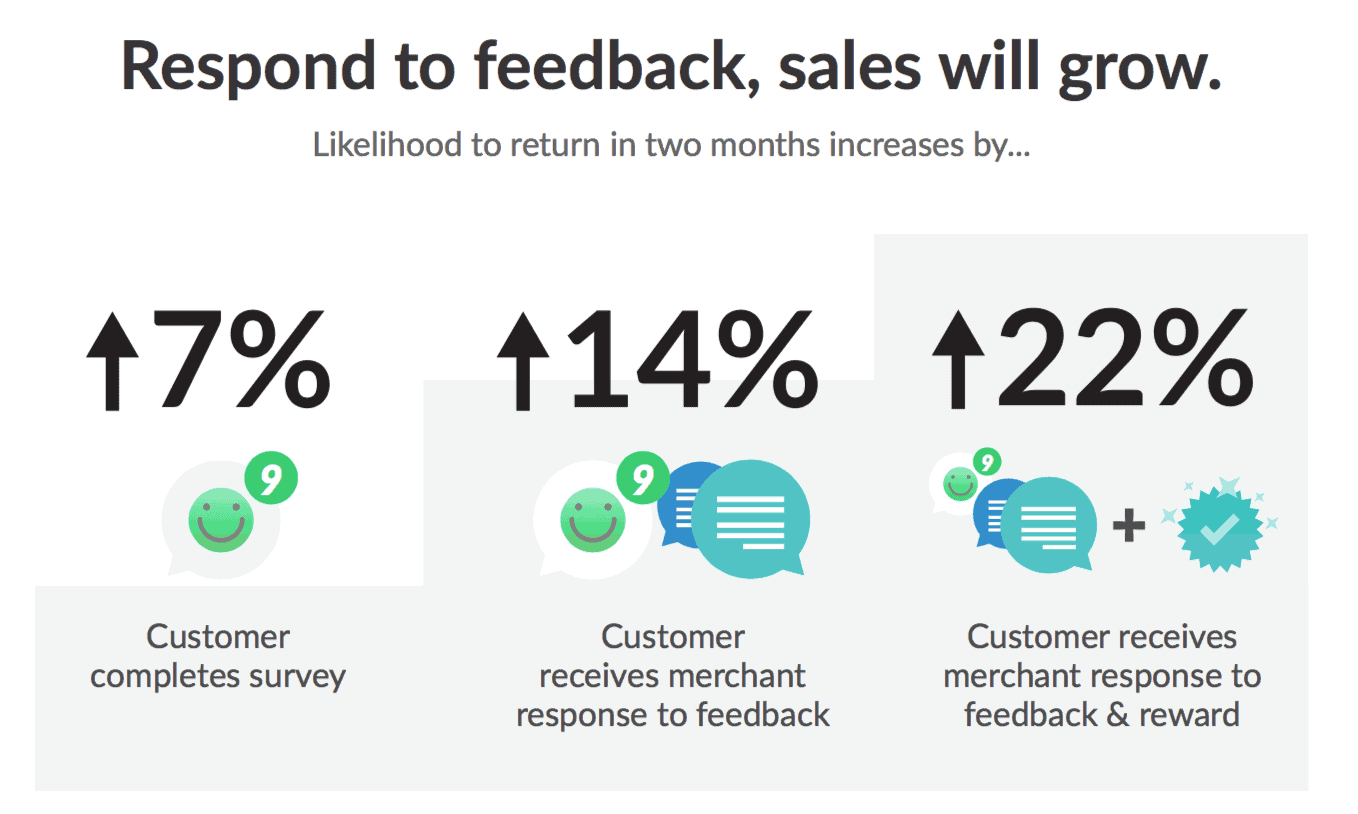 Keep negative feedback off public review sites
By collecting and responding to feedback in private, you keep negative reviews from landing on public sites. A poor review on Yelp, for example, could hurt your online reputation and keep other customers from visiting your business. But, if it's handled in private, the opinion stays between you and the customer, not aired in the digital universe.
But, what if the reviews are good? You want those posted everywhere. You're 100% right. With a customer engagement platform, you can ask customers to share their positive opinions on a public site like Google with one click.
Use customer data to make smarter business decisions
Collecting feedback is great, but how do you manage it all? A customer engagement platform can help you sort it out. It can flag feedback left by your most important customers, and use AI to look for trends or opportunities that you can capitalize on.
With smart tools like this, you can not only address individual feedback but understand how your customers feel about your product on a more holistic level.
Wrap up
Capturing customer feedback has always been important, but in today's fast-paced, digital world, you need more than a comment box. You need to gauge customer satisfaction in real- time, engage with customers who provide feedback privately and manage your online reputation by resolving complaints offline.
A customer engagement platform like Thanx can help you accomplish these goals and make customer feedback a priority. Learn more about our real-time customer feedback solution today.