Today we're excited to announce the addition of three new campaigns available to car washes to drive unlimited subscriptions. These new campaigns will help our car wash customers drive more predictable revenue by segmenting and targeting their non-subscribers with personalized incentives to enroll in an unlimited plan.
Intense competition among car washes makes engaging and building loyalty with customers increasingly difficult. Risk factors, such as weather conditions, time of year, and a rapidly evolving competitive landscape, further complicate the problem. In recent years, car washes have adopted unlimited subscription plans in an effort to drive repeat visits and generate more predictable revenue. Unfortunately, engaging customers in a meaningful way to drive membership into unlimited plans is difficult without the right customer data in place.
"Thanx is changing the game in how we create a dependable revenue stream and increase the lifetime value of our customers through highly targeted and relevant marketing of our unlimited plans. The outcome is more engaged and loyal customers that return to Jacksons again and again." – Matthew Teneyck, Marketing and Operations Manager, Jackson's Car Wash
With the Thanx Unlimited Campaigns for car washes, Thanx segments your customers based on the items they buy, including memberships and individual washes. Thanx then uses this information to identify the customers most likely to convert to unlimited membership plans and targets them with personalized messages and incentives.
How Unlimited Campaigns Work

Unlimited Winback campaign – Target previous subscribers who have discontinued membership in an unlimited plan in the past and sends them a customizable message and incentive to rejoin.
Unlimited Saver campaign – Target existing customers whose spend has exceeded the cost of an unlimited subscription. Merchants can then send them a customizable message and optional incentive to tell customers they can save money by enrolling in an unlimited membership plan.
Upgrade to Unlimited campaign – Target existing customers whose spend is nearing the unlimited price threshold which allows car washes to target them with promotions to enroll.
Benefits:
Helps car washes drive more memberships and reduce attrition from the unlimited plans. This improves the long-term predictability of the business while boosting individual wash revenue.
Discounts are expensive. By segmenting car wash customers based on their likelihood to convert to an unlimited subscription, washes can cut costs by targeting just those specific segments with the specific incentive needed to push them over the edge.
Our multi-channel campaigns are fully customizable. The design, the message, and the incentive are determined by the car wash.
Our detailed campaign reporting means that the success of every campaign is tracked down to the dollar so that future campaigns get even better.
Unlimited Winback Campaign
The Unlimited Winback campaigns target unlimited subscribers who used to be members and encourages them to rejoin the plan.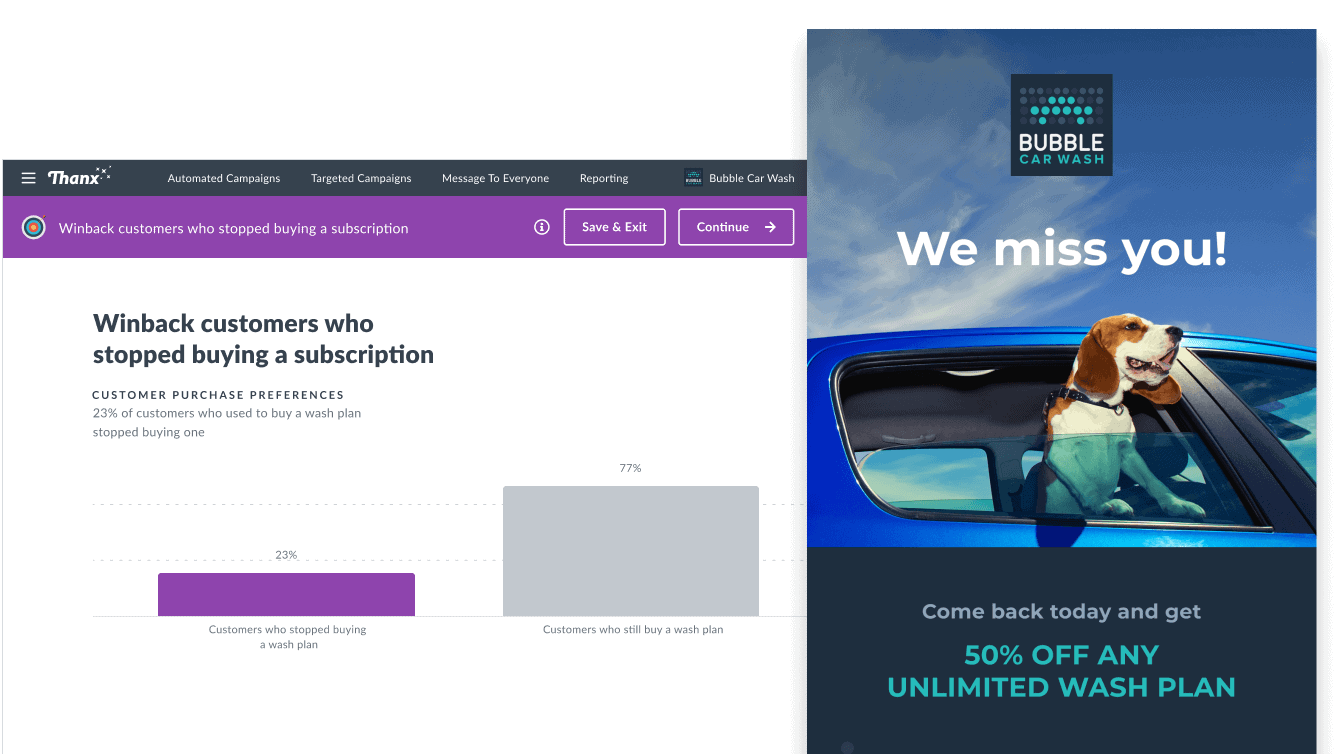 Unlimited Saver Campaign
The Unlimited Saver campaigns target customers based on each customer's spending to identify non-members who spend more per month than the cost of an unlimited plan.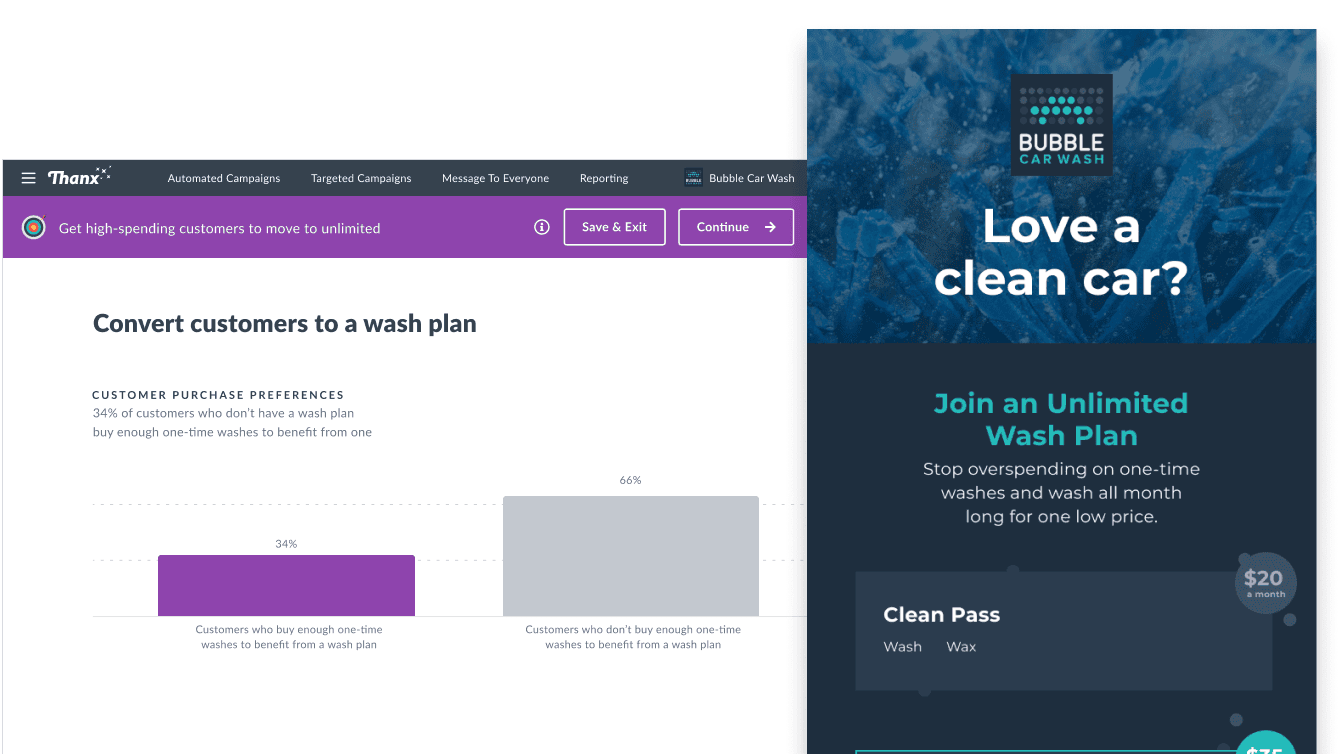 Upgrade to Unlimited
The Upgrade to Unlimited campaigns target customers based on each customer's spending to identify casual customers and convert them to an unlimited plan.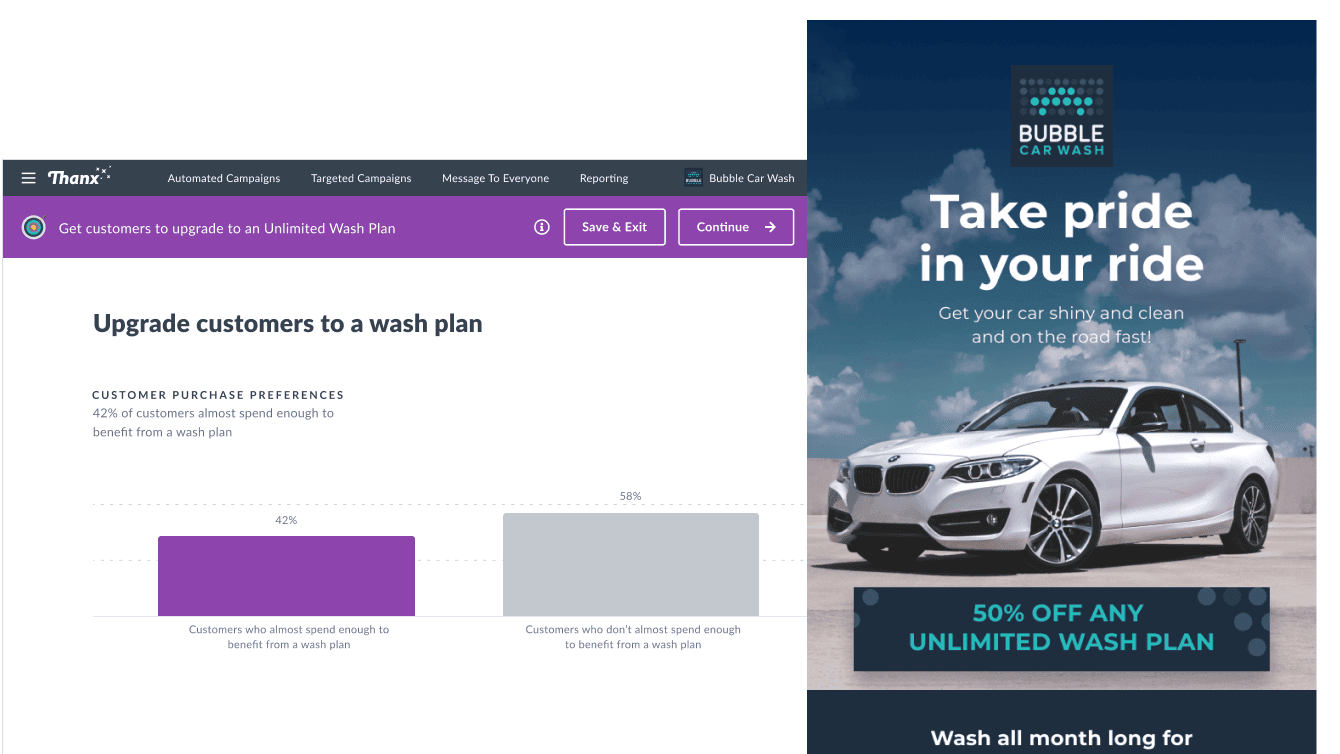 Wrap up

We can't wait for you to try out our new Unlimited Campaigns and all of Thanx's powerful customer engagement and marketing automation features – schedule a demo today and unlock the power of customer engagement.