Over the years we've heard that not everyone wants to download an app to join a customer engagement and loyalty program. The hearts and minds of consumers are won by brands that invest in and understand the importance of customer experience. We understand it and believe in these ideas, so much so, we removed (yet) another hurdle in the consumer loyalty experience.
Today, we're thrilled to introduce an app-less version of Thanx that makes joining your loyalty program as easy as sending a simple text message. Thanx users now have the option to ditch the app download and interact with SMS/TEXT to enroll, manage, redeem and get notified of their rewards.
Three frictionless options to offer Thanx to your customers
Thanx now offers our merchants three effortless options to offer Thanx to their customers:
SMS app-less experience – consumers simply send a text to enroll your program and get text updates for rewards and redemption.
App experience – consumers download the Thanx app, register credit and debit cards, and earn reward progress automatically whenever they shop.
Branded app experience – enterprise brands can leverage our deep mobile experience to build a

fully customizable branded mobile app

.
Now you can offer your customers multiple ways to enroll in your program and get rewarded for their loyalty. 
Measure success with short-codes
You'll now be able to create trackable short-codes so you can track how each of your locations is performing and how many consumers are signing up and enrolling their credit cards. You can create as many short-codes as you want so you can track by location or for special offers.
Consumers get instant gratification
In a recent survey, 54% of consumers complained that they could not easily get program information, points balances and rewards from their mobile device or had to download and use a mobile app. Now your loyalty members can get valuable updates about their status and rewards via SMS making instant gratification possible at any hour of the day or night. Our SMS ThanxBot doesn't sleep and is always happy to talk about the offers and promotions available to each customer.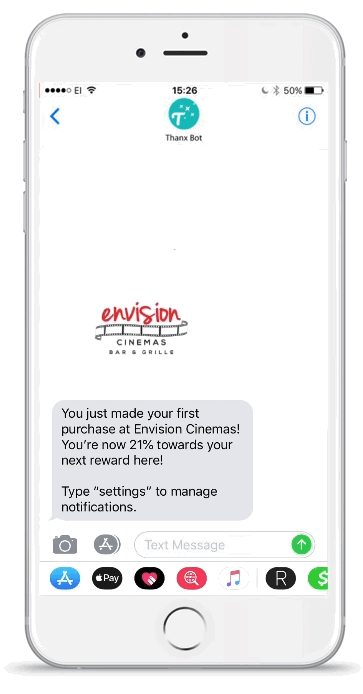 Wrap up
We're excited to bring you a fresh way to easily enroll consumers in your customer loyalty program with this new SMS offering — all at no additional charge (how many products do that?!) Thanx is here to help you increase revenue and grow your business, so go app-less today.
ICYMI: Check out our powerful new targeted email campaigns.
Learn how Thanx can grow your business. Get a free demo today!