Since the 1950s, the amount of money Americans were willing to spend on eating out has increased; so much so that consumers now spend more on eating out than they do on at-home meals.
It's a trend that's been in the making for decades, and in 2015, the scales tipped. That was the year spending on restaurant meals surpassed spending on food at home. The chart below from the USDA shows the 65-year trend:
With more hungry consumers eating out, restaurant owners want to make sure customers come back again and again. By using a data-driven customer engagement program, restaurant owners can reward their best customers and drive the kind of repeat business that makes a difference to their bottom line.
Here are four ways to reward your ideal restaurant goers using data:
1. Segment customers
From the second you deploy a data-driven customer engagement program, you'll automatically begin collecting customer-specific data that gives you the ability to segment your customers in a meaningful way.
When you segment customers, you group them by similar characteristics or behaviors. For instance, you could create a "Lunch Lovers" segment that includes customers that typically stop in the afternoon, or the "Regulars" that come in all the time.
With access to data that shows you metrics like customer spending, share of wallet, and visit frequency, you can group your customers in a variety of different ways. You can even segment customers by their frequency of visits to a specific store location.
Using this data you can create targeted and personalized offers for each segment.
2. Send personalized offers
Creating personalized offers is one of the most effective ways to reward restaurant goers.
Personalization is powerful, which explains why nearly three-quarters of merchants list personalization as a top priority to engage customers, according to eMarketer.
You want a customer engagement program that gives you the ability to send and automate personalized offers to the right customers at the right time.
There are dozens of offers or incentives you can provide customers, but here are few dining-drivers:
Give your VIPs a sweet deal
With data collected from your customer engagement platform, you'll be able to identify your best customers.
In your Thanx loyalty program, when customers spend a certain dollar amount two months in a row, they become VIPs. By setting this threshold, you'll be able to see who your high-value customers are, when they're coming in, and what they're spending.
Thanx makes it easy to send your VIPs exclusive rewards and perks for being your very best customers.
Merchants that activate a VIP program see a 17% increase in spending from their top customers.
Your VIP customers likely have the best lifetime value of all your customers, so recognizing their commitment to your restaurant not only shows your appreciation but it strengthens the bond you share. If you're willing to reward their continued support, they'll continue to provide it.
Celebrate customer birthdays with rewards
When it's a customer's birthday, reward him or her with a special treat. You can automate birthday deals so they're delivered straight to a customer's mobile device on their big day.
A free piece of cake or a dessert makes sense as a reward, but you could do something unique like giving a $10 discount on a dinner date night.
Celebrating a customer's birthday is a great, personalized reward.
Reward customers who give you feedback
The right customer engagement program will not only provide actionable stats, but an easy way to collect customer feedback. By asking customers quick questions right within the platform, you can get specific suggestions that could drastically improve your business.
Hopefully, you get rave reviews, but remember, negative feedback can be constructive, too. For every customer who complains, they're 26 others who are bothered by the same thing but remain silent, according to research quoted in HelpScout.
When customers take the time to provide feedback, you can respond. This kind of one-on-one engagement is a relationship building opportunity and the perfect time to reward the customer for speaking up.
3. Encourage loyal customers to come in at different times
Everyone gets into a routine, but sometimes it's nice to shake it up. Help your loyal customers try something new by offering a reward for coming in at a different time.
Let's say Tuesday afternoons are a little slow. Why not send a offer to your loyal "Breakfast Bunch" that offers a can't-resist deal for a Tuesday lunch special? Offer half off all appetizers or a $10 discount on for any two-person lunch party.
You're trying to get your customers to do a "time shift" and come in at a time that can really help your business.
It serves as a nice reward for loyal customers and a sales pick-me-up for your restaurant.
4. Win back customers that have strayed
Your loyalty program can tell you how frequently customers visit, so when Mary, a Lunch Lover who faithfully comes in every Friday, doesn't show up for three weeks you can send her an offer to incentivize another visit.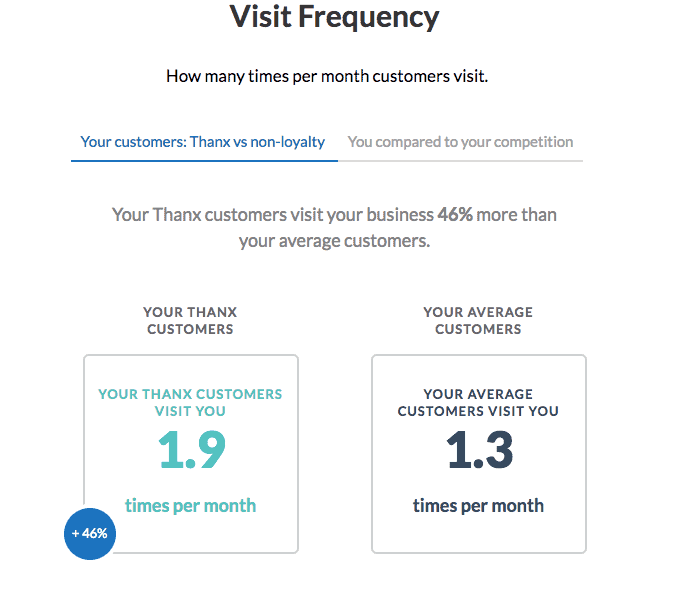 Research shows reactivation campaigns have some of the highest ROI opportunities in marketing at relatively low cost, according to data from Experian. When merchants send winback emails, for example, the ROI per email was $28.50 per email sent.
Why reward customers who aren't as loyal as you'd like? For starters, customer retention is 7x cheaper than customer acquisition. Plus, these customers are already familiar with your restaurant and sometimes just need a good reason to come back.
Wrap up
Customers are willing to splurge on a convenient, restaurant-quality meal, but it's up to you to encourage customers to choose your business. Using the data you can reward your best customers and encourage repeat business growing your business and your bottom line. Be sure to look for a customer engagement platform that helps you drive customer retention and puts your most valued customers at the center of your business.