We always knew our users were the best… and our data holds the proof! As we head into 2017, we wanted to give Thanx to our super users from 2016. For the third year in a row, we're acknowledging our outstanding Thanx-ers in our annual Thanx awards (basically the Oscars of loyalty). All of our merchants have extraordinary VIP customers, but these customers in particular really stood out. From frequency to advocacy to feedback, you'll be amazed at how these VIPs engaged with their favorite merchants.
Most Frequent Retail Customer
In the high-end consignment world, inventory turns over quickly and amazing new pieces are constantly being added. That's why customers at 2nd Time Around, a high-end resale business with 40 locations in 12 states, customers pop by all the time to make sure they don't miss anything great, like a coveted designer bag or a gorgeous vintage coat. Mary Ann M. wins the Most Frequent Retail Customer award, doing more than 600 transactions over the year. That's a lot of fabulous loot! In fact, it was so much loot that she also wins the Biggest Spender at One Location award and the Biggest Saver award, with close to $10,000 back in her pocket. She is also, most likely, the Best Dressed in 2016.
Most Frequent Coffee Shop Customer
When you need a coffee fix, you need a coffee fix. While some opt to spend their time and money with the coffee giants, Dan R chooses to frequent the locally owned and operated New Mexico chain, Satellite Coffee. Located in Albuquerque, Satellite Coffee roasts their own beans and has eight locations. Because one cup usually doesn't do the trick, Dan visited more than 615 times in 2016, ensuring that he never lost his coffee high and can proudly claim the Most Frequent Coffee Shopvisitor.
Most Engaging
All merchants love to get feedback from customers —  feedback allows them to understand what customers love and where they need to improve their service. To that end, Kenneth W. is a merchant's dream customer. He left 203 ratings from 244 purchases this year at Satellite Coffee and Flying Star, making him the winner of the Most Engaging award. And, probably related, Flying Star is the second most responsive merchant at Thanx, replying to more than 95% of the feedback it gets. With thousands of comments, it's a good thing the staff has access to caffeine.
Biggest Advocate
In the old days, "word of mouth" marketing was all the rage; who better to drive people into your shop than a happy customer? The truth is that not much has changed — there's nothing more powerful than a recommendation from a satisfied customer, and "word of mouth" remains the best way to get new customers to visit. A McKinsey study found that consumer-to-consumer word of mouth creates 2x more sales than paid advertising and customers acquired through word-of-mouth have a 37% higher retention rate. Jason G wins the Thanx Biggest Advocate award. He invited 27 people to Mixt, most of whom signed up and made a purchase. It's no surprise to us that Mixt has such a dedicated brand ambassador — Mixt has one of the highest NPS scores amongst all our merchants and has recently wowed us with their end of year holiday gift for VIPs.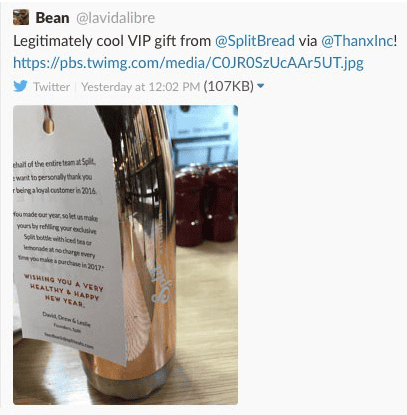 Mixt and Split Bread know how to reward their VIPs and turn them into brand advocates. Source: Twitter
Most Loyal to Thanx
Loyalty is beautiful to witness and, luckily, we get to see a lot of it at Thanx. While we are usually witnessing customers being loyal to their favorite merchants, we recently came across Anu M, who visited 11 Thanx merchants this year, giving him the Most Loyal to Thanx award. His introduction to Thanx was with San Francisco restaurant, Pacific Catch. He says, "It's in our neighborhood and my son likes going there so that's why I signed up for Thanx in the first place." In 2016 Anu also ate delicious Indian food at Dosa, fried chicken at Proposition Chicken, and cheesy deep dish at Patxi's Pizza, amongst other things. He also entertained himself at Gameworks and shopped at Westfield Topanga & The Village. We thank you for your loyalty, Anu! With lots of new merchants going live soon, you're going to be very busy in 2017.
Well, that's that! Congratulations to all of our award winners. If you're a merchant looking for this type of customer data (and customers as engaged as these!), schedule a demo with us so we can show you how to drive customer engagement in 2017.