Every restauranteur can relate — restaurants can be a challenging place to utilize feedback and build customer loyalty. In this Bain study and podcast, two leading restaurant executives discuss exactly how to make net promoter work, build customer relationships, and increase sales.
For a restaurant executive, success generally comes down to one capital "T" Truth — provide excellent customer service and customers will continue to return. Generally, the last mile after top-quality food and atmosphere remains the same — add a personal touch to guests' experience, often by visiting them at the table as they dine.
Unfortunately, executives managing multiple locations simply cannot be in more than one place at the same time. That's the challenge tackled in a podcast from Rob Markey, a partner at Bain & Company, Co-author of "The Ultimate Question 2.0," and host of the Net Promoter System Podcast
Click here to find out how restaurant chains are discovering the special sauce of Net Promoter feedback. You can see a summary of the conversation below.
Net Promoter Podcast Overview
Joining Rob Markey to discuss restaurant feedback and loyalty are Jim Howard, head of marketing at Patxi's Pizza, and Mark Nicandri, COO at Tomatina. Thanx CEO Zach Goldstein also joins the conversation to discuss some stats about the importance of replying to customer feedback.
The biggest takeaway from the conversation is that asking the ultimate question and tracking NPS score provides invaluable data for restaurant executives at multi-location brands — provided you engage customers at a relevant time and in a personalized fashion. Sales increases average 7%-24%.
In addition, tying feedback to individual customers proves to be tremendously valuable. Feedback becomes much more usable than the anonymous opinions anybody can post to online review sites.
Net Promoter Best Practices
If you're in a rush, below is a quick-link guide for the moment in the podcast when the experts discuss various best practices related to implementing net promoter score.
Otherwise, listen to the whole episode, as it's packed with useful information about utilizing NPS and mobile marketing technology to drive success across multiple locations.
5:00 minute mark
Managing Success at A Multi-Location Business
Question from Bain: a restaurant manager should be able to observe if things are going well or poorly — why bug your customers for feedback when you already know how they're doing?
Response from Jim: as you grow, observing your restaurant becomes a difficult — even impossible — task to do. You cannot look at all restaurants and all the guests. Second, and more important, is you're not "bugging" them. Guest love to give feedback. Guests love to be heard. We all love to have our opinion valued. We want to be listened to. Asking for feedback is giving great guest service.
6:00 minute mark
How to use Feedback At A Multi-location business
Question from Bain: what's the best way to use feedback at a multi-location restaurant?
Response from Mark: there's a lot of data out there — you can't be in every restaurant all the time. What I try to do is see all the comments and feedback that comes in. One of the advantages of a multi-unit restaurant is you can look at things side by side. We can look at a comment here and say oh here's a complaint we had about this dish here, and we had another complaint about the same dish on other side of the bay — perhaps there's something wrong with the supply we're getting in. You can look at turnover rate — do we have new servers or a lot of servers who have been there a while? You have to use operational data and contextual information to understand what's happening and what's driving change in performance.
11:00 minute mark
using an NPS marketing technology company at a restaurant
Question from Bain: how do you use NPS at your restaurants?
Response from Mark: prior to signing up for Thanx, we sent out an email once a year with an NPS prompt. That's how we would solicit feedback — every April we would send out a survey. Now we have the ability to deliver a customer rewards program without forcing customers to carry a "brick" around in the back of their wallets.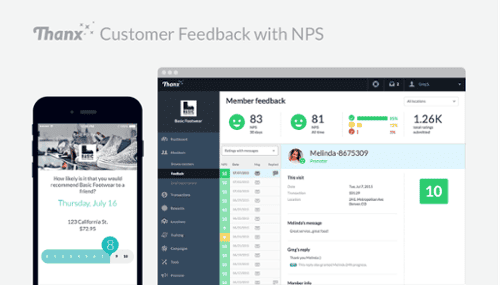 13:45 minute mark
How to manage your Restaurant loyalty program DATA on a day-to-day basis
Question from Bain: how do you use NPS at your restaurants?
Response from Jim: I have a Dashboard that I can log in to and see in real-time what's going on with our guests. Every time a guest uses the app, redeems a reward, earns a reward, gives feedback — all of that data I can see. I can see not only see what's going on that large scale at Patxi's as a whole, but also at the individual restaurant level. It allows a way for me to connect with guests. Gives me the ability to touch the tables — even in Denver.
18:00 minute mark
how to engage customers in a dialogue
Question from Bain: how does your feedback program work?
Response from Mark: the great thing about our app is even for the person who gives 1-2-3 stars but no comment, we can go back and ask them about what happened so we can fix it — it's unlike other platforms where you get a bad rating and that's it.
20:00 minute mark
HOW TO CONNECT WITH CUSTOMERS
Bain Question: how many of your customers who provide feedback do you connect with?
Responses from Mark and Jim: 100% of the time we respond to customers.
28:30 minute mark
Creating an effective customer loyalty program
Bain Question: have you seen any downsides to doing feedback via mobile?
Response from Jim: I had some employees mention a concern that our rewards program was tied to a credit card. So I went and did focus groups in four different locations, some who were members and some who were not, and heard, "Oh no problem." Tying a credit card to a good rewards program wasn't an issue at all. It's not the credit card, it's the employee training. Servers have to talk about it in the right way — the goal is to always make it, truly, a loyalty program.
35:45 minute mark
The importance of Creating Personalization for VIP Loyalty Program Members
Bain Question: do all members get the same response?
Response From Jim: one of my favorite stories — our number 1 guest — top guest by overall spending — gave feedback that was down a little bit. Not a usual 10, but it was an 8. She mentioned that everything was great, but she didn't like the new chairs out on the patio. About two weeks later she writes back — she gave us a 10 — but made the same comment about the chairs: everything great, but same chairs. She now has her own personal cushions for our restaurant. There's impact right there for you.