Coronavirus (COVID-19) has already had a dramatic impact on restaurants. As of the end of the day on Monday, restaurant purchase transactions had slumped more than 42% across the Thanx network. In these difficult times, restaurants must take proactive measures to not only keep establishments safe, in accordance with CDC guidelines for businesses but also ensure they take steps to limit negative impacts on sales.
Table of contents
What can restaurants do right now?
1. Embrace off-premises dining options
On Sunday night, the mayor of New York City banned dining out, limiting restaurants, bars, and nightclubs to takeout and delivery only. Many others have followed suit and it's likely additional cities and states will follow in short order. On March 16th, President Trump urged Americans to forgo dining out and may mandate the same in the very near future.
As such, we encourage restaurants, in regions where these changes have not yet been mandated, to consider proactively going off-premises-only taking a similar approach as Starbucks, Chick-fil-A, and others. Not only does this step reduce the potential spread of the virus, but it also engenders trust with customers and bolsters brand affinity.
Here is an example of messaging on Chick-fil-A's website:
"Our highest priority continues to be the health and well-being of everyone who comes into our restaurants. As we navigate the evolving impact of coronavirus on our communities, we are temporarily closing our dining room seating to help limit person-to-person contact. Some of our restaurants may only offer service through our drive-thrus, while others may be able to offer takeout, delivery or mobile ordering options. Thanks for your patience as our restaurants begin transitioning their operations this week. We know these are challenging times, but we'll continue to do our best to serve you."

– Chick-fil-A
2. Implement contactless delivery
For those restaurants who offer delivery to consumers directly through a website and/or mobile application, we recommend immediately implementing and promoting "contactless" delivery.
To support the implementation of contactless delivery, we suggest restaurants take the following steps:
Restaurants with their own delivery fleet should take measures as recommended by the WHO and the CDC to ensure packaging and delivery drivers follow safety guidelines.
Restaurants should also ensure that contactless delivery instructions can be entered by consumers directly through ordering channels whether online or through a mobile app. Here's an example of how consumers can enter delivery instructions within Kolache Factory's Thanx-powered web ordering experience.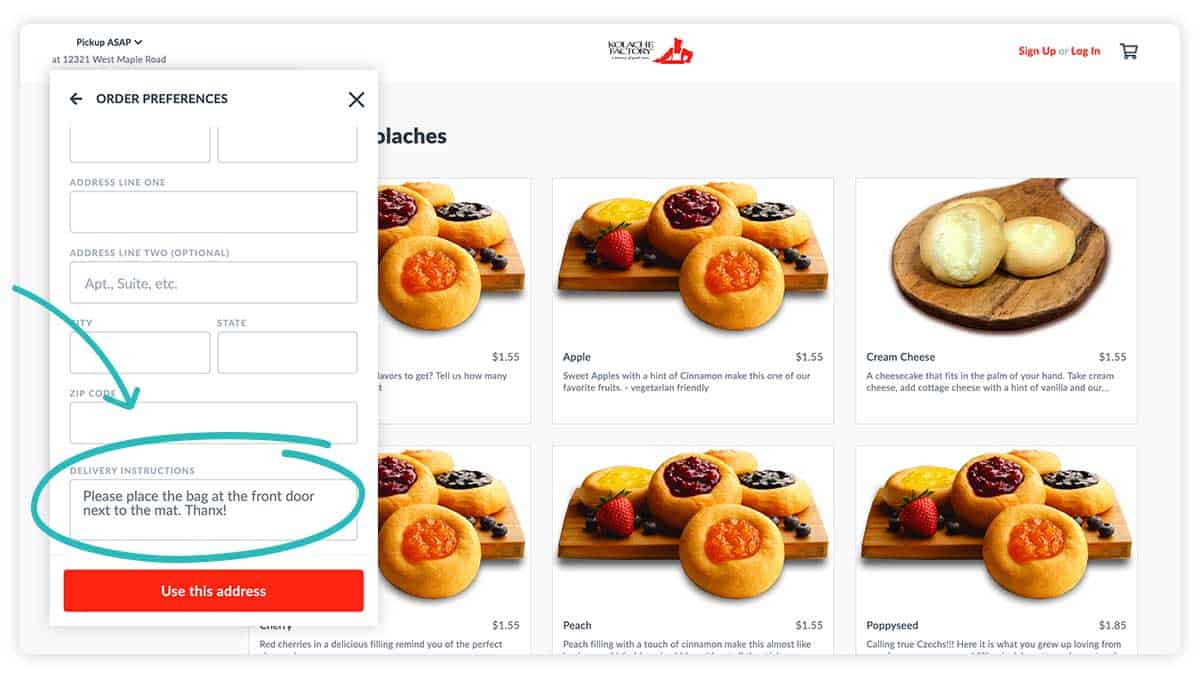 Once implemented, restaurants should promote contactless delivery across all digital channels including restaurant websites, email, SMS, push notification, and in-app. Here are a few examples email from Jimmy John's and Lyfe Kitchen:
Major third-party delivery providers offer contactless delivery options as well. Postmates announced contactless delivery first on March 6th, with DoorDash, GrubHub, and UberEats quickly announcing similar capabilities. The implementation of these features varies across platforms, with some offering an option to enter delivery instructions at checkout and others offering "contactless delivery" dropdown menus.
Here is an example showing the "Contactless Delivery" option on Postmates and the corresponding detail.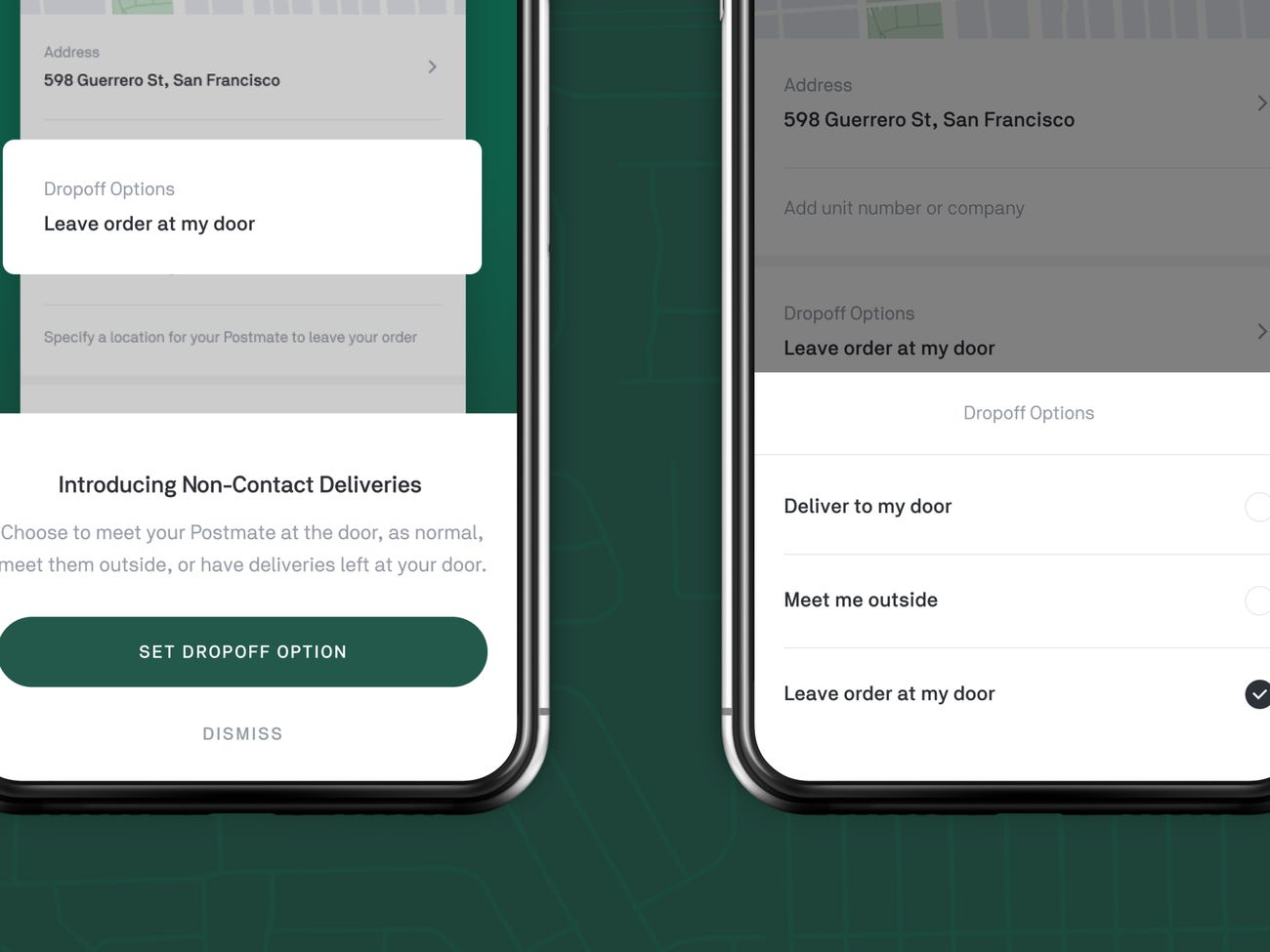 And an example of no-contact delivery instructions for consumers in DoorDash's mobile app:
As a first priority, restaurants should promote contactless delivery on direct-channels where margins are highest. As noted in more detail below, we highly encourage the promotion of free or discounted delivery on this channel first. In addition to avoiding commission fees, this allows customer data to be captured which can, in turn, be used to re-engage customers during and after the crisis. As a secondary step, we recommend promoting Uber Eats where fees have been waived and Grubhub, where commissions have been suspended* for some businesses and other third-party channels** as a secondary priority, perhaps with less attractive incentives. With either approach, be sure to provide clear instructions to consumers who may not be familiar with the nuances of each platform.
*3/18/20 Update: Grubhub has gotten some backlash on the relief program that's worth reading about here.
**3/19/20 Update: DoorDash just announced reduced or waived fees.
Here is an example of Modern Market's email instructions, outlining how consumers can provide drivers with contactless delivery instructions on DoorDash:
3. Introduce curbside service
We also recommend offering curbside pickup, especially if contactless delivery is not an option, to give customers the option to place an order for pickup through digital channels and/or by calling the restaurant directly. Some governments have limited capacity inside of restaurants so, in addition to consulting local regulations, consider offering pick-up brought directly to the guest's car. Adding more consumer touchpoints, like accepting orders via phone, is another way to widen reach and capture more sales.
Here is an example email communication from McNellie's Restaurant Group:
And another example from Starbird:
We recommend restaurants promote safe delivery and curbside options, via in-store channels, if the business remains open or until bans go into effect. For those businesses limiting dine-in, we suggest posting notices at all entrances communicating off-premises dining options.
4. Go cashless
In supporting takeout and dine-in, it's important restaurants limit direct contact between employees and guests. Restaurants should move to accepting credit cards and touchless mobile payment only, if possible. Regardless of whether or not mobile payments are available in-app, encourage guests to adopt Apple and/or Google Pay. Since many guests likely do not have and will not download the restaurant app, this ensures that anyone can pay via mobile and avoid direct contact with machines and employees.
Here is an example of messaging about going "cashless" from Modern Market:
5. Offer free or discounted delivery
To encourage delivery and takeout purchases, we recommend promoting those channels and offering discounts where appropriate. Here are a few examples:
Chipotle is offering free delivery on direct orders of more than $10.
"We're committed to delivering a fast, fresh and personalized experience. That's why we have a dedicated team and ingredient line to service delivery and pick up orders with care. Free Delivery now available for a limited time."

– Chipotle
Modern Market is offering Free Delivery on orders over $15, suggesting that customers stock up on items that store well.
"Place one order on our website for multiple meals. Our bowls are easy to reheat, our salads hold for days, our pizzas crisp up nicely in your oven at home."

– Modern Market
sweetgreen is offering free delivery via their mobile app and through Uber Eats stating that:
"Our mission has always been to build healthier communities, and right now, this means practicing social distancing. As we follow health guidelines and shift to a pickup + delivery only ordering experience, we're providing free delivery* online + on the sg app and Uber Eats."

– sweetgreen
6. Promote gift cards
With restaurant sales expected to take a major hit over the next few months, restaurants should consider promoting and/or discounting gift cards. Many loyal guests are looking for opportunities to support local restaurants and gift cards provide a path for that support.
Oath Pizza combined gift cards with donations to hospitals:
Honeygrow took the idea a step further encouraging their guests to buy gift cards for healthcare workers to show their appreciation:
Check out this genius ideas from Doc B's to buy now, get a gift card later: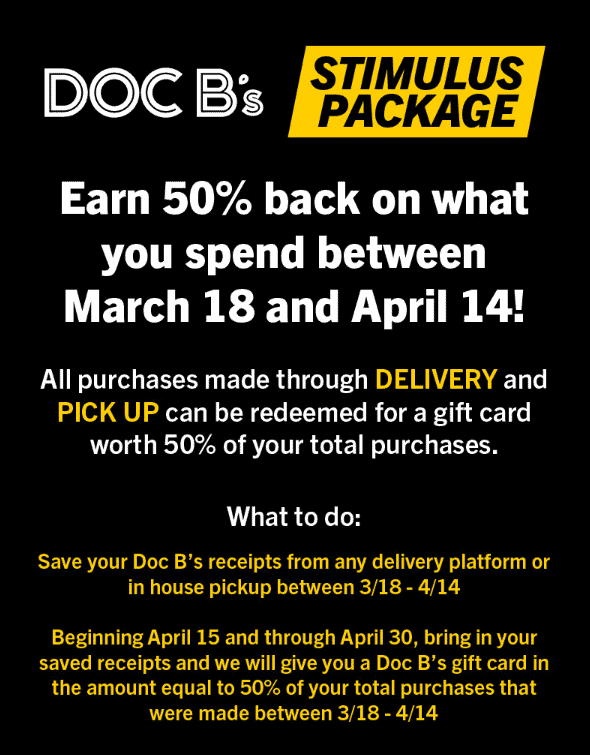 Here is an example email message from Garden Catering:
And another example from Big Red F Restaurant Group:
Restaurants should allow gift cards to be purchased on their websites and within mobile-apps, if applicable. For restaurants with strong followings, it may be advantageous to enable digital donations as well. Push notifications for mobile app customers should be enabled to promote stored value options.
7. Communicate transparently and regularly
Perhaps it goes without saying but it's important to share the specific precautions that the restaurant has undertaken in light of the coronavirus. Many restaurants have already shared such communications but it's important to keep up a regular cadence. Take, for example, this series of touchpoints shared by sweetgreen:
Thursday, March 12th:
To our sweetgreen community,
On behalf of our entire team, we want to personally thank you for trusting sweetgreen as your destination for real food. Our mission is to build healthier communities, and now more than ever, we look to our core values to create solutions that benefit our community, our customers, and our teams.
We want to let you know that your health and safety is our top priority. Our dedicated response team is closely monitoring guidelines regarding Coronavirus (COVID-19) and we are taking increased precautions by reinforcing the following health + hygiene protocols for all team members and restaurants:
Stringent hand-washing procedures for our team members
Rigorous food safety audits
Dedicated hospitality position responsible for cleaning communal surfaces
Installing hand sanitizer dispensers for our guests
It is our team members in our restaurants who bring our mission to life every day. Our paid wellness leave policy goes above and beyond industry standards. And now, we will be offering up to 14 days of Care Pay to employees who have been diagnosed with or exposed to COVID-19 so they can self-isolate at home. We never want a team member to put work before their health.
We appreciate your understanding as we navigate this rapidly evolving situation alongside you, our loyal guests. While we are currently maintaining regular operations, our restaurants are fully prepared to swiftly adapt in order to continue serving real, delicious food. This means the sweetgreen experience may shift to better suit the needs of the community, including enabling pickup-only ordering scenarios and exclusively servicing orders via delivery through our sweetgreen app.
Thank you for your ongoing confidence, care, and trust. We are committed to remaining transparent and keeping you informed of any changes to our approach.
Thank you,
---
Sunday, March 15th:
To our sweetgreen family,
As we continue to navigate COVID-19, our commitment to you remains to make transparent and thoughtful choices rooted in our mission of building healthier communities.
That's why, for the safety of our community and guidance from the CDC regarding social distancing, we've made the decision to move sweetgreen to a "digital ordering" experience in all of our 104 restaurants starting tomorrow Monday, March 16th. Here is what to expect:
We are moving to a pick up and delivery only model – you will not be able to order on our front line nor will you be able to sit in our restaurants to dine.
To place a pick up order, please download our app.
Due to social distancing and capacity reductions placed on all restaurants, you will not be allowed in the restaurant until pickup time.
Our dedicated team members will manage customer occupancy within CDC guidance and safely distribute meals.
You can still order sweetgreen for delivery via the sweetgreen app or UberEats.
We may start to reduce operating hours or temporarily close select stores. Please continually check our app and/or website for our latest hours.
The news around COVID-19 is constantly changing, as are the needs of each community. We are prepared to move quickly, reevaluate closures, and return to normal operations when it is safe to do so.
As always, we'll get through this moment together by leading through our values.
Thank you,
---
Monday, March 16th:
Free Delivery Promotion
Our mission has always been to build healthier communities, and right now, this means practicing social distancing. As we follow health guidelines and shift to a pickup + delivery only ordering experience, we're providing free delivery* online + on the sg app and Uber Eats.
But staying home doesn't have to mean eating alone. Text a loved one. Share a virtual Kale Caesar date. Connect to one another while we do our best to keep connecting you to real food.
---
Monday, March 16th (afternoon):
Connecting Hospitals to Real Food
We're so grateful for the hospital workers + medical personnel who are putting others before themselves during this critical time. In the midst of the current crisis, we're dedicating our Outpost operations and teams to support those on the front lines by delivering free, fresh sg salads + bowls to hospitals in the cities we serve.
We've already implemented Outposts at a few hospitals, and we'll continue to set them up as requests come in. Need an Outpost at your health facility? Click below to fill out the form, and someone from our team will reach out to you.
---
In addition to sharing updated practices the restaurant is undertaking to keep customers safe, it's important to show how restaurants are caring for employees, for example, offering free meals or paid leave benefits to affected employees. Here's an example from PINCHO:
Last but not least, while restaurant delivery is a viable alternative to visiting the grocery store or using a grocery delivery service, many customers may not be aware of restaurant offerings. As such, restaurants should promote the advantages of restaurant delivery over grocery and grocery delivery to ensure guests think broadly about their options.
Here is some example messaging from Modern Market:
"We don't believe this "social distancing" experiment is going to be short-lived and eventually, we will all grow tired of eating pasta, rice, and beans – so help us stay afloat and we will make sure we keep you well-fed as we wait this pandemic out.

Can't get an Instacart driver? Order a few meals from us and we will deliver it for free in 15 minutes. Don't stock up on veggies, we have plenty, and would love to sell them to you, conveniently made into a salad :-0."

– Modern Market
8. Urge customers to support local businesses
Many loyal guests want to support local businesses during the crisis. For those who do, restaurants need to make it seamless for guests to take part. Consider this messaging from Modern Market:
"Keeping our kitchens humming keeps our team members employed and keeps you well-fed with food that ensures you will end this crisis healthier than when it started!

Yell over the fence to your neighbor about how amazing and safe it was to order Modern Market and have it delivered to your front door, for no additional charge. They will be amazed and then likely order from us. This keeps our team members employed. They thank you in advance.

Take photos and videos showing the amazing food we brought right to you, post on social media with the hashtag #eatwellbehappy."

– Modern Market
9. Put safety front-and-center
Restaurant guests are more focused on safety than ever before. Consider putting safety front-and-center on your website, as Chick-fil-A has done here:
10. Extend reward redemption periods
For restaurants with outstanding discounts and/or incentives expiring in March or April, we suggest extending the redemption period to ensure that guests don't lose out on hard-earned rewards. This is particularly true in the case of store closures or in-store only discounts where dine-in is restricted. Earned rewards, as well as date-specific rewards, such as birthday and anniversary rewards, in particular, should be considered for expiration date extensions. Worth considering is whether to, across-the-board, emplace a more relaxed restriction on expiring rewards. When making these changes, restaurants should be sure to notify guests of the extended redemption period to acknowledge the proactive accommodation made and earn trust.
11. Proactively refund event deposits
For restaurants offering event bookings, restaurants should take a proactive approach to managing event cancellations. For events occurring in the near-term that must be canceled, direct communication with the event coordinator is preferred. For events planned in the longer-term, it's important to proactively communicate with the coordinators of those events.
Here is an example message from Bottleneck Management:
"At this point, we intend to keep as many events booked after March as possible and will be evaluating this daily as new information comes in. There's a chance we won't see interruptions to your events booked later this year. If we determine it prudent to cancel your event, we will reach out to you specifically. If that is the case, we won't be charging any venue or cancelation fees. All money paid up to that point will be refunded. If you decide to proactively postpone your event, please reach out as soon as possible so we can secure a future date."

– Bottleneck Management
12. Ask your government to take action
As of early the morning of March 17th, President Trump has referenced potential stimulus plans for small businesses such as restaurants. Reach out to your local government officials asking for aggressive measures to help the restaurant industry.
Reach out to your local senator with just a few clicks here.
13. Keep tabs on what's happening in the industry
Last but not least, stay on top of restaurants' and delivery platforms' new COVID-19 labor and operations policies. This resource tracks policy changes by major brands.
Follow this blog from Restaurant Business for the latest updates on the unprecedented impacts of COVID-19 on the restaurant industry.
Track restaurant-specific guidelines on restaurant.org or see answers to frequently asked consumer questions on the FDA website.
Bon Appétit put together stories from food industry workers on what they're seeing in their communities and how their businesses are being affected.
Dig Food Group published helpful documentation on their website: everything from scenario planning to employee policies to sanitization log templates.
3/20/20 Update: Tell Congress to take action to save restaurants.
14. Prepare for the future
When the dust settles, it will be more important than ever to have a database of customers and a channel to re-engage them. In a future article, I'll share tips and tricks for preparing for the future.
Look for plenty more content from Thanx coming soon and reach out anytime to [email protected] to share ideas or to talk to an expert about additional recommendations!