For operations teams in the restaurant and retail industries, last minute changes are a matter of "when" – not "if". The impact of COVID-19 on service and safety protocols has only advanced this truth. At the mercy of a pandemic and evolving regulations, operators have had to embrace agility to accommodate governmental restrictions as well as consumer concerns. Teams sometimes have less than 24 hours to communicate store closures, indoor dining limitations, or new menu categories like marketplace items and family packages.
Unsurprisingly, marketers are not immune to this sense of urgency. Adapting strategically to changes in the market requires the type of rapid agility not often afforded the benefit of time. A category competitor moving into town might require a promotional discount campaign. Nice weather could usher in an impromptu patio opening. Supply chain issues may impact a seasonal menu item launch.
For all of these scenarios and the countless others marketers and operators encounter throughout their careers, coordinating updates to all customer facing touchpoints is essential.
Digital touchpoints like websites and mobile apps can offer precious real estate to message brand initiatives, especially now that more consumers than ever are relying on off-premise service. Restaurants and retailers looking to provide a digital experience for guests today have two options: custom experiences built in-house or in partnership with an agency, or templated experiences that cannot be quickly or cost-effectively customized.
The ability to customize these interfaces is usually gatekept by external vendors or developers. Even when ownership of digital experiences is in-house, the process to update digital content can be complex, requiring coding knowledge and lengthy lead times to implement changes. What's more, it can be an expensive and cumbersome coordination nightmare.
Thanx's newly launched One-Click Content Management System (CMS) is tackling all of these challenges. This new capability grants unparalleled hands-on control and flexibility over digital assets — such as homepage images, promotions, in-app banner messages, and more — within Thanx-built applications and consumer ordering experiences. Current Thanx merchants will also enjoy the detail our CMS offers to better understand their current brand digital configurations and interfaces.
Now our merchants can independently change the look-and-feel of their digital experiences anytime in just a click – no phone calls, meetings, emails or code required. With our user-friendly interface, daily or even more frequent updates in key messaging can be done instantly without having to worry about the long lead times customary for implementation.
This savings in time spent with Thanx's CMS is not to be outdone by savings in associated costs. Many customer engagement platforms limit digital updates to once a year, if at all. If that rigidity weren't worrisome enough, even the most minor in digital experience updates can cost thousands of dollars.
Common use cases for updating your Thanx's CMS include:
Sharing a promotional campaign or discount offer
Promoting a new menu item or seasonal addition
Announcing a new location opening, brunch service, or extended hours
Messaging delivery, curbside service, or contactless dining options
Updating guests on safety protocols and other operational changes related to COVID
Promoting loyalty program benefits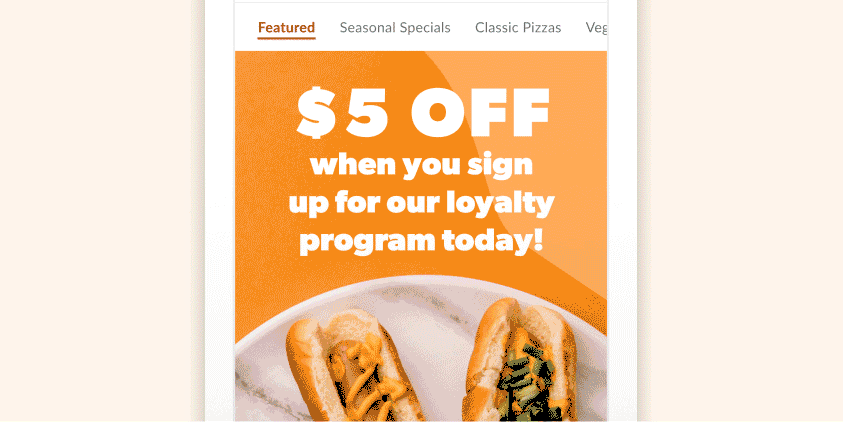 By eliminating the typical time intensive development cycles and associated costs, Thanx merchants can effortlessly maintain consistent messaging across all digital channels and focus on what matters: staying top-of-mind and relevant to customers, no matter the changes.
We would love to show you how Thanx gives merchants the ability to adapt and evolve at the same pace as their customers. Schedule a demo to learn more today!