If you can make personalized marketing easy, teams will be more likely to do it. That's the simple thinking behind the latest updates to the Thanx Platform, released today.
COVID-19 accelerated a trend that was already taking the retail and restaurant industry by storm — online ordering. In restaurants alone, digital orders are up 124% year over year since the start of the pandemic. By 2025, it's expected that digital sales will make up more than half (54%) of limited-service and quick-service businesses. For the savvy brands who understand the value of using online channels to enroll customers into their marketing database, that's a 400% increase in data collection.
Source: Thanx customer data before and after integrating online ordering with their CRM.
But what do you do with all that data?
Most marketers know that personalized marketing has tangible benefits. On the Thanx platform, targeted marketing performs 6x better (revenue per customer, not opens and clicks) than generic campaigns.
What's more, in a world where the competitive landscape has shifted to the digital realm and where sophisticated, well-resourced companies like Amazon and DoorDash are competing for your customers, personalized marketing is becoming a requirement.
And yet, most marketers aren't doing personalized or even segmented marketing on a regular basis even if they have the data and the tools to do so. When we asked marketers what was stopping them, they referred to obstacles like "data overload," and said, "it's just too hard" and "I'm not sure where to start." This was true regardless of the size or sophistication of the team.
So we put our heads together and started thinking about how to make personalized marketing more accessible. We wanted to make it easy for marketers to know what to do and then, make it easy for them to do it. We wanted to remove the barriers and make data-driven marketing as easy or even easier than generic, one-size-fits-all marketing.
The outcome? Three major platform updates designed to make personalized marketing even easier and more scalable. And these are just the beginning. We are excited to offer this preview of what's to come from our Loyalty 3.0 launch. Check out our virtual event for a sneak peek of how we are revamping our loyalty platform to support unique experiences for every brand and every customer.
Lifecycle Insights and Recommendations
Research shows that roughly 70% of first-time guests never return but after the third purchase, the probability of incentivizing an additional purchase skyrockets to 60% – 70%! In other words, you can drive real revenue by making small incremental improvements to your new customer activation rates.
Customer Lifecycle Automation makes it easy for brands to personalize how they engage with customers based on their stage in the customer journey. Brands can quickly evaluate their entire customer funnel to understand conversion rates and measure how those rates change over time as they activate data across their marketing and loyalty programs.
With these new capabilities, marketers don't have to guess at the potential impact of targeted marketing. With Lifecycle Marketing recommendations, marketers can focus on the areas of highest potential impact and create relevant campaigns that encourage the right behaviors from the right individuals with the right incentive. After all, why offer a coupon, when early access LTOs work better and are more cost-effective?
Thanx auto-generates the lifecycle audiences, reducing the setup time for busy teams to get started. These audiences can be refined to further personalize how brands engage with their customers. For example, brands can activate first-time customers based on the items in their first purchase or acquisition channel, then inspire them to make a second purchase based on this information.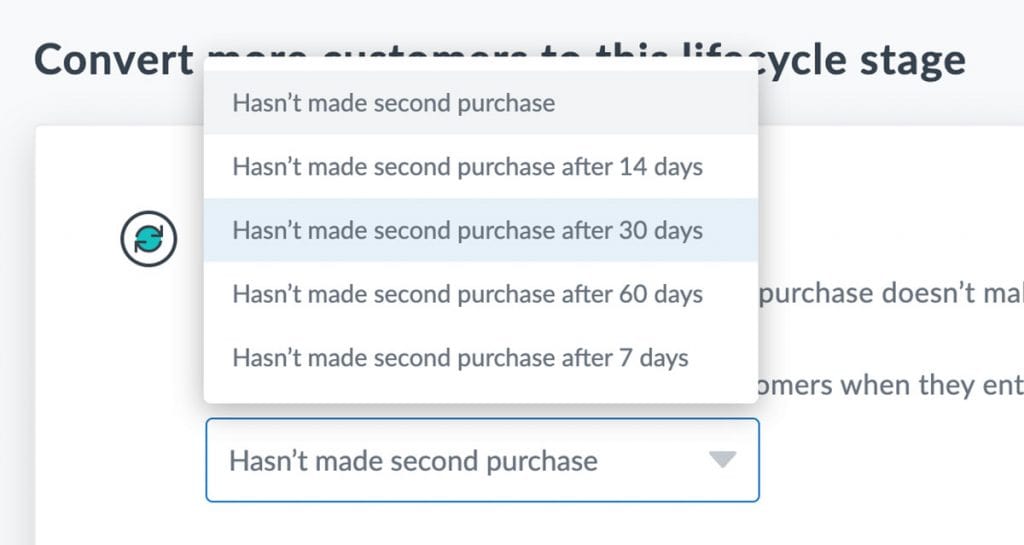 Our goal is to remove the guesswork and set-up time required to run and automate advanced customer lifecycle campaigns, ultimately, making data easier to activate. Combined with A/B testing automation (see below), marketers can now quickly identify, optimize, and automate the entire customer journey and in doing so, increase customer LTV without ongoing effort.
Automated A/B Testing
Thanx A/B testing is super easy to use, and has powerful reporting. They've made continuous, measurable improvement a snap!
– Danielle Cranmer, Digital Product Manager, DIG
With lifecycle marketing on autopilot, brands will want to improve conversion rates and drive even more engagement, incremental revenue, and margin improvement.
Automated A/B Testing allows brands to test targeted marketing to any audience to find the best outcome based on real results. This includes lifecycle marketing and any other campaign you can dream up. Want to see what it takes to get your mobile app customers to come in one more time a month? Test it! Interested in learning whether VIP events or member menu exclusives drive engagement? Give it a shot!
Automated A/B Testing gives you limitless opportunities to understand what is working and what's not, with options to test incentives, messages, creative, and of, course, CTAs and subject lines.
This data-driven, "set-it-and-forget-it" marketing is not only easier, but it's also more cost-effective, leading to higher ROI. Marketers spend less time building and deploying campaigns, freeing up time to focus on more strategic activities.
In addition to automating the entire testing process, A/B testing campaign set-up and deployment is dead simple, reducing the time spent configuring a new test to just a few minutes. For example, campaign creative content can be copied from existing variants (or past campaigns) and then edited rather than starting from scratch each time. And, because you can test what incentive, if any, to include for each audience, it's easy to determine the return on investment (ROI) of your campaign.
One-Click Winner Automation
Selecting the winning variant is as simple as reviewing the campaign results, which includes a detailed breakdown of multi-channel engagement and net revenue, alongside standard engagement data such as opens and clicks. Once the data identifies a winner, with a single click, the best option is automated and delivered until its scheduled end date.
What's the bottom line?
Gone are the days of guessing what the appropriate incentive should be for encouraging the third purchase this month from VIPs. With Thanx, brands can do personalized guest engagement without hiring a team of marketing analysts or allocating more of the marketing budget.
Activating data is easier than ever.
And easier marketing means better marketing which ultimately leads to better, more scalable results: higher open and click rates, sure, but also better redemption percentages, more net revenue, and cost savings on promotional spend. It's a no-brainer for brands ready to start activating data and seeing better returns on their marketing spend.
Interested in learning more? Request a demo today to talk to an expert.
Interested in learning more about future product announcements? Click here to sign up for Loyalty 3.0 updates.