Technical partners. Every step of the way.
DIG had previously built their app from the ground up and needed a partner committed to integrating the technical aspects of a new and improved loyalty program into the vision they had for their digital experience. Thanx ensured the new loyalty program integrated within their online ordering provider and also worked with their in-store POS. Thanx's dedicated team of developers worked closely with DIG to create a compelling user experience (UX), provide clear and well maintained API documentation, and were flexible in adapting to DIG's evolving needs within their guest UX.
Streamlined for off-premise and in-store customers alike.
With Thanx, capturing customer purchase behavior and earning rewards progress is effortless for DIG and their customers alike - it's as simple as placing an order online or swiping a credit card in-store. Thanks to Thanx's open-platform APIs, all of these improvements were made without necessitating an overhaul of their existing custom app or changing their existing POS or technology stack, where DIG had already invested heavily.
Modern marketing tools built for personalization.
DIG found that the Thanx dashboard's marketing and campaign segmentation tools featured a suite of experiential ways that customers could engage with their brand - from campaign type to communication medium. Using Thanx's email, SMS, and push notification capabilities to interact with their guests via their preferred means resonated with DIG's goal of offering a truly personalized omni-channel experience.
Segmentation is one of the things that was a big factor in us choosing Thanx.

We liked that a lot of the segmentation was out-of-the-box so we could get started with testing quickly and we didn't have to build the logic up front. It allows us to send more tailored and bespoke messages to customers. Other platforms didn't allow for automated segmentation.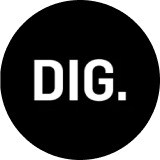 DIG's Digital Product Manager