From the extreme competitiveness of the market to the lack of time owners have to devote to marketing, we examine the top 5 challenges the car wash industry faces, and how you can overcome them.
Step, for a second, into the shoes of a car wash business operator. You wake up every day knowing that you work in one of the most fragmented industries in the world – Where the 50 largest companies own less than 20% of the market, and each customer is fought for tooth-and-nail. Your business is dictated by weather forecasters who already show "wet bias." Even on sunny days, it seems the location of your business is your only hope for attracting customers.
Car wash operators out there know that once you manage to convince a driver to come to your car wash, the fun has only just begun.  Customers expect excellent service every time because they can easily take their business elsewhere.
So, how does a car wash operator use customer engagement to boost revenue?
Easy – by tackling the five biggest challenges affecting the car wash business better than anyone else. Let's nail down these problems that plague today's car wash operators and unpack how to address each.
The 5 biggest challenges facing car washes today
Challenge 1: Increasing revenue is nearly impossible, especially in the insanely competitive car wash business
In any highly competitive market, it becomes increasingly difficult to find additional revenue opportunities. However, if you look closely enough you can certainly scrub out a few:
Upsell.  You have so many upselling opportunities that provide genuinely meaningful services to your customers that they'll want to purchase again and again, such as a wheel detail or vacuum service. Have you ever considered offering rewards for purchasing a lobby item?
Optimize your offerings and marketing for your different customers. Fleet customers can be huge profit centers when handled correctly, but what are you currently doing to seek them out? If one of your customers is paying to have 500 cars washed in a month, you would surely want to offer them a customer experience that is tailored to their needs. Targeting big fish customers and letting them know that they're important is a mutually beneficial dynamic.
Adopt an effective, sustainable rewards program. You should be tracking every single marketing dollar that you spend down to its return on investment (ROI). If you're going to throw money into any marketing machine, you should know how to count what it spits out. Find a rewards program that allows you to engage and understand your customers and one that drives revenue for your bottom line.
Challenge 2: The car wash business is one of the most cyclical on earth.
Other than agriculture, it's tough to find an industry so dependent on various cyclical factors such as the weather, day of the week, and time of year. The typical car wash operator spends Monday, Tuesday, and Wednesday bracing for the following four days–nearly every single week. With 32% of traffic coming in the winter and just 18% in the fall, we can also reasonably predict cyclical business in the short and long term.
Let's dig into this consumer thought process for a second. Is it worth it for them to go early in the week when it's inconvenient or before bad weather when they might not get the best value for their wash? Short answer – no.
What you need to do to impact this decision-making process is to offer an incentive to tip the scales in your favor. Drive loyal customers to other times during the week to maximize weekly revenue. Do you have the means to currently reach out to your customers on that level? Thanx enables you to easily "timeshift" your customers via offers to days of the week or times of the day when your business may experience slowness.
Challenge 3: Exemplary customer service in the car wash business is no easy task
Keeping your customers happy is critical. In fact, it's particularly important for car wash operators as car wash consumers are highly emotional consumers. Yes, 4 of the top 5 reasons a person chooses to go to a professional car wash are emotional — it makes them feel good, reflects well on them, makes them proud, etc. So, providing customers an experience that leaves them happy and feeling rewarded for their decision is critical.
How do you keep your customers happy? Easy, ask them what makes them happy. Even simpler, just ask them if you made them happy and, if not, what you could have done better. Thanx makes getting this feedback simple, resulting in a closed feedback loop with your customers that allows them to have a genuine two-way interaction with your brand.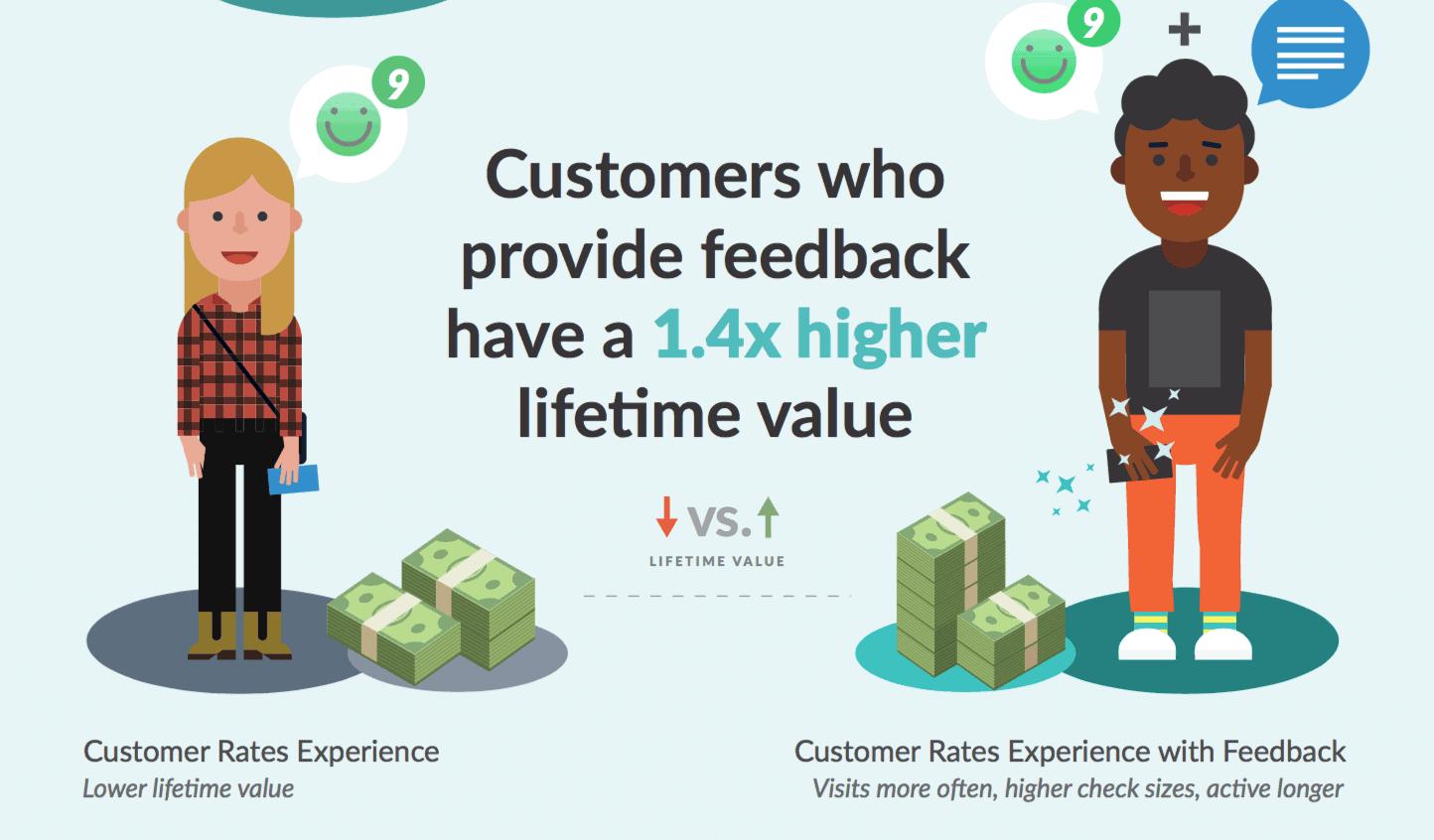 A pain that many carwash operators share is how to keep employee performance, and customer satisfaction high, while also keeping costs low. Closed feedback loops are a proven solution to this age-old conundrum. Replying directly to customers can increase sales by 22%!
Challenge 4: Car wash businesses struggle to engage customers in a meaningful way that commands their attention.
79% of people 18-44 have their smartphones with them 22 hours a day.  A study found that 44% of consumers would like brands to deliver deals and coupons to their mobile devices. You need to be interacting with your customers on their cell phones, but how do you do that?
One option – do you text them promotions? Well, have you ever exchanged text messages with a business before? I know I haven't, and I'm a "millennial."
A better option – push notification open rates are a soaring 50-80% and compared to the ~25% open rates for industry emails, are emerging as the best channel to reach customers. Imagine the possibilities. A mobile engagement channel enables you to market to your customers in very impactful ways that can, for instance, drive some traffic to traditionally slower times via timed incentives (i.e. "50% off for the next hour").
Challenge 5: There's no time in the car wash business to do marketing or to be a marketing expert.
Car wash operators work in basically three different industries: retail, as relating to customers is one of the most important aspects of their job; service, as they must lead a team of highly interdependent employees; and manufacturing, as they have to manage, and administer the use of heavy machinery.
Competitive marketing is a cut-throat business, and only the experts succeed. Do you really have time to become a marketing expert, and then design and market campaigns constantly? Think of Thanx as your marketing partner that you can lean on to do the heavy lifting for you. With set-it-and-forget-it campaigns, we'll grow your business while you focus on having the cleanest cars and the happiest customers.
Wrap up
Think how best you can tackle these challenges for your car wash, and how a data-based customer engagement platform like Thanx can help. Ensuring the best customer experience and quality service possible is what creates brand loyalty for your car wash, and ultimately grows your business.