The convenience of third-party delivery has driven massive growth (up to 40% market share expected within the next few years according to Morgan Stanley) in online ordering revenue across the restaurant industry but the delivery providers, Uber Eats, GrubHub, PostMates, and DoorDash have been the primary beneficiaries, not restaurants.
High commission rates (in many cases as much as 30% of the total order) are killing profit margins and the lack of visibility into customer data makes it next to impossible for restaurants to engage with customers to drive repeat visits or ongoing loyalty.
It's a dangerous state of affairs for the restaurant industry. The long-term viability of restaurants depends on the emerging strength of their loyalty programs and "order direct" offerings to counterbalance third-party delivery.
Here are 9 top strategies for driving customers to order directly allowing restaurants to drive higher profits on online orders while at the same time capturing data to better understand and engage guests long-term.
#1. Offer the lowest prices when customers order direct.
One of the easiest and most straightforward ways to encourage guests to order directly from a restaurant is to guarantee the lowest prices when they do so. We have seen this approach in the hotel industry…
And there is no reason the same approach can't apply to how restaurants promote their offerings.
Creative options include promotions right within the direct ordering experience itself:
On your marketing website:
On receipts: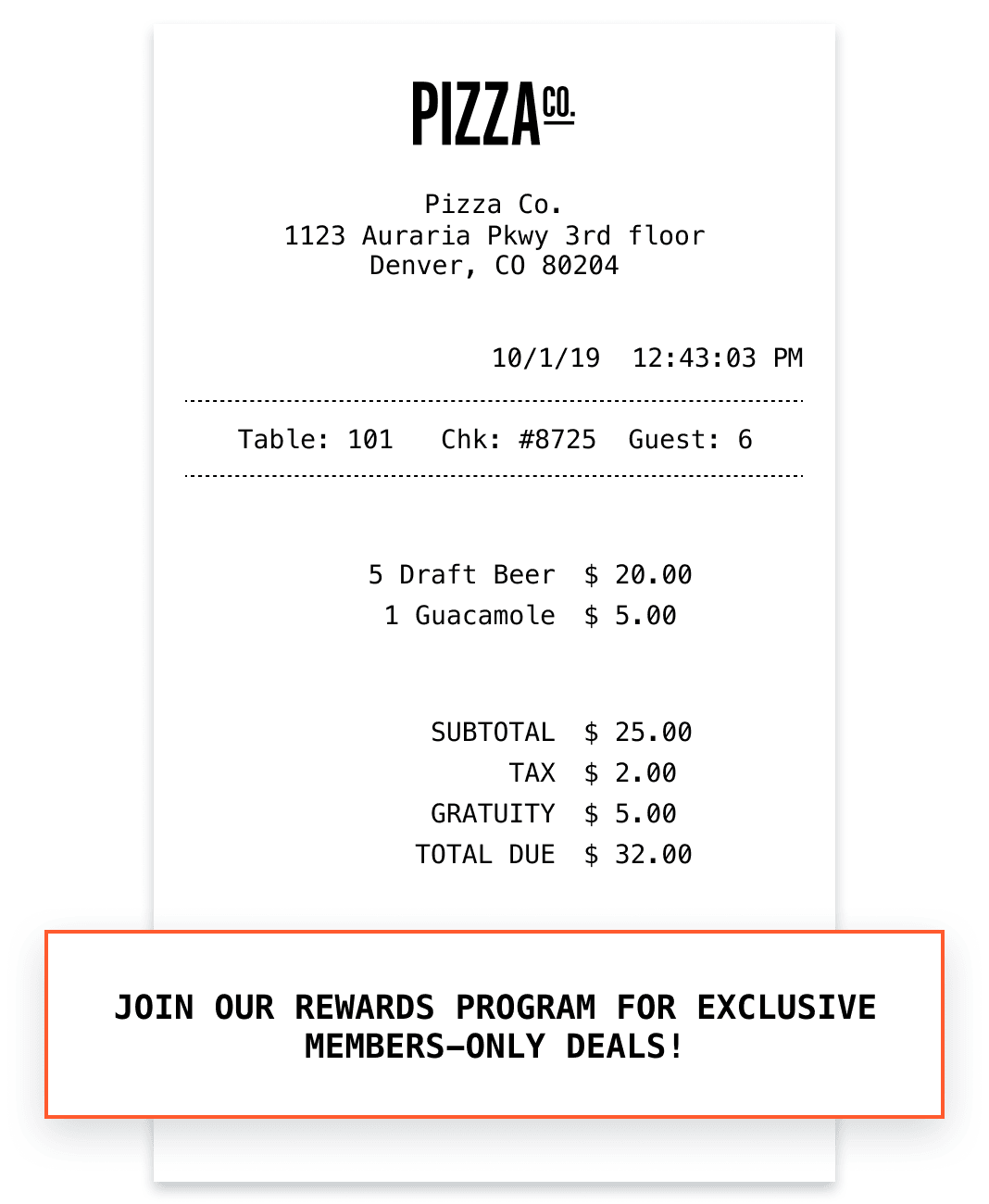 Of course, promotion is always encouraged on the more traditional advertising channels like social media, email, web or in the store. Here are some examples from Black Burger and 5 Napkin Burger.
#2. Limit your menu on third-party delivery sites.
Another easy way to drive customers to order on higher profit channels is to limit menu offerings on third-party delivery sites.
A great example here is Chipotle. Orders made through the brand's website or app have more customization options for diners. The brand also consistently offers online-only menu exclusives through its owned ordering channels.
In July 2019, Chipotle only offered their lifestyle bowls online for pickup and delivery. The company also offered a promotion, featuring the favorite orders of soccer stars, and then made those meals available only through Chipotle's app or website. The Chipotle examples underscore the importance of promoting the added value of ordering direct.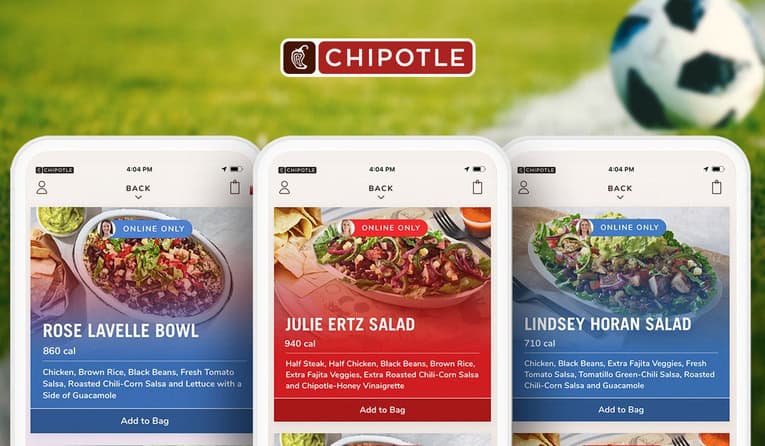 #3. Promote your loyalty program.
Since loyalty benefits cannot be shared with customers who place orders on third-party delivery apps, the benefits of a restaurant's rewards program are a compelling reason for customers to order direct.
It's important that customers know what the benefits of the full loyalty program are…not just what a single promotion to order direct might get them. That means including all of the program benefits such as your tiers program, birthday or anniversary rewards, or other exclusive deals for guests who join the program. Don't forget to make sure customers know that they can only redeem these benefits in-store or on your owned ordering channels.
Here are some great examples of program promotions from True Food Kitchen:
#4. Promote ordering direct in search.
There are many ways to promote ordering direct. While promotions on owned channels (your website, your Facebook page, your email club, your Instagram, etc.) are a must, most of your customers will at some point search for your business online. Because of this, managing your online search presence is equally, if not more, important.
Google remains the #1 search engine. Search for any restaurant and you will likely find the Google My Business listing which includes the restaurant address, directions, hours, phone number, and website. Google listings also include links that allow customers to view the restaurant's menu, make reservations, and order online:
Google does not allow you edit the menu, order, and reservation listings. Those listings are automatically injected by Google based on their partnerships with various preferred vendors.

But you can get rid of that massive "Order Online" call to action added by Google in May 2019, that redirects your customers to third-party delivery sites for ordering. Until recently, there was no easy way to remove this button from your listing, however, last week, Google created a form that restaurant owners can use to opt-out of having the call-to-action button link to third-party delivery.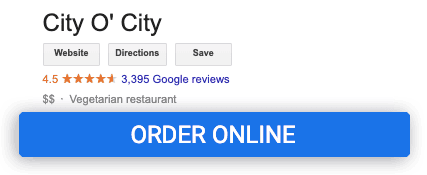 Removing the order order link that is prominently displayed in your Google listing is hugely important – otherwise, you're unnecessarily sharing orders (and profits) with Uber and GrubHub, that you could have accepted and processed yourself.
According to reports, the opt-out form will only remove the call-to-action button. There will still be links to the online ordering options in your profile. The ads placed by the 3rd party apps in your listing that encourage people to order online, unfortunately, can't be removed either (although you could try to outbid them).
Though frustrating, you can and should create posts that promote the value of ordering direct on your Google Business listing like in the example below: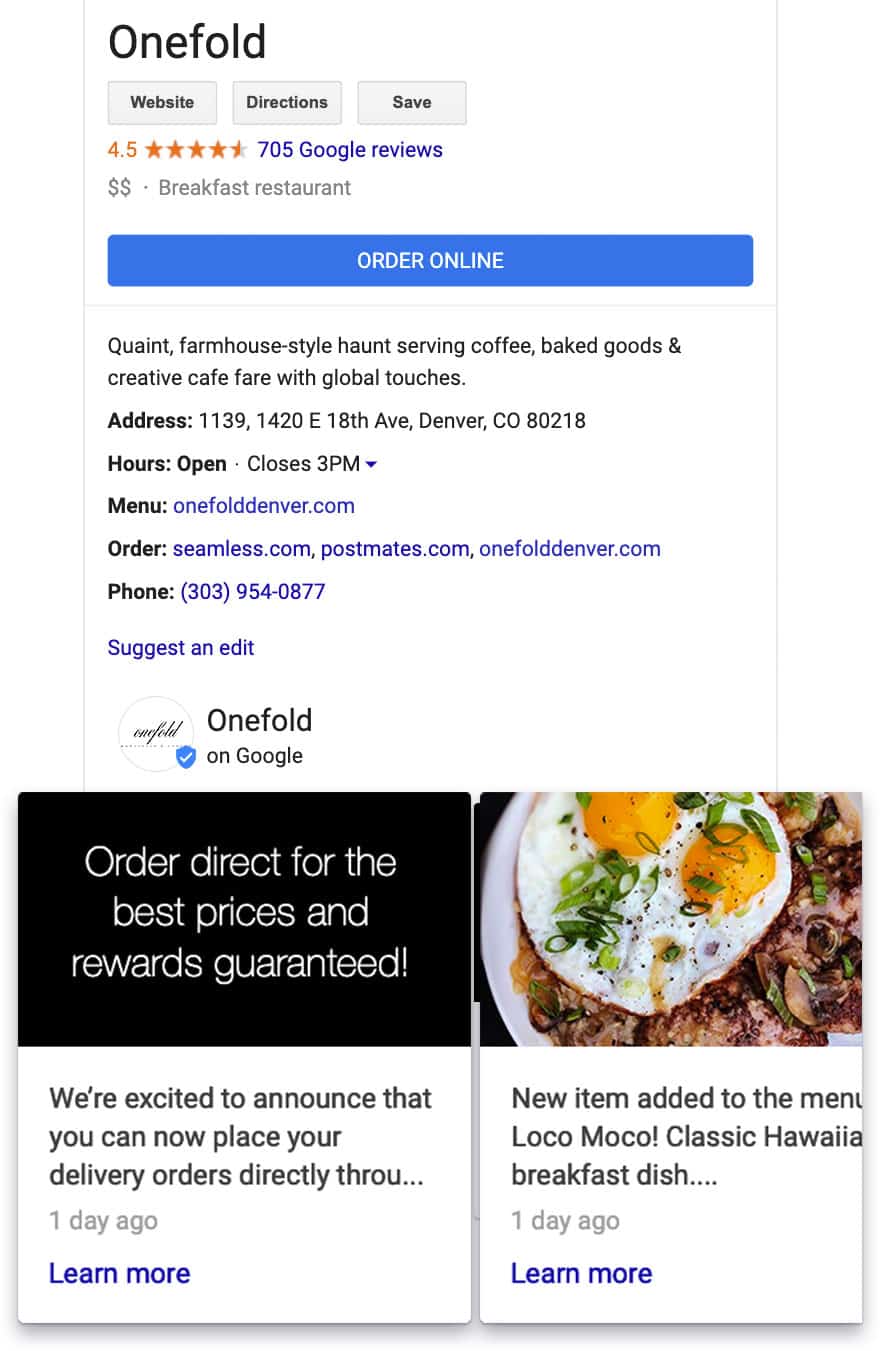 #5. Promote ordering direct through owned channels.
In addition to updating your Google search links, promote order direct across your owned channels to reinforce the value of doing so. Here are some great examples of promotions that I have seen recently:
Offer free or discounted delivery for a short period of time when guests order direct.
An example from True Food Kitchen:
An example of promotions in-store on the table: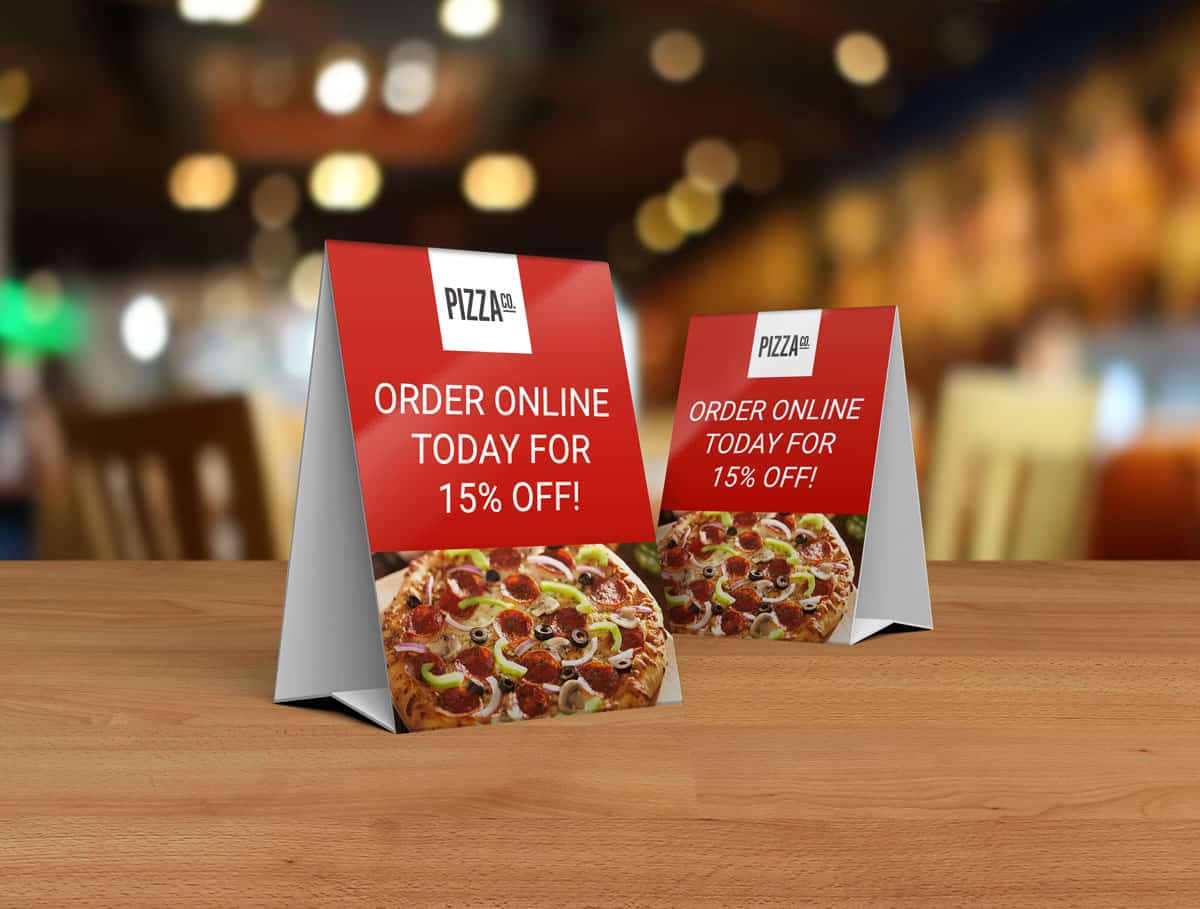 The math works out that any discount less the margin hit you take on third-party delivery results in savings for you.
Let me explain. Say the commission on a GrubHub order is 30%. If your average check size is $30 that means you pay GrubHub ~$10 on every order. Let's say the cost of delivery to your business is $5. Offering free delivery represents a savings of $10 – $5 or roughly $5 on every order. That's real savings! Passing some of the cost savings to the consumer allows you to create a compelling alternative to ordering through a third-party provider.
Large restaurant chains like Taco Bell have likely negotiated favorable commission rates with third-party delivery providers especially if they have gone exclusive with that provider. In those cases, promoting third-party delivery may make financial sense. However, don't assume that just because the big chains are doing something, that a similar promotion makes sense for your restaurant.
Offer a discount on the customer's first order.
The hardest part about encouraging customers to order directly is getting them to do it the first time. Once they place that first order, those customers are significantly more likely to place a second order with you.
What's more, online customers are less likely to churn and tend to spend more on average than in-store only customers suggesting that if you can get an in-store guest to purchase online, you can make a lasting change in their overall visit frequency. One example restaurant found that after 6 months, customers who made at least one purchase online were 3.3x less likely to churn and spent 147% more than in-store only diners.
Here are a few examples of great campaigns with discounts on the first offer from 5 Napkin Burger and Tupelo Honey:
Create online exclusive offers.
Another great way to get customers to order directly is to create an incentive that is only available when doing so. This type of offer is particularly relevant to in-store guests who have not yet ordered from your restaurant online.
Did you know that customers who have made both in-store and online purchases at a restaurant spend 1.3x more on average than customers who have only dined in-store? In order words, the value of driving that first online purchase goes beyond just the value of that next purchase. It represents a lasting change in customer behavior.
Here's a nice example from Denver Milk Market:
Double points when you place your order online.
Another example incentive is to accelerate progress towards ongoing rewards. Progress towards incentives can have the benefit of costing the restaurant less overall while still encourage specific behavior, in this case, placing an order online.
Free item only when redeemed online.
Want to guarantee results? Offer mouth-watering, irresistible free items like the cheesy breadsticks shown in this campaign created by Oath Pizza.
Oath Pizza achieved indisputable results on this campaign targeted at VIPs. Not only did the campaign achieve a 55% open rate (industry average for restaurants is ~15%), but those who received the campaign had a 2.3x higher purchase propensity than those who didn't receive the campaign.
Use any opportunity to communicate ordering direct.
Whatever you do, get credit for it. Make sure customers know they're getting a better deal whichever strategy you decide to deploy.
#6. Spread awareness with consumers about why direct is better.
Most consumers aren't aware that the restaurant incurs added costs when they order through third-parties. It's important to spread awareness about the benefits to you, the restaurant. Most loyal customers want their money to go to the restaurant or to the delivery driver, not to a massive company like Uber or GrubHub.
One creative idea to spread awareness with guests pulls on their heartstrings by including a genuine heartfelt note from the company or CEO explaining how ordering direct is how you afford to pay your staff, offer great benefits, pay for quality ingredients, and more.
Here's an example:

Another great example is an educational page on your website. Giordano's has a great (albeit lengthy) version of this on their site. Here are a few snippets:
#7. Build an owned channel that rivals 3rd party delivery apps.
Perhaps it goes without saying, but the ordering experience that you create needs to be as easy to use as the third-party's ordering experience or your customers simply won't use it.
The key requirements to consider are:
What channels will you make your orders available on? At a minimum, you should offer mobile and web ordering with a consistent experience across the two.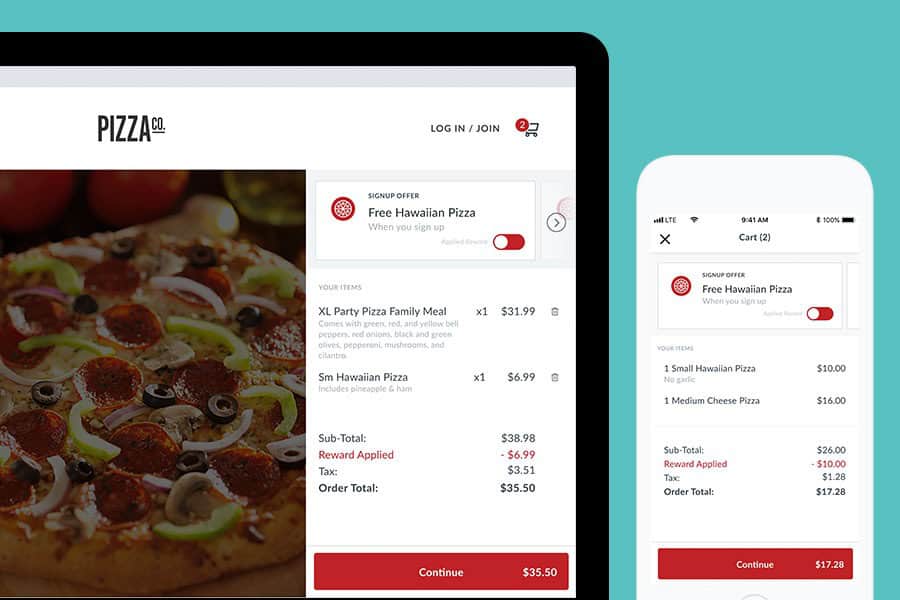 What experience will your customers have? Ease of use must be comparable to third-party channels but building multi-channel ordering from scratch can cost tens or hundreds of thousands of dollars not to mention the additional costs to upgrade and maintain the app over time. Consider a branded solution, with native ordering which costs considerably less and gets upgraded for no cost.
What are your business goals? At the end of the day, most ordering experiences are designed to drive ordering volume and revenue. It's important to optimize the app for purchase and convenience rather than brand promotion. Lead with beautiful food imagery and make it easy to add items to the cart. Save the boring tasks (like collecting the address details and even account creation) until the end of the flow, when the user is highly motivated to complete the order and won't bounce.
Rewards and promotions must be able to be seamlessly integrated into the ordering experience. This is essential because it creates an incentive to order directly. Convenience for the user is key so their available rewards should be prominently displayed prior to selecting menu items and again at checkout.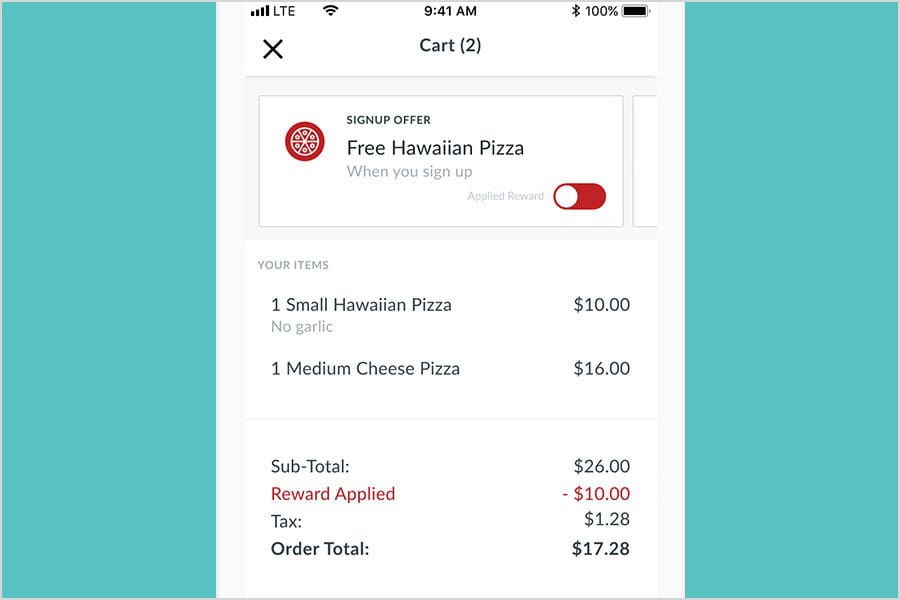 User account creation should be seamless across your email club, your loyalty program and your ordering experience. Furthermore, it's important that your ordering customer is encouraged or required to join your email club and loyalty program at the time of order so that they can be added to your CRM. When set-up correctly, ordering offers a near 100% conversion rate to email and loyalty membership creating a highly effective channel for capturing customer data so you can engage with your guests long-term.
Personalized experiences enable the convenience your online customers are seeking. This means making it easy for guests to re-order recent orders, saving previous ordering location and defaulting those same parameters on previous orders, and offering only relevant rewards and upsell offers based on past purchase history and stated preferences (ex: stop sending your vegan customers free hot dogs).
#8. Use third-party as an acquisition channel, then drive those customers to your owned channels.
For most restaurants, third-party delivery is a necessary evil (even Panera Bread finally gave in) but that doesn't mean you can't (or shouldn't) use them to your advantage. Though many third-party delivery companies discourage the practice (unbelievable if you ask me), promote your owned channels on your to-go boxes (inside where DoorDash can't see it), on your napkins, and on any other packaging you use.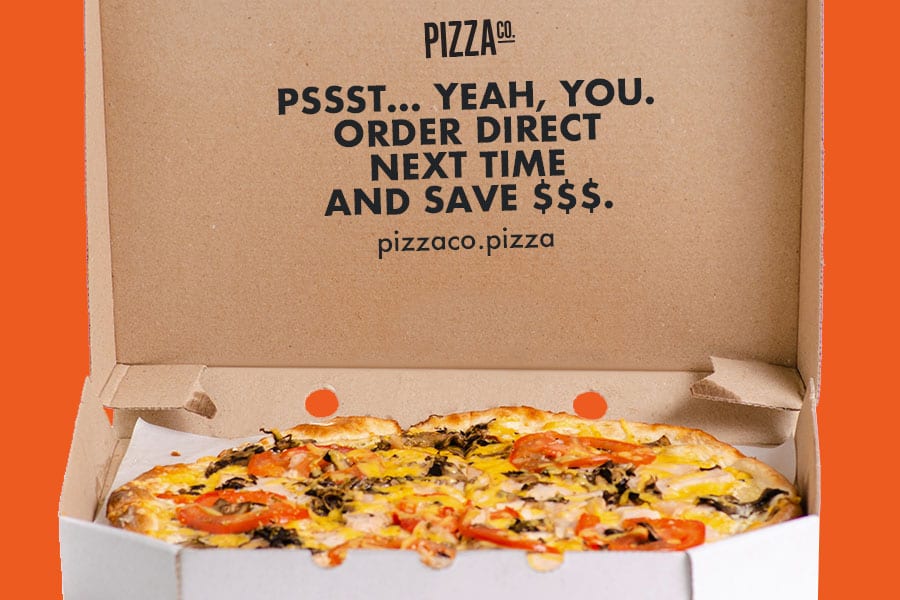 #9. Stop promoting 3rd party delivery – after all, aren't

YOU

the customer?
Last but certainly not least, it really drives me bonkers every time I see a restaurant advertising on behalf of third-party delivery. It's amazing how many restaurants are literally promoting high-margin third-party delivery channels and then getting charged by those same companies for the "acquisition" of their own customers.
I've seen it all…emails advertising third-party delivery:
Stickers and signage in the store advertising DoorDash, PostMates and more: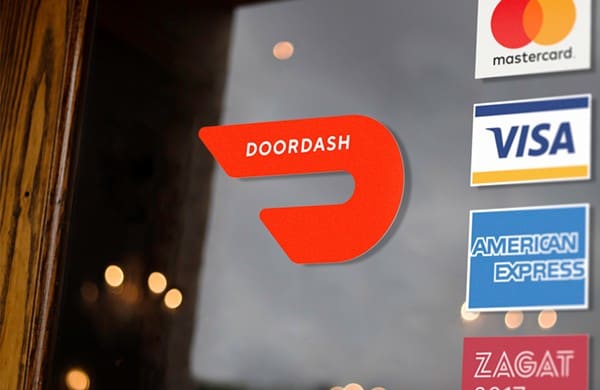 Website promotions with links to order on third-party sites:
These are just a few of the ways that restaurants are delivering for the delivery companies instead of focusing on their own interests.
Have other examples or strategies? Send them my way ([email protected]) and I'll add them to a future post.
#takebackthecustomer
We would love to help you drive customers to your owned ordering channels. Thanx offers powerful digital ordering solutions, CRM, loyalty, and marketing automation that can help you take back your customers from third-party delivery providers and unlock the power of digital guest engagement – schedule a demo today.