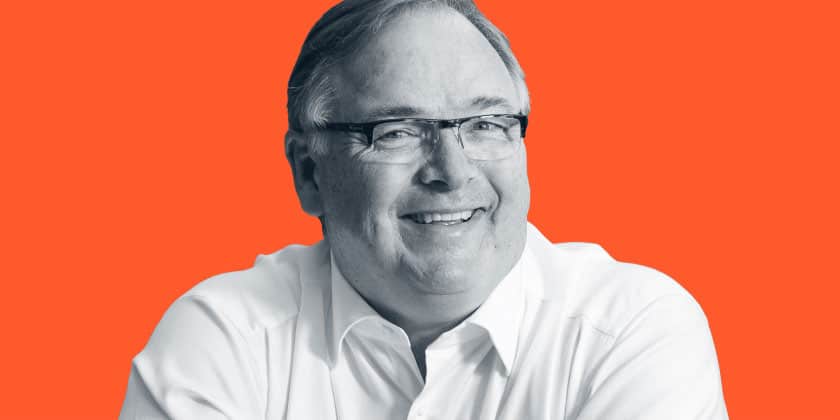 Greg Creed, Former CEO of Yum! Brands and Taco Bell
About the Guest
Greg Creed is the former Chief Executive Officer of Yum! Brands. He was appointed Chief Executive Officer of Taco Bell in early 2011 after serving as President and Chief Concept Officer and was responsible for driving the overall brand strategy and performance of the business in the U.S. and internationally. Mr. Creed retired after a successful 25-year career with Yum! He has more than 40 years of extensive global experience in marketing and operations with leading packaged goods and restaurant brands. Since retiring as the CEO of Yum! Brands at the end of 2019, he has started a small unconsulting company called Creed UnCo focused on helping companies with brand building, franchising, culture, and leadership.
Episode Summary
In this episode, we chat with Greg Creed, former CEO of Taco Bell and Yum! Brands. Greg shares his marketing philosophies and how he has applied them while leading some of the most iconic marketing campaigns in QSR to date. Zach and Greg discuss changing customer behaviors post-COVID, fostering diversity throughout an organization, and minimum wage impacts on the restaurant industry. Tune in to get a sneak peek of Greg's Book, R.E.D. Marketing: The Three Ingredients of Leading Brands.
Episode Transcript
Zach Goldstein
(00:01):
From fake meat and robot chefs to ghost kitchens and delivery drones. The restaurant industry is rapidly evolving. Welcome to food fighters, bringing you interviews with the leading industry trailblazers. I'm your host, Zach Goldstein. Welcome
Zach Goldstein
(00:18):
Back to food fighters. I'm your host, Zach Goldstein, pleased to be joined by Greg Creed, who is the former chief executive officer of young brands from 2015 to 2019 served on the board of directors until 2020 before being a CEO of yum. Greg was head of taco bell. The nation's leading Mexican style, quick service restaurant chain since retiring at the end of 2019. Greg has started a small consulting company called Creed UnCo focused on helping companies with brand building franchising, culture and leadership. Greg, thrilled to have you on food fighters. Thanks for joining us.
Greg Creed
(00:57):
Zack is my absolute pleasure to be on.
Zach Goldstein
(01:00):
So you actually have a book coming out in June focused on what you call RED In fact, the book is titled RED Marketing: The three ingredients of leading brands. Tell us about Red and how it dictated your time at taco bell and at Yum!.
Greg Creed
(01:18):
Well, I think, you know, I want to start with the premise that marketing is simple, but it's not easy. And so we wrote the book with me we set out to do is to try and make it easy. And we had been working on at Yum! Where we have three brands, KFC, Pizza Hut, and Taco Bell and 4 now with Habit, which they've acquired since I left, in over 150 countries. And so the challenge was how do you take something and make it really easy? And that was how do we find a framework within which we believed if you followed the framework, you could do brilliant marketing. And that framework was the latest RED, RED, R for relevance E for easy and D for distinctiveness. And we used that framework around the world. And what I was really excited about was that we took out global same-store sales growth in 2014 which was pretty much flat around the world.
Greg Creed
(02:10):
And we took that to close to 4%. When I retired at the end of 2019. Now 4% may not sound like a great number in some categories, but if you're doing $50 billion a year, you know, 4% means you're adding $2 billion in same-store sales growth add another 2 billion from New York unit openings. And all of a sudden you've got yourself an 8% growth company. So what I loved about RED was we tried to make it simple, easy to understand. And what we demonstrated at Yum! Is that applying Red really did deliver significant sales growth. And that's, that's what I'm really excited about.
Zach Goldstein
(02:45):
So you were at the helm of Taco Bell during some pretty transformative years slogans that we all know still "think outside the bun", the launch of the iconic Doritos, Locos tacos, even the Cantina concepts, all of this, I would imagine ties into this, this RED concept and in particular being differentiated and delivering an easy experience for customers.
Greg Creed
(03:09):
Yeah, that's very much so. I think the first thing you've got to do is make sure that what you've got to offer is relevant and there's sort of three paths relevant. You've got to be functionally relevant. And what we did to Taco Bell about many years ago is we decided to make the product much more portable. And if you think about the products we launched, like the quesadilla or the grilled stuffed burrito, and the crunch wrap, they were all designed around making the product just simply more portable because it was a little messy in those times, but you've also got to make sure that it is culturally relevant. One of the key reasons talk about had so much success was they really did tap into what I call sort of this cultural relevance, because you know, people want brands that demonstrate, they understand them.
Greg Creed
(03:51):
So the messaging that you deliver, isn't just about whatever you want to sell. It's about demonstrating to the people that love your brand, that you get them. And so that was a real part of it. Obviously ease. I think one of the big breakthroughs in marketing is I grew up in what I call when I say I grew up, you know, many years ago in the better beats, better world. I worked at a Unilever in detergents. And so, you know, tide would make sure it's whiter and whisk would make it whiter and then tide would make it whiter. And I was like, how can you make a white shirt? And if you think about it today, the tide advertising, isn't about performance. It's about ease. It's about these pods. And so I think what we've coming to today is I guess, a part of the life stage of marketing, which is that easy beats better.
Greg Creed
(04:37):
If you do something easier than your competitors, even if they might do it a little better, ease is going to win. And you've got Amazon to arguably pay for all of that. So ease became critically important, ease to order, ease, to pay, ease, to get easy, to understand all those things have become critically important then to your, to your point, Zach, you've got to make the brand distinctive. It's got to be distinctive in its own voice. And what's really interesting is I think if you look at a brand and I'm sort of guilty of this, I look at all brands. Cause it's just my habit. You sort of look at them and I go, wow, is that brand relevant? Is it easy? Or it's a distinctive. And sometimes you've got all three problems. Sometimes you might only have two of the three. And the worst thing you can do is if you've got a brain that's really distinctive, but not relevant. I hate it when I see marketing, that just makes it more distinctive, but you aren't addressing the issue of relevance or race or whatever it happens to me. So that's how I sort of see it. We've tried to make a really complex thing called marketing as easy as we can so people can be more successful.
Zach Goldstein
(05:36):
The easy one in particular is interesting because arguably it has been the most transformational change in the restaurant industry with the arrival of third party delivery. You and I have talked about this and it, it varies by the day, depending on market cap but there has been a period where a door dash eclipsed, Yum! And Yum! China in market cap to be what would be the third largest restaurant in the world, as you think about easy and the arrival of third party delivery and the concepts of off-premise that extend beyond drive-throughs, we've seen a big change and I'm interested in how RED applies in the restaurant world. When now you have this new buzz co-operative, but also threatening presence in third party.
Greg Creed
(06:26):
Yeah. It's a great question. All of this has been accelerated through COVID right? So obviously there was a move to delivery, you know, businesses were moving to delivery. Why? Because delivery is easier. You know, it's much easy to have your food delivered than it is to obviously, you know, hopping your car or being in your car, or, you know, want to go out and get the food. COVID accelerated all of that. And so you're right, which is on the one hand, you've got this sort of exponential growth in people who offer delivery services. And at the same time, there's obviously fees attached to that. So there's this challenge within the restaurant industry, which is the trend is towards delivering. Uh, the other thing that I think is really important is this whole question of once we get out of COVID, what new habits do we keep and what all habits do we go back to?
Greg Creed
(07:11):
And I think the answer to that is also about ease. Whichever is easiest. If the new habit is easier than the old habit, we'll stay with it. If the old habit is easier than the new habit, we'll probably go back to it. So I don't see, you know, delivery declining at all. I think it will continue to grow. It's also interesting. And I saw that the taco bell building walk-up windows at the restaurant. So, you know, many years ago, you know, there were all those rules, Oh, you can't walk up to the drive-through window. And I've seen funny jokes that people on horseback, you know, trying to sort of go through a drive-through. it was funny when I got asked about 12 months ago, I thought the concept of a walkup window would be actually very attractive for people done, still want to go into our restaurant, but maybe, well not walk up or people who are in urban areas, aren't in a car and obviously want to have a walk-up experience.
Greg Creed
(08:00):
So to your point, I think COVID has dramatically changed the landscape. It has accelerated things like delivery. It has accelerated obviously the growth of the delivery, third parties at the same time, you know, what Yum! Was lucky to have, which was a delivery business in Pizza Hut. So internally, you know, we've got a delivery business, that's obviously accelerated inscribed during COVID. And I just don't think any of those factors are going to change mobile, ordering mobile payment, the through, you're now seeing multi-lane, drive-throughs being built, Yum! is building drive-throughs in Australia, they build a five lane drive-through at a KFC where it's more like imagine you, when you go to the airport, there's all those sorts of barriers lined up and they open up to let you in sort of car flow, right? It's not, it's not a stacked five line.
Greg Creed
(08:50):
It's sort of like a drive. It's like a going into the airport, five lanes, two them are dedicated to the traditional. I want to drive back and place an order. Two of them are dedicated to people who've already placed a digital order in advance, and one can be flexed either way. So, you know, just the entire look and feel of restaurants is changing. You know, people are talking about building restaurants without any dining where it'll simply be there, I guess the cooking part of it. And then you'll either walk up or drive up or obviously food will get delivered from there. So there's some probably more change occurring in the restaurant industry right now, accelerated by COVID than I've probably seen in the 25 years I've been in the business.
Zach Goldstein
(09:30):
Completely agree. And in fact, you had an interesting seat because several of your brands were actually really focused on the marketing differentiators. They're the RED elements as you now call them. Whereas Pizza Hut has been a digitally enabled brand well before many of the industry, many of the brands in the industry. And so you've seen that firsthand. I mean, there was a period where now everyone's focusing on loyalty, frankly, including Taco Bell and capturing data and on digital, but Pizza Hut was doing that way before the other brains.
Greg Creed
(10:07):
I think to be a great marketer, you know, the old adage marketing is an art and a science, well, you could argue now marketing is art and data because really data has become the science part of what was the joke about, you know, idle science and in order to be successful, you need both. I don't think you can just get insights out of data, but without data, I don't know how you find insights. And so, you know, I think the skill set that's required for the marketer of the future is someone who is obviously comfortable in the data area, but equally comfortable in what I call the art or the intuition side of it. Because the role of a marketer is what I call SOBO. And that's going to sound a little crazy, but SOBO stands for sales overnight brand over time. And so if you're in marketing, you, you really have those two jobs.
Greg Creed
(10:58):
Your job is to drive sales overnight, but at the same time, build the brand over time. And so you need a skillset that enables you to do both. So you have to be comfortable and you have to feel very comfortable on, in diving into the data. But equally you have to sort of back your intuition to turn that, that data into insights, which will make your brand, as we said earlier, relevant, easy and distinctive. So it's exciting times. And it's funny because I've seen marketers that are great at the sales overnight not great at the brand over time. I've seen people who are great at the brand over time, not so good at the sales overnight, but the complete marketer, the complete market and the ones that will get the really big jobs at the really big companies will demonstrate an ability to drive sales overnight and build the brand at the time.
Zach Goldstein
(11:46):
And that wasn't always the case in restaurants. The reality is your success was largely tied to where did you put your stores? Did you have good site selection? Did you have good enough food innovation that you kept people excited? And did you not mess up the service? Right? And so this idea that now suddenly we're adding to that mix. You better have data about customers so that you can drive repeat purchasing, probably the most competitive environment the restaurant industry has ever seen that does require a new mindset for marketers. And it's hard to get data.
Greg Creed
(12:22):
Yeah. One of the really exciting things is the opportunity to find about what I'll call. unknown existing customers. So if you think about, so it's through CRM and loyalty today, you know, with some percentage and the percentage will differ by brand, you know, some percentage of, of your customers intimately and in Pizza Hut's case, you know, you know, their home address, their email address, you know, their cell phone numbers. So, you know, all of that sort of stuff, not so much, obviously in other brands. And then there are obviously, there are people who use you, they come to your brand, but you just don't know who they are, therefore you can't market to them. And so, uh, and then obviously there's the non-users. And so if you go back to how do you drive sales in any business, but certainly in the restaurant business, it's increase your reach, drive your frequency and raise your check. That's sort of the magic formula of things that you can do. So I think the emergence of things like the new data network and the ability to identify who your existing, but unknown customers are, I think that is also another huge breakthrough.
Zach Goldstein
(13:30):
Completely agree. When we think about the data capture that Amazon has, which is basically a hundred percent, when you think about data capture that door dash has, which is definitely a hundred percent. And then you think about the leaders in the restaurant category, even Starbucks, which is well-known for its loyalty program and still below 50% data capture, there's a big disadvantage there. And so you're exactly right, that there's an opportunity to learn more about those otherwise unknown customers to deliver a more personalized experience,
Greg Creed
(14:04):
The restaurants of the future need to partner with people at the cutting edge of expertise that you need, but you don't necessarily need or have in-house. Another great example was so when I was running Taco Bell, I think it was like 2010. We bought a company called NetBase quid, which was a social monitoring service. I call it social intelligence. NetBase helped taco bell become culturally relevant and we would never have been able to do it. And we couldn't obviously afford to put, you know, all this we'll buy NetBase. So we'll do our own NetBase. You can't do that sort of stuff. So thinking about the partners that you, that you choose in the restaurant industry is critically important. Who's going to do your loyalty program. Who's going to do your social monitoring, social intelligence program. Who's going to help you find these existing, but unknown customers and choosing those people and the partners that you want is critically important because you simply won't have that capability inside the organization. And I would argue, you don't need it inside the organization. You need people inside the organization that can use all of those relationships to make your brands, what's going to surprise everyone, more relevant more easy and more distinctive
Zach Goldstein
(15:21):
Things that I've heard. And I think is unique. There's a lot of focus in the restaurant industry on, let me just check the box on what the big guys are doing. Let me just follow the app development or the ordering or the loyalty or whatever it is. And I want to see someone bigger than me. And what you said is you actually strove to not follow in your category. You want it to be different.
Greg Creed
(15:48):
My analogy is if you're on the road and you're following the car in front, you'll never come first in the race. You have to pass the car in front in order to become foot. So if all you're simply doing is following the leader, you will never become the leader. You have to basically put your indicator on there. Not many people put their indicator on anymore, go out, accelerate and pass whoever the leader happens to be. So the thing I loved, it was funny when I ran talk about, I loved it was because I always used to say, you know, everybody was sort of focused on burgers and chicken and the biggest selling items in QSR were hamburgers and chicken sandwiches. And the joke was it talk about, we didn't sell either. And I never wanted to sell either because there were so many places where you could go and buy a traditional chicken sandwich over traditional hamburger.
Greg Creed
(16:43):
But you know, where you could buy a crunch wrap? Where can you go and get a mountain Dew Baja Blast? You know, it doesn't have to just be food that makes you distinctive. A lot of people sort of think, Oh, it's all about the food or the experiences. But I would argue at Taco Bell beverages like mountain dew baja blast. Made the brand just as distinctive as the customer experience and products like crunch, wrap, or, you know, nacho fries or Doritos Locos tacos. They were critically important, but to stop at just food or to stop it just the experience and not say, how can I use everything in my arsenal, everything I do in order to make myself distinctive, then I think you're just not doing it. I'll be honest. You're just not getting the most out of the brand that you can get out of it.
Zach Goldstein
(17:28):
Taking risks and certainly where we sit now, looking back on the Doritos Locos, Taco a huge cross brand effort with critical acclaim, certainly wasn't obvious at the time it required a risk on your relevance and distinctiveness.
Greg Creed
(17:46):
Yeah. Well, it's funny. I think it also, I remember David Novak phoned me up and jokingly said he implied, I was risking my career. You know, if you think about it, Frito-Lay had to build full lines to make this stuff. And we were spending like 50 to $60 million marketing it. So it was, it was a big deal, but to your point, but I think this is when Zach, if you go back to this idea of, you know, he just don't slap ideas up against a wall. You know, at Yum! we have a very defined product development process. We were obviously using things like Net Base to make sure we were culturally in tune. It was pretty clear that people who love Doritos love Taco Bell and people who love Taco Bell love Doritos. And it was interesting. I gave that brief to the team in 2010, because in 2012, we were celebrating our 50th birthday.
Greg Creed
(18:33):
And if you're a brand like Taco Bell, you don't want to let anyone know you're 50 years old. And so we used the DLT because the other job I said was our name is taco bell. And we've done a lot of, you know, a lot of innovation, not in tacos. And so I said to the team, you know, if they're our 50th anniversary, I want a breakthrough taco idea that becomes the celebration. And not the fact that 50 years old, that I just said, great collaboration with our friends at PepsiCo or Frito-Lay, and not without its risks, because Frito-Lay had to take a huge risk in entrusting their Doritos brand to Taco Bell. And then they would just, even funny little things like a Taco Shell must bend, as you know, to make a shell and Doritos formula is designed to make it flat, triangle chips. So there was some technology that had to happen. It took us probably two and a half, three years from concept to national launch. It was a big deal, a lot of money, but ultimately it became a billion dollar brand. I mean, that's a B a billion dollar brand to talk about in 12 months.
Zach Goldstein
(19:33):
It's amazing. Food fighters. Stay on the cutting edge. On the flip side of the coin. You've taken risks to defend your brand as well. And frankly, quite aggressive to defend the brand. Who has come after you. And what did you do about that?
Greg Creed
(19:52):
Yeah, so a few years ago, I'm not sure exactly. We had a plaintiffs attorneys from Alabama that found someone in California to Sue us for not having enough beef in our meat, which was obviously not correct. So, you know, often want a company will do is you either deny it. You know, you go into hibernation, you've sort of hunkered down and you hope it all goes away. We took out full page ads saying, thank you for suing us. Here are the facts. And we, obviously, one of the facts was we weren't going to pay anything because we didn't believe we needed to pay anything. And then funnily enough, the lawsuit got withdrawn. And then when the lawsuit was withdrawn, we ran another bunch of ads that said, would it kill you to say, you're sorry, the thing that was the thing that was even more funny is we found out where the plaintiff's attorneys played golf in Birmingham, Alabama.
Greg Creed
(20:41):
And so we bought all the outdoor signage around the golf course so that when all these, the plantiff attorney's friends would be driving the golf, they'd realize that obviously we had stood up, fought back and won, and that hopefully their friends would give them crap at golf. So I'm not against a little bit of retribution, but again, you know, what's interesting. We never got another, we have never had another plaintiff's lawsuit against taco bell since that time. And so I think often brands sort of go into, Oh, you know, we'll just be quiet and, you know, it'll all roll over. And no, if your brand is it's distinctive, it has to be distinctive even when you're being attacked, not just when you're doing the attacking,
Zach Goldstein
(21:24):
It's just an awesome story. And it pays off. But again, a risk, a different type of risk in this time defending your brand. But you could deal with those types of lawsuits every month for the next 10 years,
Greg Creed
(21:39):
Let's be honest. The plaintiff's attorneys never want the 40 million. They're suing you for, they just want the 4 million to go away. Right? We put in our ad, we are not going to pay a penny. We actually put that in one of the acting know one of the bullet points. We're not paying a penny. And so, you know, at the end, I was like, well, you don't have to give us 2 million. We'll go away. I said, reread, you know, point number three, we're not paying you a penny. And we didn't. And you're right. I'm not saying plaintiff's attorneys didn't go after our competitors or other people. But the really good news is I think because I realized we would fight back, um, because we believed in our story, we believed in the brand. And as you said, the brand has to be itself either when it's being attacked or when it's in attack mode, whatever it is, you got to stay true to what that brand is.
Zach Goldstein
(22:22):
Well, one other area that you have a really committed to staying true. You were named in industry titan by women's food service forum for driving gender equity, and you've put considerable effort into forging diversity and inclusion within the workplace. Why was this important and a brand differentiator for you, and how do you see that importance of growing inclusion and diversity in the in the food service world over the next five to 10 years?
Greg Creed
(22:52):
Well, thank you for asking that question because it's a very important question. And it's also an area that needs dramatic change. You know, it's funny, I'm an only child, so I didn't even grow up with a brother or even a sister, but let's not kid ourselves. When I went to school, the smartest kids in school or university were the women, not the guys. And so I'm like, well, if they're the smartest people, why are they not in positions of leadership and why they, why they're not more of them in positions of leadership? And so I was also lucky department with an amazing lady, Tracy, who was the chief people officer now, chief operating officer, which I'm delighted at Yum!. And we basically set about to make a difference. I think people think you get judged by your words, but let's be honest.
Greg Creed
(23:45):
You only get judged by your actions. And so working with Tracy, we were absolutely committed to making the, making Yum! A better place to be. So we increased paid maternity leave, I think from six weeks to 18 weeks, paternity or partner leav in any form to seven weeks, we gave everyone at least three weeks vacation way before it became the norm. We went to permanent half day Fridays, I think all of those help, but the underlying most important thing was we created a culture, I think in which women believed they had an equal opportunity to be successful. I'm probably proud of that work. At my retirement party, people were like, you know, what are you most proud of? You know, think outside the barn or live mass or Doritos Locos tacos? And I was like, no, I think when I started, we had 28% of the senior roles were held by women.
Greg Creed
(24:40):
And when I retired we had 48%, and I think that number's probably now over 50, so I'm a huge believer in diversity and inclusion. And I think you just are going to be most successful in and to make the point, um, for, for many years, talk about was the most successful division in business in Yum!. I used to link that in intrinsically too, we had the most diverse leadership team. And my point was I had the most diverse leadership team, and that was why we were delivering the best results. And, you know, at one stage I had women running the KFC business in Canada, Australia, China, Thailand, Russia, and the UK, and I may have forgotten one and if I did, I apologize. And what were our most successful KFC business, those ones. So, you know, if you want to be successful then hire the best people around you. And as I said, I'm very proud of what we achieve. I'm very proud of my partnership with Tracy. I just believe we created a culture in which you could be your true self and a culture that enabled everyone to be successful based on merit, not on gender or race or religion.
Zach Goldstein
(25:46):
Well, it's really powerful. And I appreciate your emphasis there because it's, it's not just about the right thing to do. Quote unquote, you are actually emphasizing emphatically that it's about driving business outcomes directly tying the value of diversity to driving business outcomes.
Greg Creed
(26:06):
Zach, my fundamental belief is that culture fuels results. And if you think about those of us that went to business school, we were taught strategy structure culture. That was like, you know, write the strategy, work out what the structure is to bring the strategy to life, new culture. Those three things are the right things. They're just in the wrong order. The order has to be culture, strategy structure. Culture must come first because without culture coming first, how do you write a strategy that your organization has any chance of implementing? And there's two parts to culture. There's the internal culture of the organization, but there's also the culture of what is happening in society today. You cannot ignore what is going on in society. If you are going to write a brand strategy, that's going to be successful. Go back to the point that people want brands that demonstrate.
Greg Creed
(26:57):
They understand that. Well, if you don't demonstrate, you understand the cultural context in which brands are being marketed, you have zero chance, zero chance of being successful. So for me, the model going forward is culture strategy structure. And I absolutely know the culture fuels results because where we had the best culture and at Yum!, By the way, everyone gets a culture rating and performance rating every game. I think that is unique in the industry. You don't, you know, so everyone gets a performance rating in most companies. We also give you a culture rating. And what we could correlate is the most successful businesses, where we had people who had the highest culture score and the highest sort of KPI performance score. And that was undeniable. And so I will go to my grave saying that culture fuels results.
Zach Goldstein
(27:45):
That's great. And truly unique. I'll, I'll transition it into one final question, which is across the restaurant industry, there is a lot of concern. Let's call it what it is about, whether there's going to be a federal change in minimum wage. This is a cultural question as well. And the reality is CEOs of public companies have to answer this question a very specific way, but you have the luxury of no longer being a public company, CEO. How should the restaurant industry be thinking about minimum wage and the balance between economics that are viable for restaurants and making sure that your employees are taken care of?
Greg Creed
(28:28):
It's a great question. So let me answer it, first of all, economically the first thing is that in most restaurants, labor is about 30% of sales, right? So, you know, cost of labor is about 30%. So if wages go up and I do think they should go up, so I'll get to that bit in a second. It's not like your costs have gone up a hundred percent. You've got 30% of your cost base has gone up. But the thing about a minimum wage increase is that it sort of like a tide rises all boats. I actually think the hardes thing in our industry is when every Tom Dick and Harry, you know, city authority council or whatever you call, it has completely different rights, which is what is the situation today that makes it very difficult to manage.
Greg Creed
(29:16):
It makes it difficult to price accordingly. So let's not kid ourselves. If costs go up, prices will go up as well. But I'll give you an example, like in Australia, obviously I'm Australian, but I started my career there with, with Yum!, You know, minimum wage is like, I think $21 AUS, which is about $15 us. So, you know, the combo prices cost closer to $10 and $7. Yes, they, but you know, I would argue our KFC Australia business. And now Taco Bell, and also Pizza Hut probably some of our most successful businesses in the Yum! System. So I do think it's important to pay a living wage. I do think it's important that, you know, if obviously rises not overnight, but you know, so we've got time to, you know, with a dollar and another dollar and another dollar and another dollar as it affects everyone equally, it's not, this is not a disadvantage.
Greg Creed
(30:08):
Like I always think of the days when, you know, when I was at KFC in Australia, if beef prices went down, it made burgers cheaper than, you know, the relative price of a chicken sandwich. Or if chicken prices went down, it might chicken, you know, cheaper. That's not the case with wages. Wages will rise everybody. So I think socially it's the right thing to do. I think economically it's the right thing to do. I think within the industry, what you'll see is, you know, it's only a third of the cost base and yes, prices will rise, but I think that is a good outcome or, you know, from a balance of society, shareholder outcome, I think it's the right outcome. So I do think it will happen. I just hope it happens over time and not, you know, where you try to add the prices up, you know, jack on $3 overnight.
Greg Creed
(30:52):
I think that would be disruptive to the industry.
Zach Goldstein
(30:54):
Right. Right. Well, Greg very much appreciate the time it's been a fantastic conversation. It sounds like you are keeping busy by creating an UnConsulting company in Creed UnCo. So that'll keep you busy. It sounds like you were busy and writing this book, RED marketing, the three ingredients of leading brands coming out June 8th, I believe pre orders are now open on Amazon. And I am also greatly appreciative of the small amount of your time and your support of Thanx and some of our mission. So Greg, thanks so much for the conversation and congrats on everything that you've done.
Greg Creed
(31:29):
Zach, thank you. I had a fun time. Thanks for the questions. I love this industry. I think it's just got right in this ahead of it so long as we do the right thing and we build amazing brands. So again, thank you for having me. I really do appreciate it, buddy.
Zach Goldstein
(31:43):
Awesome. Have a good one.
Greg Creed
(31:45):
Thanks mate.
Zach Goldstein
(31:47):
You've been listening to food fighters with me, Zach Goldstein, to subscribe to the podcast or to learn more about our featured guests visit. thanks.com/food fighters. That's thanks. Spelled T H a N x.com/food fighters. This podcast is a production of things. The leading CRM and digital engagement solution for restaurants until next time, keep fighting food fighters.
Load full transcript...